Family of Pregnant Texan on Life Support: 'We Know She's Gone'
The family of a pregnant Texas woman who is on life support against her wishes say they want to educate the public about an advance directives law that has put them through "pure hell."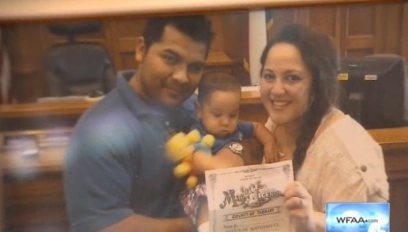 Erick Munoz awoke to his son's cries in the wee hours of November 26, sure that he'd heard his wife, Marlise, get up to grab 14-month-old Mateo a bottle. When he got up to investigate, he found Marlise collapsed on the floor of their North Texas home, with no heartbeat and not breathing. A paramedic, Erick Munoz tried to resuscitate his wife and called for an ambulance.
In the emergency room, doctors restarted Marlise Munoz's heart, but couldn't undo the damage that an hour or more without oxygen wrought on her brain. Today, a machine breathes for Munoz, and her heart hasn't beat on its own since November 26. Her doctors say there is no brain activity, and her husband and her parents would love to let her go, to properly grieve for the bubbly, enthusiastic 33-year-old woman they loved, but the State of Texas won't allow it.
The reason: Marlise Munoz is pregnant.
Roe is gone. The chaos is just beginning.
Follow Rewire News Group on Twitter to stay on top of every breaking moment.
"We know she's gone," Munoz's mother, Lynne Machado, told Rewire. "There's just no brain activity. To see this body, it contradicts itself. It's hard to really comprehend."
A paramedic herself, Munoz never wanted to be kept on life support, having seen the effects of brain death regularly as part of her job. According to Machado, Marlise and her husband had had many conversations about their end-of-life wishes. But those wishes have been overridden by a state law that says the 14-week-old fetus that was growing inside Munoz when she collapsed takes precedence over her advance directive.
In the days following Munoz's admission to John Peter Smith Hospital in Fort Worth, Machado and her son-in-law met with hospital officials, who said they had no choice but to keep Munoz on life support until she miscarried or the pregnancy came nearer to term and doctors could attempt a delivery.
"I understood that the intent of the law was to protect the fetus, to help it survive if it was viable," said Machado. "But at 14 weeks, a fetus isn't viable. We were told the fetus weighed between four and five ounces." Doctors have as yet been unable to assess the damage that the many drugs used to revive Munoz's heart, and her hour without oxygen, may have done to her pregnancy.
Now, Machado says she has had to cut back on her visits to the hospital; it's too emotionally draining to see her "sun-shining" daughter reduced to a "shell."
Instead, Machado remembers the times she spent taking Marlise and her brother—who died suddenly four years ago—to Christmas markets when the family was stationed in Germany. Ernest Machado, Marlise's dad, is a career military man, and the Machado kids grew up speaking German and English, attended to by a German babysitter who looked after them while Lynne Machado taught elementary school.
The Machados lived in Berlin when the wall fell, and brought their love of German culture back to the States. Marlise and Lynne would speak German to each other when they went out shopping, and loved singing German Christmas carols at Christmastime.
"I drug those kids to every Christmas market within 50 miles," remembers Machado, laughing to herself. As the kids grew up, holidays remained a special time for the family, with the teens making sure to be home every New Year's Eve to shoot off fireworks with their parents before heading out to celebrate with friends.
Machado says her daughter had a remarkable resiliency, unafraid of trying new things and meeting new people, thanks to their military lifestyle. "There wasn't anything that was a challenge to her that she wouldn't try to accomplish."
And one of her daughter's dreams, says Machado, was to be a mom; she says her now 15-month-old grandson, Mateo, reminds her of Marlise.
"Mateo has his mom's smile and sense of humor," says Machado. "He isn't afraid of trying anything, either."
Machado says Erick Munoz was a quiet, reserved counter to her daughter's "loud, boisterous" nature.
"She adored her husband," Machado said. "She was very, very, very happy."
And what Machado wants badly, now, is for no other family to go through what the Machados and Munozes are experiencing.
"We plan to pursue and challenge this in Austin," said Machado, who hopes to change the law so "no pregnant woman and her family have to go through what we have to go through."
"She'd had numerous conversations with her dad and I, and the same with her husband," with Munoz stating clearly that she didn't want to be kept alive by machines, said Machado. But "the state law would have trumped any decision Marlise made with her husband and with us."
When the hospital told Munoz's family it had no choice but to keep the woman alive for weeks on end until her pregnancy became viable, Machado says they were "floored."
"The law was something out of the blue, but her wishes were not," she said.
The Texas advance directives statute dictates that "a person may not withdraw or withhold life-sustaining treatment under this subchapter from a pregnant patient," but according to some legal experts interviewed by the Associated Press, the hospital could take Munoz off life support without violating the law. Nonetheless, hospital officials continue to insist they must keep Munoz's body alive to sustain the pregnancy. A number of other states have similar laws, though many account for fetal viability at the time of brain death. Texas' law, and laws in 12 other states, do not.
Munoz's story has prompted a sometimes vicious debate in the news and on social media, with commenters insisting they know better than Munoz's family what she could have wanted. Some even insinuate that Erick Munoz has nefarious intentions, callously plotting his wife's death.
"Some of the comments have been very nasty, and we just have quit reading them," said Machado. "First of all, they're missing the intent of our message. This is not about 'pro-choice,' 'pro-life.'"
Instead, says Machado, "this is about educating the public of a law that people don't know about, and hopefully avoiding the pain and, frankly, the pure hell we've all gone through with this situation."
Munoz's doctors continue to monitor the fetal heartbeat, and Machado says they'll know more in several weeks, once more tests can be run.
"Within the next six weeks we'll know something," she said. "But we don't know what that something is."
Now, when Machado takes her dogs out at night, she looks up at the Texas sky and imagines talking to her son and daughter. She imagines her kids up there among the stars, looking down on her from above. "I'll talk and say, 'I bet you two had a good laugh' over something that happened in the day." She wonders to herself, "Which one of the twinkling stars are you?"
"I just try to focus on the positive, and on nature," said Machado. "Our faith in God is getting us through."