Anti-Choice Group Sends Graphic Mailers Comparing Abortion Providers to 'Hired Killers' (UPDATED)
Life Dynamics says it mailed the flyers, which feature an image of what looks to be an aborted fetus, to every doctor's office in the state. The president of the group posted an image of the flyer on Facebook Friday, noting that "there will be a ruckus and this is just the first shot of the ruckus that's coming."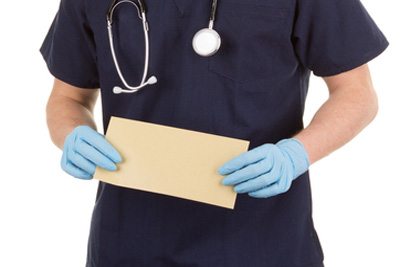 Update, 1:45 p.m. ET: Life Dynamics President Mark Crutcher posted an image of both sides of the flyer (warning: extremely graphic) on his Facebook page Friday afternoon, with the following caption (emphasis added):

"What we did is created a post card called Hired Killers. This postcard is designed to discourage doctors from getting involved in abortion. We sent one of these to every doctor's office in Texas. What we are trying to do is keep the waters stirred because what the abortion industry wants is to recruit these guys and tell them, you can just slide in and you don't have to raise a big ruckus about it. We're making sure that these doctors understand, there will be a ruckus and this is just the first shot of the ruckus that's coming."
An anti-choice organization in Texas says it mailed flyers referring to doctors who provide abortions as "hired killers" to every doctor's office in the state. The president of the same group also says he sent a letter to all Texas hospitals discouraging them from providing admitting privileges to doctors who perform abortions.
According to the San Antonio Express-News, the flyers sent by the Denton-based group Life Dynamics feature on one side an image of "what appears to be an aborted fetus." The text on other side of the flyer reads:
Sex. Abortion. Parenthood. Power.
The latest news, delivered straight to your inbox.
Hired Killers

In the movies, they walk around with silenced handguns inside aluminum briefcases.

But in reality, the most prolific killing machine the world has ever known uses cannulas and forceps.

And today, they are out to recruit …

You!
The Austin Chronicle reports that the letter sent to hospitals by Life Dynamics President Mark Crutcher claims that most doctors who provide abortion services in the state "do not have [admitting] privileges and cannot get them" because "the competence and character of practitioners who work at abortion clinics is inevitably substandard," among other reasons. NARAL Pro-Choice America noted on Facebook that many of the claims made in the letter are either unsubstantiated or false.
Life Dynamics says on its website that its direct mailer campaigns are used to "[alert] doctors and medical students to the stigma that attaches to abortionists." Crutcher, an anti-choice activist, speaker, author, and director, said in an April 2005 interview that he wanted his organization to focus on "counter-intelligence or intelligence-gathering" of abortion providers and pro-choice organizations.
The mailings come in the wake of the passage of HB 2, an omnibus anti-abortion law that requires doctors who provide abortions to obtain admitting privileges at a hospital within 30 miles of the clinic where they perform procedures. The Supreme Court recently ruled that the state will be able to enforce the admitting privileges provision of the law while it faces a legal challenge. The law has forced a number of reproductive health-care clinics around the state to stop providing abortions.