High School Cheerleaders Benched for Handing Out Condoms
The varsity cheerleading squad in Wharton, Texas, warmed the bench last Friday night because of a homecoming gag that provided condoms to the football team. I'd call this an over-reaction and missed opportunity in a state where high school sexual activity rates are higher than the national average.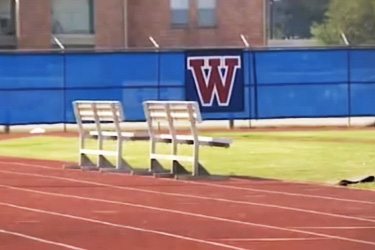 As Rewire reported, the American Academy of Pediatrics (AAP) issued a strong statement last week in support of condom availability. The statement specifically cited schools as a good place to provide condoms to young people. But it looks like school administrators in Wharton, Texas, did not get that memo, because last week they benched the entire cheerleading squad for putting condoms in "school spirit" bags.
The cheerleaders at the school are responsible each year for making goody bags to give the varsity football players before the homecoming game, and this year they decided to include condoms. According to the local CBS station, the district responded by making the entire varsity cheerleading squad sit out the following Friday night's game and giving each of the girls one day of in-school suspension.
In order to get my righteous indignation hackles up, I was really hoping for the squad to come out and say they were making a statement, trying to raise awareness about unintended pregnancy and sexually transmitted infections (STIs), or, even better, acknowledging that many of the football players might have plans for after the game that would be made safer with the presence of a condom.
No such luck. All of the students who have spoken to the press say it was a gag, a joke, or a prank. A junior on the drill team put it this way: "They just thought it would be funny … cause they are guys and they are girls … you know." Another said, "It was really a prank gone wrong. I guess. It was a harmless prank that went too far." And the mother of a cheerleader said the squad meant it as a joke, but they now realize it was totally inappropriate. She added that she supports the district's punishment of the girls.
Roe has collapsed and Texas is in chaos.
Stay up to date with The Fallout, a newsletter from our expert journalists.
While it's not as much fun to come out in strong support of a prank as it is a cause, I've decided that I am righteously indignant anyhow. Students providing other students with goody bags of condoms may not be the ideal way to make the AAP's dream of condom access in schools a reality, but it shouldn't be entirely demonized either. I don't agree that the move was "totally inappropriate," nor do I think the joke "went too far." Condoms are not dangerous or harmful in any way.
In fact, I'd argue that condoms are not only appropriate for, but vitally important to, the high school students of Texas, more than half of whom have had sex. According to the Centers for Disease Control and Prevention's (CDC) Youth Risk Behavior Surveillance System (YRBS), 49 percent of female high school students and 55 percent of male high school students in Texas have had sexual intercourse. This is slightly higher than the nationwide data, which shows 46 percent of all female high school students and 49 percent of all male high school students have had sex. In addition, 54 percent of sexually active female high school students and 38 percent of sexually active male high school students in Texas (defined as those who had sexual intercourse in the three months prior to the survey) did not use a condom the last time they had sex. Again, these numbers are slightly higher than the nationwide rate, which found that 46 percent of all sexually active female high schools students and 33 percent of all sexually active male high school students did not use a condom the last time they had sex.
Meanwhile. according to the U.S. Department of Health and Human Services, Texas has the fifth-highest teen pregnancy rate in the nation.
Given these numbers, it seems to me that a goody bag of condoms could really come in handy.
The school, however, is sticking by its punishment, saying that its "discipline decisions are based on state law and are intended to provide proper consequences and teach students proper behavior." Of course, this has me questioning which state law might deal with cheerleaders handing out condoms.
Texas sexuality education law says that schools must stress abstinence and gets rather specific about the ways in which they should do that. According to the Sexuality Information and Education Council of the United States, Texas code states that all courses in human sexuality must:
present abstinence from sexual activity as the preferred choice of behavior in relationship to all sexual activity for unmarried persons of school age;
devote more attention to abstinence from sexual activity than to any other behavior;
emphasize that abstinence from sexual activity, if used consistently and correctly, is the only method that is 100 percent effective in preventing pregnancy, sexually transmitted diseases (STDs), infection with human immunodeficiency virus (HIV), or acquired immune deficiency syndrome (AIDS), and the emotional trauma associated with adolescent sexual activity; and
direct adolescents to a standard of behavior in which abstinence from sexual activity before marriage is the most effective way to prevent pregnancy, STDs, and infection with HIV or AIDS.
Still, nothing in the law prevents schools from teaching about contraception or condom use, nor does anything in the law address condom demonstrations or condom availability at school. In fact, schools are free to teach about contraception and condom use as long as they do so "in terms of human use reality rates instead of theoretical laboratory rates." Somehow, however, I doubt the goody bags drew ire because they didn't include fact sheets with information about human use reality rates.
My guess is that school officials are concerned that condoms on campus promote sexual behavior on campus, a concern shared by many, despite being solidly disproven. Research comparing schools with condom availability programs to those without has found that access to condoms does not increase sexual behavior but does increase condom use among sexually active students.
It is this research, coupled with emerging research, that shows just how much protection condoms can provide against the spread of STIs—and that informed the AAP's position statement arguing for young people to have unrestricted access to condoms. The group said, in no uncertain terms, "Schools should be considered appropriate sites for availability of condoms because they contain large adolescent populations and may potentially provide a comprehensive array of related educational and health care resources."
Granted, the authors of the AAP statement were probably thinking of the nurse's office and not the football field, and it is reasonable for school administrators to want to control condom access rather than have students take it into their own hands. Ideally, access to condoms would come with education on why they are important and how to use them, which doesn't happen when they are given out as a gag. Nonetheless, I think the school overreacted, and I think the message they sent by doing so is disappointing. Rather than saying "It was inappropriate for you to take this matter into your own hands," the harsh punishment and curt explanation for it suggests that condoms are inappropriate.
At the very least, administrators could have punished the students for violating school rules but also used the incident as an opportunity to start a discussion about condoms. Perhaps the girls could have used their in-school suspension period (which otherwise seems like a waste of a day of learning) to research STIs, unintended pregnancy, and condom availability in their community, and then reported their findings to their peers.