Federal Judge Declares Hospital Admitting Privileges Provision of Texas Abortion Law Unconstitutional (Updated)
A federal judge has declared part of Texas' abortion law to be unconstitutional, blocking a provision that requires abortion providers to secure admitting privileges at hospitals within 30 miles of where they perform abortion procedures.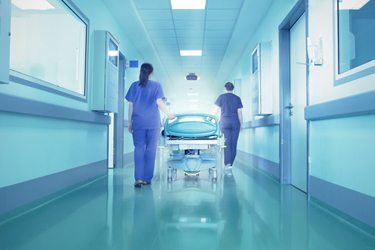 UPDATE, October 29, 8:53 a.m.: Immediately following federal Judge Lee Yeakel's ruling Monday afternoon that part of Texas' omnibus anti-abortion law is unconstitutional, the State of Texas filed an appeal to the ruling, the San Antonio Express-News reported. Spokeswoman of Texas Attorney General Greg Abbott, Lauren Bean, said in a statement, "As everyone—including the trial court judge—has acknowledged, this is a matter that will ultimately be resolved by the appellate courts or the U.S. Supreme Court."
Less than a day before parts of Texas' new omnibus anti-choice law were set to go into effect, a federal judge has declared one part of the law to be unconstitutional, blocking a provision that requires abortion providers to secure admitting privileges at hospitals within 30 miles of where they perform abortion procedures. The court did not block a second challenged provision of the law, which mandates that medication abortions be prescribed according to a 13-year-old Food and Drug Administration (FDA) protocol, except in cases where an alternate, non-FDA protocol is "necessary for the preservation of the life or health of the mother."
Texas' new abortion law, HB 2, passed this summer in a third special legislative session called by Gov. Rick Perry, following state Sen. Wendy Davis' newsmaking 13-hour filibuster. A group of abortion providers, including some Texas Planned Parenthood clinics and doctors as well as reproductive rights groups filed suit against the state in September, asking a federal judge to block the hospital privileges and medication abortion provisions of the law, both of which were set to go into effect on Tuesday, along with a ban on abortion after 20 weeks, which was not challenged in this suit. The law's fourth provision, which requires that abortion clinics adhere to the same standards as ambulatory surgical centers, is set to go into effect in September 2014 and has not yet been challenged in court.
In a ruling released Monday afternoon, Judge Lee Yeakel concluded that the hospital admitting privileges requirement "lacks a rational basis and places an undue burden on a woman seeking an abortion."
Roe is gone. The chaos is just beginning.
Follow Rewire News Group on Twitter to stay on top of every breaking moment.
"The court expresses grave reservations about allowing a hodge podge of diverse medical committees and boards to determine, based solely on admitting privileges, which physicians may perform abortions," wrote Yeakel. The judge was not convinced by the State of Texas' contention that the admitting privileges requirement would improve patient care or outcomes, and concluded that the requirements "do not rationally relate to the State's legitimate interest in protecting the unborn."
Yeakel was also convinced by abortion providers' evidence concerning the safety of abortion procedures generally, writing that "the vast majority of abortion providers are unable to ever meet the threshold annual hospital admissions, because the nature of the physicians' low-risk abortion practice does not generally yield any hospital admissions."
But Yeakel did not fully enjoin the medication abortion provision of HB 2, despite his finding that the FDA protocol is "assuredly more imposing and unpleasant for the woman, requiring at least one additional visit to a clinic and allowing less control over the timing and convenience of the medically induced miscarriage."
Yeakel ruled that because of the availability of surgical abortion as an alternative, the FDA protocol provision was only an "undue burden" for pregnant people "for whom surgical abortion is, in the sound medical opinion of their treating physician, a significant health risk," during the time between 50 to 63 days from their last menstrual period.
"The Supreme Court has repeatedly held that a state may not restrict access to abortions that are 'necessary, in appropriate medical judgment, for the preservation of the life or health of the mother,'" wrote Yeakel, and because the Texas legislature "appears, however, to have attempted to include a general health-of-the-mother exception applicable to the act as a whole," doctors could prescribe alternative evidence-based protocols when necessary, without fear of prosecution.
Amy Hagstrom Miller, CEO at Whole Woman's Health, a group of abortion clinics in five different Texas cities, released a statement saying that she and her organization are "relieved" that Yeakel blocked the hospital privileges provision of HB 2, but "are disappointed that Judge Yeakel did not also block the severe restrictions on medication abortion."
"Nearly 40 percent of the women we serve at Whole Woman's Health choose medication abortion and now Texas is preventing these women from the advances in medical practice that other women across the United States will be able to access," said Hagstrom Miller.
Center for Reproductive Rights President and CEO Nancy Northup said in a statement, "Today's decision has averted a catastrophic health crisis for women across the state of Texas. Politicians, not doctors, pushed for both of these unconstitutional restrictions—despite the best medical standards for women's health care."