Millennials Are Fighting to Overturn the Hyde Amendment
For those of you who think Millennials are too young, entitled, and/or privileged to understand the impact of restrictions on access to affordable reproductive health care, please indulge me as I attempt to set the record straight.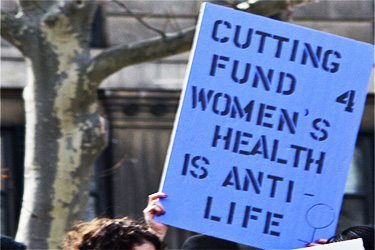 For those of you who think Millennials are too young, entitled, and/or privileged to understand the impact of restrictions on access to affordable reproductive health care, please indulge me as I attempt to set the record straight.
A young mother on Medicaid, a soldier serving overseas, a recent graduate heading off to the Peace Corps, or a high schooler in the District of Columbia: each are all too familiar with exactly how access to sexual and reproductive health care is curtailed. For the past 37 years, a law called the Hyde Amendment and its ugly progeny have prevented these people and millions more from getting affordable abortion care.
Young people have an immediate, first-hand awareness of the links between reproductive health and economic justice. The reality is that young people have been disproportionately affected by the recession and are most likely to be unemployed or underemployed. As a result, 28 percent of 18- to 24-year-olds in the United States are uninsured. Young people have been forced to grapple with the most severe economic challenges at the peak of their reproductive age. While American women in their 20s and 30s are striving to be the best students, parents, and professionals they can be, limits to contraception and abortion are a huge barrier to their upward mobility and their overall economic security.
Monday marks the 37th anniversary of the Hyde Amendment. Unfortunately, this ongoing legislation, a tool used by politicians to prevent poor women from making decisions about their own bodies, is nothing to celebrate. Since 1976, politicians have denied Medicaid from covering the cost of most abortion care. Regrettably, the restrictions will continue under the Patient Protection and Affordable Care Act, also known as Obamacare.
Roe is gone. The chaos is just beginning.
Follow Rewire News Group on Twitter to stay on top of every breaking moment.
Young and poor women of color continue to be the most affected by these restrictions. One in ten women of reproductive age in the United States uses Medicaid for their health coverage, and according to the Guttmacher Institute, about 42 percent of women who have abortions live below the poverty line. One in four Medicaid-enrolled women who seek an abortion is forced to continue her pregnancy because she is unable to cover the cost of the procedure, and many are forced to delay their procedure for as long as two to three weeks while they raise money.
By prohibiting Medicaid from covering abortion services, the Hyde Amendment interferes with women's ability to make their own reproductive choices and take control of their lives.
Because our country's demographics are changing dramatically, if we don't challenge this anti-abortion policy, the number of women affected will only continue to increase. According to the Pew Research Center, the Millennial generation is the most ethnically and racially diverse cohort of youth in our nation's history.
Women of color are more likely to experience higher rates of unintended pregnancy, qualify for government insurance that restricts abortion coverage, and less likely to be able to pay for an abortion out-of-pocket.

We need to challenge the Hyde Amendment now more than ever.
Recently, Choice USA became part of a new campaign All* Above All, which is focused on getting young activists working to restore and sustain abortion coverage for low-income women and repeal the Hyde Amendment. Thousands of young people all over the country are making their voices heard.
Apathetic? Self-centered? Hardly! All* Above All turns those stereotypes on their head. We are creating a platform for women to represent themselves, to show the diversity of the voices who support overturning harmful policies such as Hyde. We take ourselves seriously—and demand that we be taken seriously by the politicians we help elect.
It's noteworthy that the day after the Hyde anniversary, Obamacare enrollment begins. We—people of color and young people—worked especially hard to ensure Obamacare became a reality so that millions of young people will have access to health coverage. This is a monumental step toward bridging health disparities. But this triumph will not suffice. Without full access to abortion, young people will not have the resources required to best determine the course of their lives.
My work with Choice USA's young activists has given me faith that Millennials are passionate and determined enough to demand this long-awaited right.