Legal Wrap: The Contraception Mandate, the Roberts Court, and the Fight Over Obamacare
Will the Roberts Court weigh in on the contraception mandate this summer? And how is the fight over the contraception mandate connected to GOP efforts to defund Obamacare?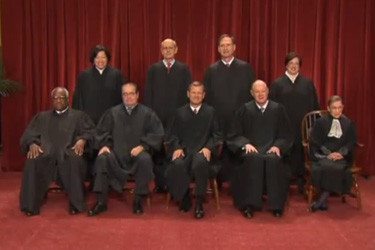 Legal Wrap is a weekly round-up of key legal reproductive rights and justice news.
Last week, the Supreme Court received two different requests to hear challenges to the contraception mandate and its religious exemption. One request came from the Obama administration, which would like the court to review the Tenth Circuit Court of Appeals decision in the Hobby Lobby case that blocked the mandate; it also ruled secular, for-profit corporations can exercise religious rights and that the mandate likely violated those rights. Meanwhile, attorneys representing a Mennonite furniture maker and his business, the Conestoga Wood Specialties Corporation, asked the Supreme Court to review a Third Circuit's ruling that held the opposite of what the Tenth Circuit ruled. Given the timing of the requests and the many cases challenging the mandate in the federal courts pipeline, it seems likely the Roberts Court will settle this debate this summer.
The contraception mandate is just one possible big case before the Roberts Court this term. Here are at least six more.
Roe is gone. The chaos is just beginning.
Follow Rewire News Group on Twitter to stay on top of every breaking moment.
The Senate Judiciary Committee approved on a party-line vote the nomination of Georgetown law professor Nina Pillard to the D.C. Circuit Court of Appeals. Her nomination now moves to the full Senate, where Republicans are still threatening a filibuster. Will Democrats let them get away with it? Maybe.
Republicans are at it again, threatening a government shutdown if Obamacare is not defunded. And in case it wasn't clear that a substantial portion of conservative's ire over health-care reform has to do with the significant benefits for women, remember that in 2012 almost 13 million women of reproductive age were uninsured.
Texas is in the middle of a clinic closure crisis. Here are my thoughts on how the federal courts are likely to view the constitutionality of restricting access to abortion and other reproductive health-care services for thousands of Texans.
Rewire's Adele Stan has this must-read on the military sexual assault hearings and Sen. Kirsten Gillibrand's (D-NY) push to change the system.
Rewire's Andrea Grimes looks at the link between guns in the home and women killed by domestic violence in this amazing piece.
And some good news: Last week the White House finally approved regulations extending basic labor protections for domestic workers.