For Wichita's South Wind Women's Center, a Victory Against Clear Channel
Tony Matteo, Clear Channel's operations manager in Wichita, Kansas, announced Tuesday a reversal of the company's earlier decision to drop the radio ads of the South Wind Women's Center.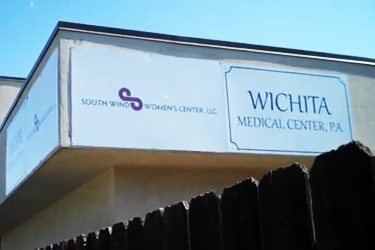 Tony Matteo, Clear Channel's operations manager in Wichita, Kansas, announced Tuesday a reversal of the company's earlier decision to drop the radio ads of the South Wind Women's Center. "[A]s a responsible broadcaster we should use our best judgment to accept and run ads that do not violate the law or FCC standards and which are not intentionally hateful or incendiary," he said.
The recently opened health center, which offers both abortion care and other reproductive health services, holds huge symbolic significance because it is housed in the facility formerly occupied by Dr. George Tiller, who was assassinated by an anti-choice extremist in 2009. South Wind carries practical significance as well, being the only abortion provider in Wichita.
The ads ran for only one day before the Clear Channel station pulled them, presumably in response to pressure from anti-choice groups. According to the Wichita Eagle, the ads did not mention abortion. As the clinic's director, Julie Burkhart, told the paper, "We wanted to use language that would appeal to the most people and not offend people who might be opposed to one of the services we offer."
But of course anti-choice activists know exactly what transpires at South Wind. The clinic's opponents unsuccessfully tried to have the area around the clinic re-zoned, and Burkhart herself has been targeted by anti-choice extremists, including at her home, for which one protester is facing stalking charges.
Roe is gone. The chaos is just beginning.
Follow Rewire News Group on Twitter to stay on top of every breaking moment.
Moreover, abortion opponents had every reason to believe their demands to Clear Channel would be met—and sustained. Kansas is one of the most hostile states for abortion providers, though there is fierce competition for that "honor." The slaying of Dr. Tiller has been followed by the relentless persecution of his former associate, Dr. Ann Kristin Neuhaus, who gave the second opinion on his post-22-week procedures, as required by Kansas law. Acting on a complaint by a well-known Operation Rescue operative (the same person whose phone number was found in the car of Dr. Tiller's murderer), the Kansas Board of Healing Arts revoked Dr. Neuhaus' medical license, and she now faces economic ruin.
As a U.S. senator, Sam Brownback, who is now the state's governor, was known as one of the most extreme anti-choice crusaders in that legislative body. (He is remembered for, among other things, holding up on the floor of the Senate a drawing of an embryo made by a 7-year-old, and asking on behalf of the embryo, "Are you going to kill me?") Upon becoming governor in 2010, Brownback made clear his eagerness to sign anti-choice legislation. He recently signed a highly restrictive measure, some portions of which are currently under litigation, that includes a provision now in effect forbidding employees and abortion providers from participating in school activities such as chaperoning field trips.
But probably the main reason anti-choice forces assumed their demands to Clear Channel would work is that this tactic has a long history in Wichita. As Rewire has previously reported, Operation Rescue and other anti-choice groups in Wichita used threats of boycotts and other forms of intimidation to pressure local businesses to not service Dr. Tiller's clinic. Though not all businesses succumbed to this pressure, some did; for example, clinic staff could no longer count on lunch being delivered to the clinic, and they had to scramble to find garbage removal services.
So what turned things around for South Wind in this inhospitable environment? Women, Action, and the Media (WAM!), a group committed to gender justice in the media, and Trust Women PAC launched a campaign to force a reversal of Clear Channel's decision. Thousands of people from Wichita and around the country tweeted, emailed, and called Clear Channel to protest the dropping of South Wind's ads. WAM! said it and its partners in the effort collected some 68,000 petition signatures targeting the company.
The ads will resume after Labor Day. As Ariel Dougherty, a longtime activist in the feminist media community who initially suggested this campaign to WAM!, said, "This is an important victory for the unity among feminist media activists and feminist health care activists on the ground protecting our reproductive [and media] rights."
In the midst of the battles over ads, zoning, and meeting the demands of the new Kansas anti-choice law, Burkhart and her staff continue the daily work of running a women's health center in a volatile environment. Burkhart said that since its April opening, South Wind has seen about 600 patients, two-thirds of them for abortions and the rest for other reproductive services. "We are right about on target where we wanted to be," she said.
Burkhart and her staff are well aware that the Clear Channel battle is just one of many to be faced. But for them, victory is sweet. The outpouring of support from all over the country, she said, "makes me feel good about what we do. … It gives me a glimmer of hope."