Repro Wrap: Expanding Access to Reproductive Health Care
In California, nurse practitioners, certified nurse-midwives, and physician assistants will now be able to perform some abortions; a Montana pro-choice leader speaks out; and Kansas sees a win for the South Wind Women's Center.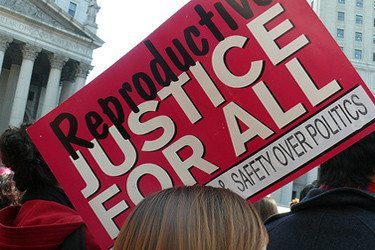 Too often the news is full of stories about the various ways states are limiting access to reproductive health care. Clinic closures, restrictive legislation, and insurance bans all force those seeking care to put more effort into obtaining what should be a basic human right. But there have been some recent wins in some parts of the country.

California is one step closer to allowing early abortions to be provided by skilled and trained medical professionals who are not doctors. AB 154 has passed the California senate, and will now return to the assembly for a final vote on additional senate amendments before heading to Democratic Gov. Jerry Brown for a signature. The bill, which passed 25 to 11, would allow "nurse practitioners, certified nurse-midwives and physician assistants to perform the procedure during the first trimester of pregnancy," according to the Sacramento Bee.
Montana may not have the progressive political base of California, but it does have pro-choice advocates working to make access to all forms of reproductive health care a reality. The state's NARAL affiliate has brought on a new executive director who is eager to explain that reproductive rights is more than just the right to access an abortion. NARAL Pro-Choice Montana Executive Director Maggie Moran writes in the Independent Record:

[B]eing pro-choice … means advocating for preventative techniques that reduce the need for abortion. This means believing in access to affordable birth control and family planning resources, as well as honest and accurate sex education for young people. It is through these techniques, as well as advocating healthy relationships and reducing sexual violence against women, that we will reduce the number of unintended pregnancies, making abortion rare. When faced with an unintended pregnancy, the decision to parent, adopt, or terminate the pregnancy is an incredibly private and personal one—one that should be made only by a woman with council from her family, loved ones and physician—not politicians. This is what being pro-choice truly means.

Roe is gone. The chaos is just beginning.

Follow Rewire News Group on Twitter to stay on top of every breaking moment.
In April, the South Wind Women's Center in Wichita, Kansas, expanded abortion access in the state beyond the Kansas City metropolitan area. But the clinic has had a difficult time letting potential patients know about its services due to a refusal by Clear Channel to run its radio ads. The media company originally called the clinic's ads "divisive" but has since reversed its position.
"[A]s a responsible broadcaster we should use our best judgment to accept and run ads that do not violate the law or FCC standards and which are not intentionally hateful or incendiary," Tony Matteo, Clear Channel operations manager in Wichita, told the Washington Post.
Trust Women, an abortion rights group associated with South Wind, and Women, Action & the Media both organized to raise public awareness of Clear Channel's refusal to air the ads prior to the company's change of heart.