West Virginia Attorney General Closes Public Comment Period on Clinic Regulations
Pro-choice advocates fear that Patrick Morrisey is "doing the bidding" of anti-choice groups, and that he intends to try and end safe abortion access in the state. Meanwhile, a Democratic lawmaker is asking for accountability from the state's taxpayer-supported crisis pregnancy centers.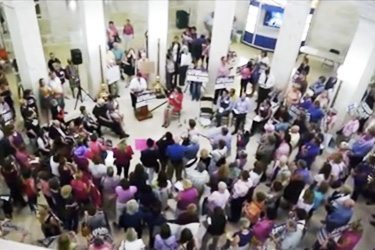 A public comment period to provide feedback to the West Virginia attorney general regarding whether abortion clinics in the state are currently regulated well enough ended on August 16. Meanwhile, a Democratic state lawmaker has launched an effort to ask for accountability from the state's taxpayer-supported crisis pregnancy centers (CPCs).
Pro-choice advocates fear that Attorney General Patrick Morrisey is "doing the bidding" of anti-choice groups, and that his review of clinic regulations is the first step in trying to end safe abortion access in the state. At a rally organized by WV Free, a local reproductive rights group, and the West Virginia chapter of the American Civil Liberties Union, abortion rights supporters brought signs and chanted at the capital steps. Morrisey was also flooded with support for the clinics via a one-hour "Twitter storm."
"We want to send a message that reproductive healthcare is essential for the women of West Virginia and it needs to happen without government interference," Margaret Chapman Pomponio, executive director of WV Free, told the local CBS affiliate.
Morrisey opened the public comment period to discuss potential clinic regulations after the conservative Christian group the Family Policy Council made public in June a lawsuit involving accusations of an incomplete abortion procedure. Similar efforts had been discussed in previous months, but failed to pass the legislature or garner the support of the governor. During this period, at least two anti-choice groups proposed extensive regulations similar to those that have endangered clinics in other states across the country, such as admitting privileges laws and structural building changes.
Roe is gone. The chaos is just beginning.
Follow Rewire News Group on Twitter to stay on top of every breaking moment.
Meanwhile, Delegate Stephen Skinner (D-Jefferson) reportedly sent letters to each of the state's 37 CPCs, questioning them about their practices and regulations. Among the delegate's questions are whether the CPCs use similar names as abortion clinics; whether they have "compliance plans" and how often they are "inspected by the State or a self-regulatory body"; what sort of medical advice or information they offer on abortion, birth control, or sexually transmitted infections; and if they provide ultrasounds.
In May, the Woman's Choice Pregnancy Resource Center, a CPC, moved next door to the Women's Health Center of West Virginia, a clinic that provides abortions.
A number of recent investigations into CPCs have produced evidence that CPCs go far beyond their stated mission to support pregnant individuals, instead engaging in coercive techniques to discourage people from having an abortion and often offering factually inaccurate medical information.
"I am deeply concerned that women may be deceived by a [center's] name, advertising and location into believing that it offers comprehensive reproductive care, including contraception and abortion, or at the very least, referrals for those services," Delegate Skinner told the Charleston Daily Mail. He also noted that he has "exactly the same legal authority to ask these questions as the attorney general."
Morrisey has yet to offer details as to what will happen based on public feedback—if new regulations will be proposed, or even if there is any sort of timeline for his investigation.
As a recent exclusive Rewire investigation shows, legal abortion care in the United States is already highly regulated and extremely safe.