Federal Court Blocks North Dakota Law That Would Ban Abortion as Early as Six Weeks
A federal judge issued a sharply worded order blocking the country's most restrictive abortion law yet.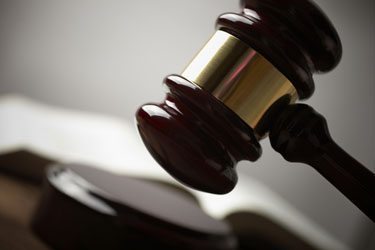 Monday morning, a federal judge ruled that North Dakota's latest abortion restriction, a law that bans abortion as early as six weeks of pregnancy, cannot take effect while a legal challenge to its constitutionality is underway.
In the order blocking the law, U.S. District Judge Daniel L. Hovland is extremely critical of lawmakers in the state, making it clear that—in addition to endangering pregnant people's lives—pre-viability bans are a waste of time and resources. As the court said:
The State has extended an invitation to an expensive court battle over a law restricting abortions that is a blatant violation of the constitutional guarantees afforded to all women. The United States Supreme Court has unequivocally said that no state may deprive a woman of the choice to terminate her pregnancy at a point prior to viability. North Dakota House Bill 1456 is clearly unconstitutional under an unbroken stream of United States Supreme Court authority.
The Center for Reproductive Rights (CRR), which filed the lawsuit in federal court in June 2013 on behalf of the Red River Women's Clinic and its medical director, applauded the ruling in a statement released after the order was announced. "The nation's most extreme abortion ban has been blocked, and the message to hostile politicians could not be clearer: the rights of women guaranteed under the U.S. Constitution and protected by 40 years of Supreme Court precedent cannot be legislated away," said Bebe Anderson, director of the U.S. Legal Program at CRR.
Roe has collapsed and Texas is in chaos.
Stay up to date with The Fallout, a newsletter from our expert journalists.
The Fargo-based Red River Women's Clinic provides a range of reproductive health services to women in North Dakota, as well as to women who travel from neighboring states, like South Dakota and Minnesota. North Dakota's attacks on reproductive rights in its state, therefore, inevitably reach beyond its borders.
Like clinics across the country, the Red River Women's Clinic is under legislative siege as anti-abortion lawmakers do all they can to try and close the clinic down. In May, CRR also took legal action to block North Dakota's SB 2305, a 2013 bill designed to shut down the clinic by imposing medically unwarranted requirements that any physician performing abortions in the state must have admitting privileges at a hospital within 30 miles. Meanwhile, in yet another legal challenge, a court permanently blocked the state's de facto ban on medication abortion.
Defending the bevy of unconstitutional laws passed since 2010 is not cheap, with legal fees in one case already costing residents tens of thousands of dollars in its early phases.
Despite Judge Hovland's latest admonition and mounting legal fees, it is all but guaranteed North Dakota will appeal this ruling since lawmakers made it clear the purpose of the law was to spark a direct challenge to Roe v. Wade. But until that happens, North Dakota citizens are going to have to decide if it's worth spending hundreds of thousands of dollars on lawyers or if the state could find more productive uses of those resources.