What Happens if Pride Parades Become Condom-Free?
The organizers of Houston's annual Pride parade, coming up this weekend, almost banned distributing condoms. And I have a lot of reasons to be skeptical about what a new "family-friendly" and "marriage-minded" LGBT community will mean for Pride.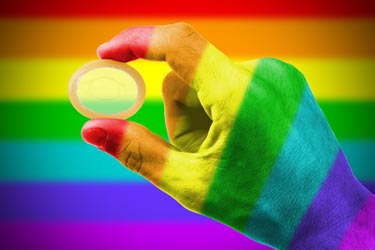 This weekend is LGBT Pride in many cities, and many LGBT folks feel they have extra cause to celebrate: the Supreme Court decision calling the Defense of Marriage Act (DOMA) unconstitutional.
But I have a lot of reasons to have caution this weekend about what a new "family-friendly" and "marriage-minded" LGBT community will mean. How will Pride weekend change when married gays with children decide that the femmes in string bikinis in high-heels, or the leather daddies in chaps are just too much for the kids to see?
And what if they stop passing out condoms at Pride?
The Pride parade coming up this Sunday in Houston, Texas, almost happened without rubbers raining from parade floats.
Roe has collapsed and Texas is in chaos.
Stay up to date with The Fallout, a newsletter from our expert journalists.
On June 19, local Houston news outlets reported that Pride Houston, the organization that organizes most Pride weekend events, announced to community organizations that they were going to ban condoms from being passed out during this year's parade. As community members began to raise questions, Houston Pride reportedly sent an email clarifying that the decision was not theirs, but in fact was a result of "recent changes in city ordinances [that] have constituted a change in the 2013 celebration rules. They are as follows: Parade entries are not allowed to throw/distribute contraceptives from their entry (i.e., float, vehicle or walking individuals)."
Houston health department officials took issue with that characterization. "Why would the health department invest a great deal of resource and treasure in an event in which we could not fulfill our mission?" Kathy Barton, of Houston's Health and Human Services Department told the local ABC affiliate.
Since getting bad press, Pride Houston released a vaguely worded statement about the issue, and announced that condoms could be passed out, but under certain conditions.
Pride Houston requires the distribution of contraceptives be tied to proper educational methods. Any organization wanting to distribute contraceptives during the parade or festival must include the contraceptive as part of a safer sex kit that includes educational messaging and or information about safer sex practices.
Some may celebrate this as a win, but this is disturbing for several reasons.
I support people getting proper sex education materials, but why would Pride Houston need to make that a requirement? Isn't a condom by itself better than none? Is the "safer sex kit" a way to just try to hide the condoms, lube, and dental damns from public view more than it is about their interest in education? Initially they were willing to have a Pride parade with no condoms whatsoever. Even if it were true that the city of Houston has such a policy banning condoms from being passed out, why would the Pride organization accept it, and not advocate for change?
What's interesting about the press release from Pride Houston is that it never mentions the words HIV or AIDS. In fact, the group only came close when it noted, "Pride recognizes that it plays a critical role in helping other organizations whose mission is to educate and help eliminate the spread of transmitted diseases through education and proper use of contraceptives."
Speaking of the disease of which they dare not speak, HIV is still a major health issue for the LGBT community in Houston. According to Houston Health Department data, 60 percent of all new infections in 2011 were among men who have sex with men (MSM). While Black and Latino gay and bisexual men are disproportionately affected (42.6 percent and 36.8 percent, respectively), white men are not out of the woods as it relates to the epidemic. In Houston, white gay and bisexual men accounted for 18 percent of all HIV infections in 2011. While there is less specific data on the impact of HIV on the transgender community in Houston, one small study of HIV-positive trans people shows a high need for services, including access to prevention tools and messages.
When I was in my 20s and went to Pride parades more frequently, it was the only place that I could get condoms for free. Because they last for several years, one pride parade would last me all year—with plenty to give out to friends! I wonder if Pride Houston is too concerned with the appearance of propriety and living in era of "the new normal" than doing what's responsible. We know Prides are sexually charged spaces—people are there to mix and mingle! And if you lose the opportunity to get people the access to safe sex materials, you might as well close up shop. There was a time when it didn't matter if HIV was an official part of your mission statement—it was everybody's responsibility to do what they could, and Pride was certainly a primary venue for reaching people who might not be reached any other time of the year. By comparison, Houston Splash, the Black LGBT Pride celebration that happened in early May, prominently features HIV testing and prevention messages on its website.
No one knows except the people at Pride Houston why the group attempted to ban the passing out of condoms. But one of my great fears is that this action by Pride Houston is one of the collateral consequences of the marriage equality movement. In the LGBT community's effort to win acceptance by mainstream (and white Christian upper-class) audiences, the politics have also become whiter, more bourgeois, and definitely de-sexed. In fact, Neil Giuliano, CEO of the San Francisco AIDS Foundation, recently published an article arguing that marriage equality will help lower HIV rates, presuming that same-sex marriage reduces the stigma of being queer, which will make LGBT people less depressed and prone to behaviors that put them at risk, and they will seek services sooner.  But what happens when you live in a state like Texas that isn't expanding Medicaid through the Affordable Care Act, which is going to only complicate access for communities at risk for HIV, or that have high rates of the disease? What happens when HIV-specific services aren't there—when organizations assume that because marriage is on the horizon, we don't need HIV prevention? And there's some data suggesting that more than two-thirds of gay men who become HIV-positive in the United States contracted the virus from a primary partner.
It's not just Pride Houston that is the problem here. According to a recent report from Funders Concerned About AIDS:
[A]mong U.S.-based funders, total disbursements for HIV/AIDS reached $491 million in 2011…a small increase in overall funding from 2010 to 2011 (3%). The majority of U.S.-based funders, however, decreased funding to HIV/AIDS, including several top 10 funders that funded other health areas. Total disbursements from all funders other than the Gates Foundation were 5% lower in 2011 than 2010.
Not only is funding shrinking for HIV/AIDS work, HIV/AIDS activists have begun to openly challenge the LGBT organizations that have siphoned resources (staff, programs, policy advocacy, and funding) from HIV/AIDS in favor of marriage equality.
The whole reason LGBT Pride exists is to commemorate the anniversary of the Stonewall riot in New York's Greenwich Village on June 28, 1969. All of those people fought for the right to be free of police violence and surveillance of queer spaces—to be themselves without having to be acceptable to the straight world. They didn't riot for three days to be able to get married, nor because they wanted a parade suitable for corporate sponsorship. Pride Houston, don't spit on their legacy.
Queers of Houston who responded to this nonsense policy, thank you for not letting Pride Houston get away with it.