Sexual Health Roundup: Michael Douglas Backtracks, Parents in China Want Sex Ed, and Condoms for Batman?
This week, Michael Douglas backtracked on his assertion that HPV caused his cancer, parents in China said they want sex education, a study showed Australian kids in same-sex families are doing well, and Durex's new social media campaign backfired.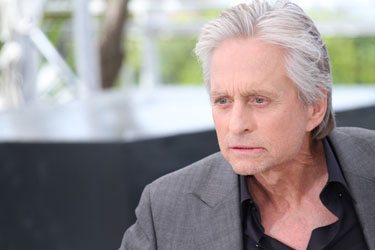 Sexual Health Roundup is a weekly summary of news and research related to sexual behavior, sexuality education, contraception, STIs, and more.
Michael Douglas Backtracks on Claim That Cunnilingus Caused His Cancer
Michael Douglas made headlines last Monday after seeming to suggest to a reporter at The Guardian that he blamed the human papillomavirus (HPV)—not drinking or smoking—for his throat cancer diagnosis. As Douglas mentioned in that interview, HPV can be transmitted through oral sex. At the time, I suggested that Douglas' announcement was probably good for public health as he was, purposely or not, raising awareness of HPV, the resulting health problems (which include cervical cancer and cancers of the head and neck), and the availability of a vaccine.
Since then, Douglas has issued two statements backtracking from his initial comments. First, his publicist clarified that "Michael did not say cunnilingus was the cause of his cancer. He certainly discussed oral sex in the article, and oral sex is a suspected cause of certain oral cancers, as the doctors in the article did point out. But he did not say this was the specific cause of his personal cancer."
Roe has collapsed and Texas is in chaos.
Stay up to date with The Fallout, a newsletter from our expert journalists.
It is probably more accurate to say that the precise cause of his cancer is not known or that it was, in fact, caused by a number of factors, HPV being one of them. As Kent Sepkowicz noted in a piece for the Daily Beast, the epidemiology of cancer is complicated, and a straight cause-and-effect relationship is hard to pin down.
Then, on ABC's The View, Douglas' friend Barbara Walters said, "The feeling was that perhaps he was blaming his wife for giving him the HPV virus. Michael would like everyone to know that his wife, Catherine [Zeta-Jones], is healthy. She does not have the HPV virus. He doesn't know how he got cancer. … He does not want anyone to think it was from Catherine. … He is happy it is raising awareness about HPV."
According to the Centers for Disease Control and Prevention (CDC), approximately 79 million people in the United States have HPV, and 14 million contract it each year. In fact, the CDC estimates that 50 percent of sexually active individuals will contract HPV at some point in their lives. That Michael Douglas and Catherine Zeta-Jones felt the need to clarify that she's part of the other 50 percent illustrates the stigma HPV and other sexually transmitted infections continue to carry.
Parents in China Want More Sex Education
A recent survey of 1,200 Chinese parents of children ages 6 to 14, conducted by the Beijing News and the Maple Women's Psychological Counseling Center, found that parents in China overwhelmingly support sex education in schools, but few schools are providing it.
The survey comes after research suggest that sexually transmitted infections (STIs) are on the rise in China and that 13 million unintended pregnancies end in abortion in that country each year. While the government still keeps close tabs on fertility and enforces a one-child policy (though there are now some exceptions), it apparently does not teach young people how to prevent pregnancy. Moreover, a recent spate of child molestations near Beijing has made the lack of sex education more worrisome.
The majority of parents in the survey (68 percent) said they have discussed some aspects of sex with their child, but only 38 percent had discussed inappropriate sexual advances and what to do about them. Parents say the schools are not currently educating children about sex at all; only 8.3 percent of parents surveyed were sure that their child had received sex education in school. A much larger percentage (43.5 percent) knew there were no such classes at their child's school.
Parents in China would like this to change; 90 percent of those surveyed said they support school-based education about birth control and sexual abuse.
Children of Same-Sex Couple Are Doing Just Fine (in Australia)
Initial findings from an Australian study of families shows that there are no statistical differences between children of same-sex couples and children in other types of families when it comes to measures of self-esteem, emotional behavior, or the amount of time spent with parents. Children of same-sex couples, however, scored better on measures of overall health and family cohesion (how well the family gets along). The study's lead researcher believes that same-sex couples are aware of the teasing or bullying their children might face and develop open communication to deal with it, which in turn creates better family cohesion.
Australia's parliament was set to vote on a bill to legalize same-sex marriage this week but the vote has been postponed to allow more time for debate.
Durex Social Media Campaign Goes Awry
The condom maker took to Facebook to launch a new public relations campaign called SOS Condoms, which was designed to send condoms via rush delivery to couples who are on the verge of having sex but are unprepared. The company asked its Facebook fans to vote on which city should receive this service. Unfortunately, it did not make this a multiple choice question. Internet pranksters hijacked the vote and decided to send the condom service to Batman, a conservative Muslim province in Turkey that shares the name with the caped crusader.
Had Paris, London, or New York City won, we might be seeing online ads for the SOS Condom service right now, but instead the company has decided to abandon the campaign. A Durex spokeswoman told Bloomberg that the service won't be offered in Batman or anywhere else and that the company's social media efforts are moving "on to a new sphere."