Supreme Court Won't Step Into Planned Parenthood Funding Fray—for Now
A decision to let stand a federal appeals court ruling that Indiana can't defund Planned Parenthood is good news, but it isn't necessarily a signal from the Roberts court that the issue is over.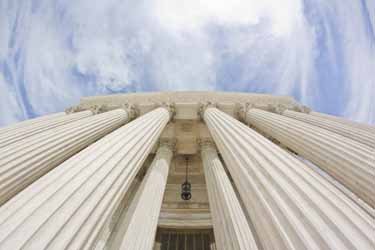 The Supreme Court returned from the Memorial Day holiday with some good news, announcing it will not disturb a lower court ruling that blocks Indiana's attempts to strip Medicaid funding from Planned Parenthood.
Planned Parenthood Indiana (PPIN), represented by attorneys from the American Civil Liberties Union (ACLU) of Indiana and the Planned Parenthood Federation of America, filed suit to block the law, which would have denied funding to Planned Parenthood for general health services since the organization provides abortion care. Planned Parenthood has successfully argued before both a federal district court and the Seventh Circuit Court of Appeals that the law should be blocked because it likely conflicts with the federal Medicaid statute, which protects patients' rights to make their own decisions about health-care providers. Attorneys representing the state had hoped to get the Supreme Court to take up the appeal and rule states were free to distribute Medicaid funds as they wish.
"We are happy that the Supreme Court's action lets stand the appeals court ruling that the state does not have plenary authority to exclude a class of providers for any reason," ACLU of Indiana Executive Director Jane Henegar said in a statement. "Federal law protects the right of Medicaid patients to choose a health care provider free of interference from the state."
The case will now proceed in U.S. District Court, where attorneys for PPIN hope to make the preliminary injunction preventing the law from taking effect permanent.
Roe is gone. The chaos is just beginning.
Follow Rewire News Group on Twitter to stay on top of every breaking moment.
This represents the latest victory at the state level against anti-choice lawmakers who have tried to block low-income residents from accessing health care in their states. State-level efforts in Arizona, North Carolina, Kansas, and Tennessee to cut off funding to Planned Parenthood health centers and preventive health services have all been blocked in the courts as well.
"Today's announcement from the Supreme Court is not only a victory for Planned Parenthood's patients in Indiana, it is a victory for the nearly three million people who turn to Planned Parenthood health centers each year across the country," Cecile Richards, president of the Planned Parenthood Action Fund, said in a statement. "Planned Parenthood is reimbursed by the government to provide health care just like every other medical provider. Politicians in all 50 states should take note: blocking Planned Parenthood from funding to provide preventive health care is both unlawful, and deeply unpopular."
Each year, Planned Parenthood Indiana provides care to more than 75,000 patients, nearly 9,300 of whom are enrolled in Medicaid. PPIN's public funding comes from the federal government and goes entirely toward preventive health care. Just like hospitals and other health-care providers, Planned Parenthood health centers in Indiana receive reimbursements from Medicaid only for specific, eligible services. In accordance with state law and the federal Hyde amendment, Medicaid funds can't cover the cost of abortions except in cases of rape, incest, or to protect the life of the woman. But that still hasn't stopped Indiana Republicans from targeting the group. Now, with another federal court ruling that such efforts are unconstitutional, perhaps lawmakers will turn their attention elsewhere.