Iowa Governor Will Personally Approve Every Medicaid-Funded Abortion
For the third time, Iowa legislators have failed to directly end abortion funding for poor women who have been victims of sexual assault. That is, if the governor agrees.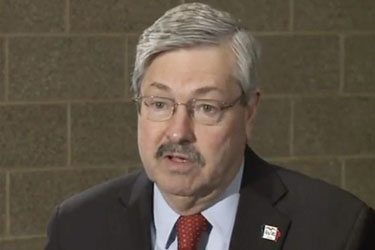 The 2013 Iowa legislative session has ended, and anti-choice lawmakers tried but once again failed to pass an amendment to the budget to eliminate Medicaid funding for abortion. Roughly two dozen abortions are funded by Medicaid in the state each year, in cases of pregnancy resulting from rape,  in which a fetus is found to have severe genetic anomalies, or in which the life of the woman is at stake. However, a new rule allows the governor to decide on a case by case basis which abortions will be reimbursed. His decision may leave poor women in exactly the same situation as if the amendment had gone through in the first place.
In past years, bills to cut off Medicaid funding of safe abortion care have failed, so anti-choice lawmakers instead inserted language into the state budget to bring the same results. The final passage of the 2013 budget does not directly prohibit all Medicaid funding of abortion in the case of rape or genetic anomalies but would allow the governor to approve or reject reimbursement to Medicaid in each particular application for reimbursement.
The difference was enough to allow both Republicans and Democrats to feel comfortable enough to approve the final budget. But with the issue of Medicaid reimbursement left unresolved, low-income women facing pregnancy resulting from rape, severe fetal anomalies, or life endangerment may find it difficult, if not impossible, to find a provider who will offer a termination.
Obtaining Medicaid reimbursement for those conditions allowed under current law is already a challenge in the state. If reimbursement by Medicaid relies on the governor in each circumstance, it is likely doctors will be far more reluctant to reimburse for procedures that may be expensive, especially in cases of fetal anomaly.
Roe is gone. The chaos is just beginning.
Follow Rewire News Group on Twitter to stay on top of every breaking moment.
Republican Governor Terry Branstad already proved his anti-choice bona fides by appointing prominent anti-choice activists to the state medical board. On the other hand, he also blocked a 2012 attempt to cut off reimbursement for Medicaid abortions, making it slightly less clear which way he would fall when presented with a case to approve.
Still, uncertainty in the approval process may cause providers to shy away from ensuring that low-income victims of rape or those with fetal anomalies have access to safe abortion care. For Iowa anti-choice activists desperate to eliminate access to safe abortion care for the state's poorest, that is as close to victory as they have been able to get.