Stoking Fire: Addressing the Specific Needs of Female Syrian Refugees
Humanitarian groups are working to provide aid to the hundreds of thousands of Syrian refugees who have fled to Jordan, but the specific needs of women and girls all too often fall through the cracks.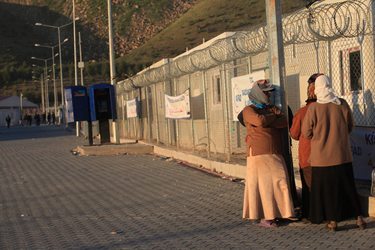 Since the Syrian civil war began in 2011, more than a million people have fled, causing a refugee crisis of enormous magnitude. According to the United Nations Population Fund (UNFPA), upwards of 3,000 Syrians a day have registered as asylum seekers in neighboring Egypt, Iraq, Jordan, and Turkey. The lion's share of these refugees—between 300,000 and 400,000—have ended up in Jordan, with approximately 30 percent of the total settling in the Al Zaatari refugee camp and 70 percent moving into host communities throughout the country. UNFPA further estimates that three-quarters of the refugees are women and children.
By all accounts, displaced Syrians are encountering grim conditions, with overt violence, supply shortages, and filth more the rule than the exception.
The Al Zaatari refugee camp, administered by the UN High Commission for Refugees, was built to accommodate 60,000 people, but there may be as many as 120,000 refugees there now, according to the New York Times. Yifat Susskind, executive director of MADRE, was in Jordan and visited the Al Zaatari camp in mid-April.
"Jordan is a highly functioning state, but it is resource stressed, especially for water," Susskind told Rewire. "Syrian refugees are putting a huge strain on the population, and tensions have developed. For example, Syria is a beautiful, green country with adequate fresh water, so it does not have a culture of conservation. One of the big issues in the camp is that refugees are protesting the amount of their daily water ration. At the same time, water-strapped Jordanians are beginning to resent camp residents who they perceive as having easy access to all the water they need."
Roe is gone. The chaos is just beginning.
Follow Rewire News Group on Twitter to stay on top of every breaking moment.
In addition, Jordanians are fearful that the Syrian influx will inflame already pervasive problems, including deforestation, soil erosion, desertification, and the overgrazing of land.
Even more daunting are safety concerns. Al Zaatari's toilets are unlit so many woman are terrified to use them at night, and there is a need for more routine health-care services, including basics like adequate access to sanitary pads, and ongoing educational programs for youth. Although UNFPA reports that it provided reproductive health services to more than 3,600 women in the camp during two weeks in early April, Susskind said that there are nonetheless barriers that need to be addressed, among them the distance between the health center and the location of many people's temporary housing. "The camp is so large that it can take an hour and 15 minutes to walk to the area where services are offered," she said.
"For women who are in the last months of pregnancy, who are sick, or who have just delivered a baby, this location poses a terrible hardship," Susskind said. "There has been talk of trying to raise money for a shuttle bus, but this has not yet happened."
Despite this criticism, Susskind is quick to commend UNFPA for its valiant efforts. Still, as she spoke, she shook her head at the enormity of the issues facing aid workers each day.
Dealing with survivors of sexual trauma or rape is even more problematic, she continued: "We know that rape and domestic violence always increase in times of war and displacement, and we know that many of the women became refugees after being raped or out of fear that sexual violence would be perpetrated against them or their family members."
She went on, "There is no way to estimate the number or refugees who have been raped or sexually abused, and it is really clear that this is a topic the women won't talk about. Syrian refugees have a lot of disincentives to keep them from coming forward to talk about these issues. They live in a culture where honor killing is practiced and where the blame and shame of rape is placed exclusively on them." This means that crisis counseling teams need to be attuned to the signs of trauma that typically appear in survivors, from the inability to bond with a newborn to disassociation to overt clinical depression.
Women Under Siege Director Lauren Wolfe, writing in The Atlantic, calls Syria "a nation of traumatized survivors," and notes that men as well as women have been violated by government forces and plainclothes militia in a campaign meant to humiliate, intimidate, and ultimately stifle resistance to the regime of Bashar al-Assad.
What's more, overwrought and fearful families have pushed girls as young as 13 into arranged—some would call them forced—marriages. In more than a few instances, this has unwittingly placed them in the hands of traffickers; in other cases, it has meant moving adolescent girls far from their families, isolating them from everyone they have ever known.
Meanwhile, the number of refugees keeps growing as more and more people opt to leave Syria, on foot and by paying drivers to transport them across borders that may eventually be closed. While humanitarian groups such as Handicap International, the Jordanian Red Crescent, Mercy Corps, and UNICEF are working to provide supplies to this diaspora, the specific needs of women and girls all too often fall through the cracks. Code Pink and MADRE, among other feminist groups, are working to address and meet female needs; they recently teamed up to purchase 350 solar lanterns so that at least some of the women in Al Zaatari can be more relaxed about walking in the camp after dark. They are also fundraising to train midwives to counsel women who show signs of sexual abuse and trauma.