Pregnant Workers Fairness Act Introduced in Both House and Senate
Democrats introduced a bill designed to remedy pregnancy discrimination in the workplace. Will any Republicans support it?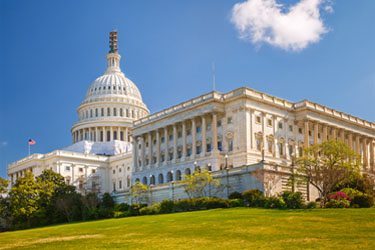 On Tuesday, the Pregnant Workers Fairness Act (PWFA) was introduced in both the U.S. Senate and the House of Representatives. Sponsored by Sens. Robert Casey (D-PA) and Jeanne Shaheen (D-NH) and Reps. Jerrold Nadler (D-NY), Carolyn Maloney (D-NY), Jackie Speier (D-CA), Susan Davis (D-CA), and Marcia Fudge (D-OH), the PWFA is designed to remedy the pervasive problem of pregnancy discrimination in the workplace. Borrowing from the Americans With Disabilities Act, it would require employers to make reasonable accommodations to employees who have limitations stemming from pregnancy, childbirth, or related medical conditions, unless the accommodation would impose an undue hardship on the employer. This means that an employer might be required to modify a no-food-or-drink policy, provide a stool, temporarily reassign heavy lifting duties to other employees, or give an available light-duty position to pregnant employees in order to accommodate pregnancy-related limitations.
Despite the Pregnancy Discrimination Act of 1978, employers routinely deny requests for temporary work adjustments by pregnant workers, leaving many without a salary and health insurance because they were fired, forced to quit, or pushed to take unpaid leave. The PWFA is designed to address the gap in the law that leaves these workers unprotected.
"Women make up almost half of the workforce, but all too often they face an impossible choice: risk their own health and pregnancy to keep a job or be fired or forced onto unpaid leave," said National Women's Law Center Vice President and General Counsel Emily Martin in a statement. "The stories of pregnant women who are denied small adjustments in the workplace defy logic. A retail worker in Kansas was fired because she carried a water bottle to stay hydrated. An activity director at an Indiana nursing home was terminated because she needed to avoid moving heavy objects to prevent having another miscarriage. A truck driver in Maryland was forced onto unpaid leave and lost her health insurance when she needed help with occasional heavy lifting. If these women had needed reasonable accommodations because of a disability other than pregnancy, their employers likely would have provided them."
Making these kinds of workplace accommodations for disabled workers is routine, but only because employers can no longer discriminate on the basis of disability. The same kinds of protections are needed for pregnant workers. "The Pregnant Workers Fairness Act would end this inequity and require employers to extend to their pregnant employees the same commonsense adjustments they already provide workers with disabilities," Martin said. "If employers make these reasonable accommodations, pregnant workers could work longer under safer conditions and continue to provide for their families. And employers would benefit by retaining their trained workforce and avoiding the costs of employee turnover."
Roe has collapsed and Texas is in chaos.
Stay up to date with The Fallout, a newsletter from our expert journalists.
Three-quarters of women entering the workforce will be pregnant and employed at some point. Under current law, employers cannot discriminate based on pregnancy, childbirth, or related medical conditions, but pregnant workers are often forced out of their jobs unnecessarily and denied the temporary, minor modifications to job duties that would enable them to continue working. That was the case with Amy Crosby, a hospital worker in Florida who faced lifting restrictions because of her pregnancy. Rather than accommodate her request, the hospital told Crosby she would have to take unpaid leave and could lose her job. It wasn't until Crosby filed a legal complaint that the hospital changed its mind.
"No woman should be forced by her employer to choose between earning a living and having a safe, healthy pregnancy," Vania Leveille, American Civil Liberties Union senior legislative counsel, said in a statement. "This legislation would make it crystal clear that employers are required to extend the same adjustments and flexibility to pregnant women that they already give to other employees. Members of Congress should support this common-sense approach that ensures a woman's economic security, promotes a healthy pregnancy, and can improve an employer's bottom line."
As the Crosby case illustrates, employers often balk at the idea of accommodating pregnant workers, arguing the cost and administrative burden would be too much. However, the evidence shows that's not the case. And while the actual cost to employers of accommodating pregnant workers is relatively small, the failure to make the accommodation can force low-wage workers already on the edge into poverty. After more than 40 years of civil rights legislation designed to root out this kind of institutional bias, many employers still don't understand this, and they won't until the law makes it too costly to continue.