North Carolina 'Gender-Selection Abortion' Ban Passes House Committee, Pushed by GOP Leader
The sponsor of the ban on alleged gender-selection abortions is no stranger to abortion restrictions.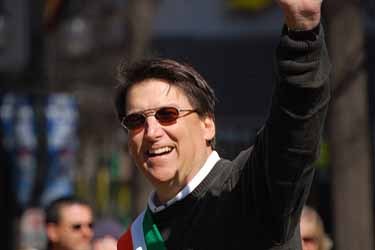 A bill that would make doctors pay significant financial penalties if they are found performing an abortion due to the fetus's gender has made it through a North Carolina house committee with the support of its sponsor, a high-ranking anti-choice Republican. But as the bill winds its way through the legislature and inevitably stops at the desk of Republican Gov. Pat McCrory, he will once more be faced with whether to uphold his campaign promise and refuse to sign laws restriction abortion access.
HB 716 would ban doctors from "knowingly or recklessly perform[ing] or attempt[ing] to perform an abortion upon a woman in this State with knowledge, or an objective reason to know, that a significant factor in the pregnant woman seeking the abortion is related to the sex of the unborn child." The bill would open up opportunities for a number of potential interest groups to sue on behalf of a patient if they believe a termination was conducted because of the fetus's gender, and would make practitioners vulnerable to fines and damages of up to $100,000.
Reproductive rights advocates see the bill as a restriction in search of a problem, noting that the ban would be mostly unenforceable and that there is no evidence of gender-based abortions existing in the state. "This law is unworkable and not enforceable. The broad language of this bill would insert politicians directly into the doctor-patient relationship and force medical providers to interrogate their patients or risk severe penalties," Suzanne Buckley, executive director of NARAL Pro-Choice North Carolina, said in a statement. "The goal of this legislation is not to curb gender discrimination but to strip women of reproductive choices by making increasingly difficult for doctors to provide abortion care."
Having no clear way to enforce the law doesn't concern bill sponsor Rep. Ruth Samuelson (R-Charlotte), who claims that there are "indications" that sex selection is a "significant problem."
Roe has collapsed and Texas is in chaos.
Stay up to date with The Fallout, a newsletter from our expert journalists.
"We say there's sex discrimination in education and in the workforce," Samuelson told the Charlotte Observer when introducing the bill. "How can we say there's not sex discrimination in abortions?"
Samuelson, a GOP leader who is hoping to be appointed Speaker of the House, is no stranger to pushing anti-choice legislation. During the 2011 session, she was instrumental in pushing the 24-hour waiting period and forced ultrasound bill vetoed by then Gov. Bev Perdue. That veto was eventually overridden by the state house and senate and became law, although the ultrasound portion was blocked by the courts.
A veto may well be the result of this year's legislation as well, if Gov. McCrory keeps his campaign pledge not to sign any abortion restrictions into law. If so, it would be up to the state legislature to decide if alleged "gender discrimination" in abortion procedures outweigh the real gender discrimination inherent in taking away a woman's right to decide under what circumstances she is willing and capable of remaining pregnant and giving birth.