A View of a Classroom: The Role of Educators in STD Prevention
Reducing STD rates takes education. Our youth have questions. We need to answer them.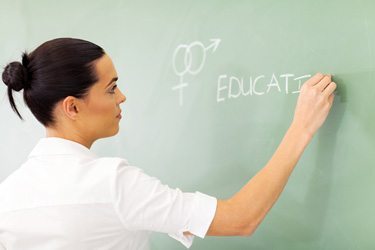 Published in partnership with the National Coalition of STD Directors (NCSD).

See all of our coverage of STD Awareness Month 2013 here and our coverage of National Youth HIV & AIDS Awareness Day here.
A student raises her hand and asks, "I heard that boys only get certain STDs and girls only get certain STDs. Is this true?"
Another student asks, "Is oral sex really sex? If people have oral sex they can't get an STD, right?"
Roe has collapsed and Texas is in chaos.
Stay up to date with The Fallout, a newsletter from our expert journalists.
Still another student asks, "If I drink a lot of soda, will that kill an STD?"
It's hard to believe that these are questions I hear—along with many others—when I engage youth in conversation on sexually transmitted disease (STD) education. The myths, misinformation, and untruths our youth know and take as fact concern and frighten me. They make me pause and think, "If this is what youth believe, how can they be safe? How can they make decisions about engaging in sexual activity when they don't know the facts?"
The Reality
Cook County, where we reside in Chicago, ranks first and second, respectively, in cases of gonorrhea and chlamydia for youth ages 15 to 19 in urban U.S. cities. What's even more startling is that the majority of community members, parents/ guardians, and students with whom I share this information are unaware of the rampant rates of infection affecting our youth. According to youth risk behavior data from the Centers for Disease Control and Prevention (CDC), 52 percent of Chicago Public School students in high school have reported engaged in sexual activity, and more than 35 percent of the high school students who are sexually active said they did not use a condom during their last sexual intercourse. When faced with this information, there is no hiding the problem. Our youth are engaging in risky behaviors. They are not protecting themselves and are putting themselves at greater risk on contracting STDs.
Take Action
April is STD Awareness Month. Awareness means education. As educational agencies, we have a role to play in STD prevention. We're in a position where we can have a huge positive effect on the lives of the youth in our districts. Educational agencies need to be part of the efforts to reduce STD rates by putting in place tools for youth to receive the sexual health information they need to make informed sexual health decisions.
Policy for sexual health education: Educational agencies can work with community stakeholders to develop a sexual health education policy that addresses the provision of comprehensive, medically accurate, and age-appropriate sexual health education for all school-age students.
Sexual health education: Education agencies need to ensure the implementation of a comprehensive education program that builds a foundation of knowledge and skills relating to human development, relationships, decision-making, abstinence, contraception, and disease prevention. In addition, ensure that teachers receive training to be able to teach or community partners are vetted to teach comprehensive sexual health education.
Parent/guardian engagement: Education agencies can support parents/guardians in having open dialog on sexual health. Agencies can offer parents/guardians educational opportunities on sexual health and how to talk to one's children about sexual health.
Reducing STD rates takes education. Our youth have questions. We need to answer them.