Arizona Governor Rejects Plea to Go After Planned Parenthood Again
Brewer just says no to anti-choice pressure groups. No, really.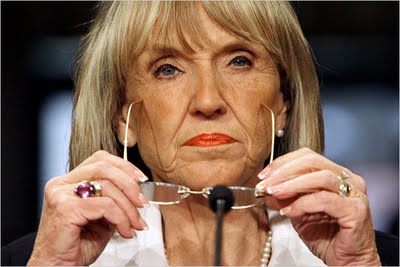 Arizona spent much of the last few legislative sessions passing the most restrictive abortion and family planning policies in the country. But after the 2012 omnibus bill—a package of new laws that included among many other things the earliest abortion ban in the country at that time—the state went strangely silent.
Now, the silence has been broken. The local conservative and anti-choice policy group Center for Arizona Policy has inserted itself into the debate over Medicaid expansion by demanding that Republican Governor Jan Brewer insert a new ban on any family planning funding dollars going to Planned Parenthood affiliates.
Surprisingly, Brewer refused to do it.
"We went down that route last year. We lost," reporter Howard Fisher of the Capitol Times reports her saying. According to Fisher, "The governor said she sees no reason to pick a new fight now—only to get slapped down again in court."
Roe has collapsed and Texas is in chaos.
Stay up to date with The Fallout, a newsletter from our expert journalists.
Brewer is referring to the court battle over their previous law barring Planned Parenthood from receiving any funding for family planning or health care services. In February the federal court granted a permanent injunction, saying that the state does not have the ability to tell women what providers they are allowed to go to in order to access reproductive health care.
Brewer has taken their words to heart. If only more anti-choicers would do the same.