YWA 2013 Nominee: Holly Kearl
In 2008 I launched the website www.StopStreetHarassment.org where people around the world share their stories. I now have 15 correspondents who write monthly articles about the issue from seven countries.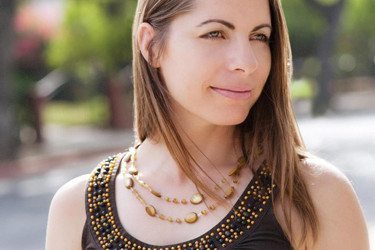 UPDATE: Congratulations to Young Women of Achievement awardees Jessica Livoti-Morales and Angelique Roche (community organizing/labor work), Elizabeth Lindsey (innovation), Tenley Peterson (leadership), Ali Rozell (political/campaign work), Merry Michelle Walker (service/nonprofit advocacy), and Julia Reticker-Flynn (women in the choice movement).
"I like the way your tits bounce when you run," is one of the many offensive and upsetting comments men I do not know have said to me in public spaces. Like so many women, I was raised to be polite, to not cause a scene, and to think that any male attention was a compliment, so for most of my life I smiled politely or hurried away from these men. Then I stayed away from the places where I had been harassed. Even though I took women's studies classes in college and volunteered at domestic violence organizations and I spoke out against campus rape, I did not connect my experiences to gender violence or gender inequality for a long time.
During graduate school, I had to pick a topic for my master's thesis. Around that time I learned the term "street harassment" from feminist websites. I quickly identified it as what I was experiencing, ranging from the leering and whistling to sexualized comments to flashing, following, and groping. I was relieved to not be alone and to find tips for dealing with harassers. I decided to write my thesis on how women were turning to online spaces to share stories and advice in lieu of social recognition of the problem. I finished my thesis in 2007 and it was featured on CNN.com.
Over the past six years, I've become a leading expert on the topic, in part because, especially at the beginning, there were few people talking about this issue. Even though I work full-time, the more women's stories I heard or read, the more I realized that most men have no idea this happens, and the more I witnessed the media, police and government agents turning a blind eye to the issue or engage in victim-blaming, the more I wanted to do something about it.
Roe has collapsed and Texas is in chaos.
Stay up to date with The Fallout, a newsletter from our expert journalists.
In 2008 I launched the website www.StopStreetHarassment.org where people around the world share their stories. I now have 15 correspondents who write monthly articles about the issue from seven countries.
In 2010, I wrote a book on the topic and have given over 150 media interviews and 75 talks on the subject. I've presented at UN conferences and testified before the New York City Council.
Since 2011, I have undertaken offline activism, too. In partnership with Collective Action for Safe Spaces, I helped organize more than 50 volunteers to conduct community safety audits in Washington, DC neighborhoods. Also in partnership with CASS, I testified before the DC City Council and I am part of a taskforce that works with WMATA to address sexual harassment on the transit system.
Each spring, I organize Meet Us on the Street International Anti-Street Harassment. This year, the week will take place April 7-13 and there are lots of ways people can be involved in speaking out against street harassment from anywhere in the world.
Going forward, in addition to organizing the week of awareness, I'm fundraising to conduct the first-ever national study on street harassment and gained 501(c)(3) status so that donations are tax deductible. We must have more data before politicians, government agencies, and law enforcement takes this issue seriously. I'm also in the research stages of setting up a hotline for survivors of street harassment who want advice or support. This may be launched in partnership with other DC-based groups.
My motivation for continuing this work is the stories I hear. I am outraged over and over by the many ways women change their lives directly because of harassment: from altering routes and routines to giving up hobbies or never returning to stores or parks where they've been harassed to even moving neighborhoods or quitting jobs.
The many ways women feel they must change their lives to stay safe makes street harassment a human rights violation. No country has achieved gender equality and no country ever will as long as women have unequal access to public spaces. Street harassment must end!