With Muskegon Clinic Closure, Access to Abortion In Michigan Just Got Harder
A break in and subsequent set of violations has shut down one of the few Michigan clinics outside the larger metro areas.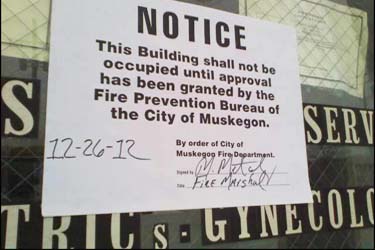 In the wake of the news that clinics in Michigan that provide abortions will now be subject to new, unnecessary building regulations, the closure of the Women's Medical Services clinic in Muskegon, Michigan is an even more alarming tale of what the landscape of abortion access can look like in a state with a TRAP law in place.
Women's Medical Services was the victim of a break-in during the early hours after the day after Christmas, and as a result of the police investigation was shut down due to concerns over potential fire code and building code violations. Many of the issues revolved around a leaking roof. Most of the rest involved trash and medical waste issues that may or may not have been there before the break-in occurred. However, the clinic owner has chosen not to fix the violations and leave the business shut instead.
That's a huge problem for women in Western Michigan seeking access to abortion services. One local television station reports that in the western half of the state clinics are in Grand Rapids, Traverse City, and Niles. Meanwhile the rest of the state has more choices with clinics in Flint, Saginaw, and in and around the city of Detroit.
A look at a map makes it even more obvious how much the closing of a clinic in Muskegon effects the rest of the state. Despite the fact that there are still more than two dozen abortion providers in the state even after the closure of Women's Medical Services, the loss of a clinic outside the Detroit metro area is a huge blow for overall access in the state. The danger lies not just in states like Mississippi, South Dakota, and Alabama with just one clinic. To lose a sole provider in a 100-mile radius is just as devastating regardless as if the state has one clinic or thirty.
Roe has collapsed and Texas is in chaos.
Stay up to date with The Fallout, a newsletter from our expert journalists.
With the new omnibus abortion bill signed into law by Governor Synder now in effect, replacing Women's Medical Services in Muskegon is now far more difficult. To reopen the clinic wouldn't just require a new doctor, but also a revamping of the building codes to have it brought into compliance with H.B. 5711's new rules (and, obviously, a new roof). With the expense required for both efforts, the women of Western Michigan will be unlikely to regain local services.
Obviously, that's exactly what the anti-choice politicians hoped to see.