Akin Donations Prove Actions Speak Louder Than Words
Despite saying they would have nothing to do with the Missouri Republican, the party still dropped big money on his failed senate campaign.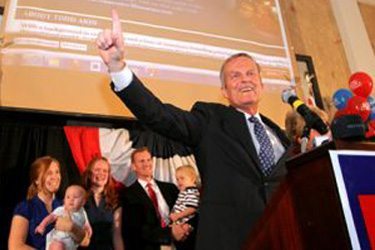 The Republican machine may have worked overtime to distance themselves politically from embattled Missouri senate candidate Rep. Todd Akin after he made remarks saying that he believed rape victims couldn't physically get pregnant, and that even if they did, they should never be allowed abortions. The party acted quickly to condemn the comments, claiming it was a far right stance and not the view of the majority of the party, despite affirming the same "no exceptions" plank in the GOP platform just weeks later.
But just because they were publicly drawing a line between themselves and Akin doesn't mean that line existed when it came to financial support. According to the Associated Press:
[A] finance report filed by the Missouri Republican State Committee shows it received $760,000 from the [National Republican Senatorial Committee] in two payments made Nov. 1 and Nov. 2. At about the same time, the state Republican committee spent a nearly identical amount of money for TV ads supporting Akin.
So, national Republicans told the truth—they wouldn't spend money on Akin. They would just spend money on the state committee so it could spend money on Akin.
Roe has collapsed and Texas is in chaos.
Stay up to date with The Fallout, a newsletter from our expert journalists.