DesJarlais Wins Election But May Be Forced to Step Down
Good thing he kept most of that under wraps prior to election day.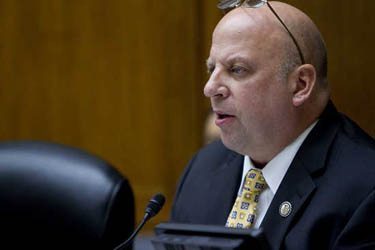 Anti-choice Republican Congressman Scott DesJarlais went mostly silent when news stations began reporting his affair with a patient while he was still a doctor, and his attempts to convince her to to have an abortion when she became pregnant. DesJarlais avoided most media contact after his initial statements, and managed to still win reelection primarily by staying out of the public eye.
Now, it appears the "family values" Tennessee conservative was hiding more than one affair. The Chatanooga Times Free Press has released transcripts from the 2001 divorce proceedings between DesJarlais and his ex-wife, and those transcripts reveal not only that he had more than one extra-marital affair, but that he and his wife mutually agreed to terminate two pregnancies during their relationship together.
DesJarlais, a family-values conservative who rode 2010's tea party wave to Washington, testified his ex-wife's earlier abortion stemmed from medical concerns.

"… [She] was on an experimental drug called Lupron and was not supposed to have gotten pregnant. There were potential risks. It was a therapeutic," he said.

Roe is gone. The chaos is just beginning.

Follow Rewire News Group on Twitter to stay on top of every breaking moment.

DesJarlais backed a second abortion after she returned from a military stint in Saudi Arabia a few years before they married in 1995.

"[It] was after she had gotten back from Desert Storm and things were not going well between us and it was a mutual decision," he said.

The general practitioner reflected on both abortions in his testimony in Marion County Chancery Court.

"I don't think that it was easy for either one of us," he said. "I think it was a very difficult and poor choice and I think that there are probably regrets both ways."
Would voters have found these revelations hypocritical? We will never know. The court was unable to provide the transcripts to the press because "the court delayed the process because the document was not typed up in its complete form."
Still, he may not come from the scandal unscathed. Tennessee Governor Bill Haslam is suggesting it might be in DesJarlais's best interest to consider stepping down from his seat.
Via The Tennessean:
Gov. Bill Haslam thinks U.S. Rep. Scott DesJarlais ought to weigh whether he can continue to be effective in Congress, but the governor has not been part of any "official" conversations about asking him to resign, he said Monday.

"I think the congressman's decision is, can I effectively represent the people who elected me," Haslam told reporters after a public appearance in Nashville. "It's not my call. It's his decision."
It's a convenient way for the controversy to play out. Had all of the information made it out prior to election day, a Democrat may have won the seat. Now, if DesJarlais does step down, the state can hold a quick special election in which the Republican candidate is virtually guaranteed a win and continue to hold the seat.