Analysis Family Planning: A Key to Prosperity
Family Planning: A Key to Prosperity
Yet international support for such programs has not kept pace with the need for family planning. As a result, many developing countries, particularly in sub-Saharan Africa, continue to face rapid population growth and other impediments to social and economic development.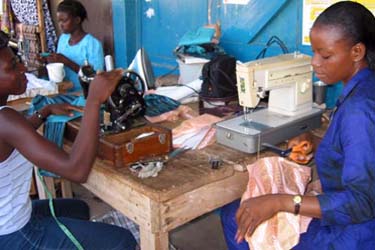 Cross-posted with permission from the Population Council.

See all our coverage of the 2012 Global Family Planning Summit here.
Family planning programs are highly cost-effective, have demonstrable poverty-reducing effects, and provide important health and human rights benefits to those who would otherwise have trouble achieving them. Yet globally, funding for such programs has not kept pace with the need. As a result, many developing countries, particularly in sub-Saharan Africa, continue to face rapid population growth that jeopardizes social and economic development.
While family planning may be treated as a political football in the U.S., the good news is that international support is growing. In recent years, donors have demonstrated a renewed interest in family planning, and new research has proven that high-quality voluntary family planning programs advance economies and improve health. International family planning conferences in 2009 in Kampala and 2011 in Dakar drew unexpectedly large turnouts. And major donors like the Gates Foundation, the World Bank, and the UK Department for International Development have voiced new commitments to the issue.
Sex. Abortion. Parenthood. Power.
The latest news, delivered straight to your inbox.
But much more must be done.
Some 215 million women in the developing world do not want to get pregnant but are not using an effective method of contraception, resulting in unintended pregnancies and preventable maternal and infant deaths. The poorest parts of the world — where individuals are already struggling to overcome hunger — will see continued population growth of more than 70 million per year. The population of sub-Saharan Africa is expected to increase by 1 billion by 2050. And high unemployment and inequality among rapidly growing young populations are contributing to the spread of political violence and civil strife.
Research shows that family planning does more than provide health benefits; these programs also reduce poverty and improve lives:
First, by reducing the birth rate, family planning programs can create a "demographic dividend" that boosts economic growth for a few decades by increasing the size of the labor force relative to both young and old dependents, and by making it possible for people to save money. About a third of the rapid economic growth rates experienced in recent decades by East Asian tiger economies is the result of this dividend.
Second, slower population growth allows families and communities to invest more in providing quality education and health care and to improve infrastructure. Children who are healthy and educated are primed to become productive adults who can help to fuel the economy.
Third, when women are able to plan and space their pregnancies, they can invest more in each family member. And women who have fewer children have more time to earn wages outside the home, which boosts family income and quality of life and reduces poverty.
The benefits of family planning can be seen clearly in controlled and "natural" experiments. One of the most compelling controlled experiments demonstrating the benefits of family planning is the landmark project undertaken by the International Centre for Diarrhoeal Disease Research, Bangladesh (icddr,b) in the Matlab district of Bangladesh. The Matlab population of 173,000 people was divided into two areas: an experimental area, where access to high-quality family planning services was greatly expanded to include home visits, a wide array of contraceptive choices, and follow-up care; and a control area, which received the standard set of less-intensive services that were available country-wide.
Population Council research showed that the impact in the experimental area was large and immediate: contraceptive use increased markedly, fertility declined rapidly, and women's health, household earnings, and use of preventive health care improved. Children living in households that received family planning outreach were more likely to survive to the age of five and to attend school than were children from households that did not participate.
The program was so successful that it was expanded across the country. Today, Bangladesh is widely recognized as a world leader in family planning.
"Natural" experiments, which compare two countries with similar social, economic, cultural, and religious characteristics – but with differing approaches to family planning programming – also demonstrate the powerful impact of voluntary family planning. One very recent example of this can be seen in Rwanda and Burundi. The two countries share many cultural and social characteristics, and their development indicators are similar. But in the early 2000s, the government of Rwanda renewed a lagging commitment to family planning, and with strong support from international donors, sharply increased access to contraceptive methods throughout the country. In just five years, fertility dropped from 6.1 births per woman in 2005 to 4.6 in 2010. Family planning has not been a policy priority in Burundi, and fertility remains at 6.4 births per woman. The sharp ongoing fertility decline in Rwanda substantially improves the prospects for development in that country.
In both Bangladesh and Rwanda, we have learned that robust, high-quality voluntary family planning programs are important policy responses for improving the lives of people in developing countries. And in other countries that adopted voluntary family planning programs—such as Indonesia, Kenya, and Iran —economies, public health, and standards of living are improving.
The argument for investing in family planning is persuasive: women and children, communities, and societies all benefit. Family planning should be a high policy priority and should be seen not only in terms of its benefits to people's health and rights, but as a critical investment in economic development and higher living standards.