A Plan To Get Americans Back To Work — Except For All Those Women
As Mitt Romney describes his plans for his administration, public workers -- of whom women make up a large majority in many sectors -- learn they will be left to fend for themselves.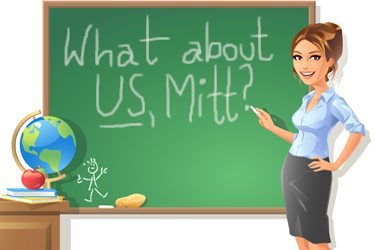 Former Massachusetts Governor Mitt Romney is crossing the country, spreading his vision of an America with him at the helm. It's a land of prosperity benefiting from his tenure as a businessman, with a stronger economy, more wealth, and more jobs.
Well, unless you are a teacher, a police officer, a fighter-fighter, or any other type of "public employee."
Addressing a charge by the Obama campaign that Romney's tenure as governor led to dramatic reductions in local spending and large layoffs of public employees, Romney agreed, and said he considered that a good thing. Speaking at a campaign event in Salt Lake City, Utah, Romney said:
"[Obama] wants another stimulus, he wants to hire more government workers. He says we need more fireman, more policeman, more teachers. Did he not get the message of Wisconsin? The American people did. It's time for us to cut back on government and help the American people."

Roe has collapsed and Texas is in chaos.

Stay up to date with The Fallout, a newsletter from our expert journalists.
How far off message did Romney go with his remarks? Even Wisconsin Governor Scott Walker, who survived a recall effort, said maybe the former investment banker turned politician should take a step back and re-evaluate. "I know in my state our reforms allowed us to protect firefighters, police officers, and teachers. That's not what I think of when I think of big government," Walker told "Face The Nation."
President Barack Obama used Romney's gaff as an opening to remind Congress that a bill that would help avoid teacher layoffs is still awaiting their vote. In his weekly video address, Obama said:
"All across America – tens of thousands of teachers are getting laid off. In Pennsylvania alone, there are 9,000 fewer educators in our schools today than just a year ago. In Ohio, the number is close to 7,000. And nationwide, over the past three years, school districts have lost over 250,000 educators.

"When there are fewer teachers in our schools, class sizes start climbing up. Our students start falling behind. And our economy takes a hit."
Women currently make up over 60 percent of the public sector workforce. Among teachers, that number jumps to 76 percent.
When politicians talk about cutting "Big Government," they are primarily discussing putting women out of jobs.