Why EC=BC: Emergency Contraception is a Form of Birth Control
This year, the Back Up Your Birth Control campaign is addressing the lies head-on. Our theme is as simple as it is scientifically accurate: EC=BC. EC is a form of birth control. There is no controversy here, and the scientific and medical communities are unanimous. EC=BC.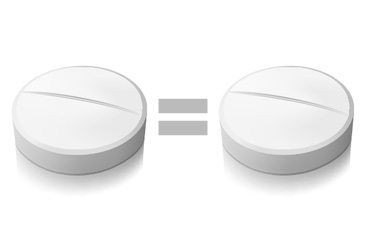 This article is published as part of our 2012 Back Up Your Birth Control series.
The claim started out on the lips of the Catholic bishops and anti-choice activists: Obamacare will mandate coverage for abortion-causing drugs – by which they meant emergency contraception (EC), a form of birth control (BC) that does not actually terminate a pregnancy. But that little detail didn't seem to matter. Soon anti-choice politicians jumped on the bandwagon. Before long the mainstream media was uncritically repeating the mantra. In a moment of directorial carelessness or simple misunderstanding, a popular television show even got in on propagating the lie that emergency contraception is an abortifacient.
Today is the 11th Annual Back Up Your Birth Control (BUYBC) Day of Action. For 11 years, this campaign has served a dual purpose: increasing consumer knowledge about EC and advocating that it be available and accessible for anyone who needs a second chance to prevent pregnancy.
For more than a decade, the campaign has spread the word that EC is a safe and effective method of birth control that can prevent pregnancy when taken up to five days after sex, while also providing a forum for increased activism around making EC available over-the-counter for people of all ages. In a serious battle for women's reproductive freedom, the Back Up Your Birth Control campaign has been a vehicle to infuse a little levity into the debate, reach new and diverse audiences, and keep ourselves sane. Using iconic pop cultural images, at-times irreverent messages, and guerilla-style tactics, thousands of people have engaged in street action, online activism, and good old-fashioned public education about this important birth control method.
Roe has collapsed and Texas is in chaos.
Stay up to date with The Fallout, a newsletter from our expert journalists.
It (almost) makes me feel old that I remember when a dedicated EC product was first made available by prescription in 1998, even though women's health advocates knew for more than a decade prior that the hormones found in many birth control pills could be used after sex to prevent pregnancy. It (almost) makes me tired to remember that it then took constant advocacy, consumer education, lawsuits, court orders, and a scathing GAO report over the course of the next seven years before the FDA approved EC for over-the-counter access for those 18 years and older – a significant step yet one that ignored the scientific studies finding that EC was safe and effective for all ages. And it definitely makes me mad that, to this day, the "behind-the-counter" status conferred on this safe, effective contraceptive requires everyone to request EC from a pharmacist and present a government-issued ID to get it. What gives me hope is that, while the pace is glacial at times, there has been progress.
In 2009, we won over-the-counter access for 17-year-olds, and, this year, we anticipated science was finally – FINALLY – going to trump politics. The FDA was set to make EC available over-the-counter for all ages, which would have made EC available next to the condoms and pregnancy tests at pharmacies, grocery stores, and other retailers, without the need for prescriptions or proof of age. (For undocumented people, those too intimidated to ask the pharmacist for EC, or those in the suburbs or rural communities, where you might have to drive 20 miles just to buy a potato, much less EC, this would have been huge.)
But it was also too good to be true. In an unprecedented move, HHS Secretary Kathleen Sebelius swept in to override the FDA's decision. Then, the President – who so often speaks passionately as a parent who wants a better future for his daughters – made the groan-inducing claim that "The reason Kathleen made this decision is that she could not be confident that a 10-year-old or an 11-year-old going to a drugstore should be able — alongside bubble gum or batteries — be able to buy a medication that potentially, if not used properly, could have an adverse effect."
We barely had time to regroup and take stock after this unscientific, but sadly unsurprising, attack on EC before we witnessed an even more powerful backlash of a different sort. Over the last two months, religious opposition to insurance coverage for birth control, right-wing resistance to the Affordable Care Act, and GOP presidential nominees' attacks on family planning created a perfect storm of anti-EC propaganda that not only threatens to set our advocacy back by years, but risks discouraging women from using this safe, effective method of preventing pregnancy. And it's not just consumers who are affected. Health care providers, pharmacists, educators, parents, and others also need and deserve to have correct and truthful information about what EC is, how it works, and who can purchase it.
This year, the Back Up Your Birth Control campaign is addressing the lies head-on. Our theme is as simple as it is scientifically accurate: EC=BC. EC is a form of birth control. It will not end a pregnancy – not that there's anything wrong with that, if it is the best decision for a woman and her family. EC will not interfere with a fertilized egg that has already implanted. There is no controversy here, and the scientific and medical communities are unanimous. EC=BC.
So, hoping to reach beyond our usual suspects again this year, we have launched www.ECequalsBC.tumblr.com. Check it out, pass it along, add your own images and thoughts, and join with us as we refuse to leave misinformation unchallenged and insist on creating a conversation in which contraception – of any sort – is the norm and a no-brainer.