Anti-Choice Protesters Think Stay-at-Home Orders Don't Apply to Them
Abortion clinics protesters are fighting stay-at-home orders and putting pregnant people—who are immunosuppressed by virtue of being pregnant—at risk of contracting COVID-19.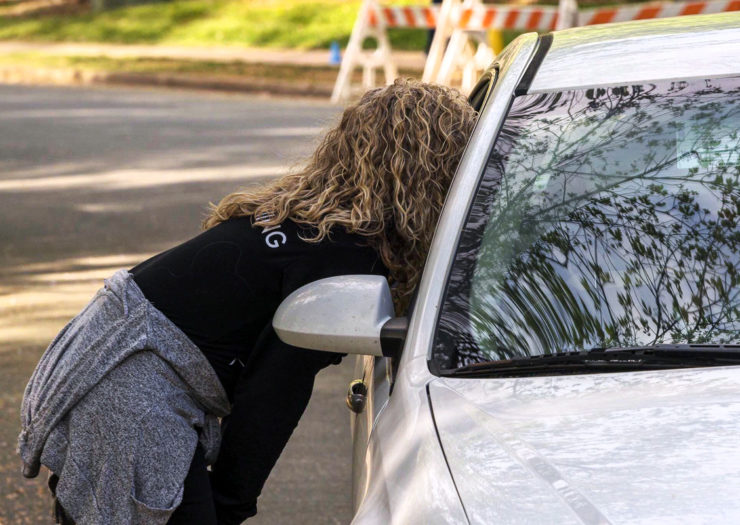 For continuing coverage of how COVID-19 is affecting reproductive health, check out our Special Report.  
Abortion protesters in North Carolina and Michigan have filed lawsuits alleging that their states' stay-at-home orders issued to stop the spread of COVID-19 violate their First Amendment right to harass people as they enter abortion clinics.
That's right: They believe that abortion care isn't an essential health-care service, but since Michigan Gov. Gretchen Whitmer (D) and North Carolina Gov. Roy Cooper (D) refuse to ban abortion as a response to COVID-19—the way Texas Republicans have—trying to convince people not to terminate their pregnancies is an essential service.
The argument makes sense if you turn it upside down and squint at it.
In North Carolina, the Thomas More Society filed a lawsuit on behalf of anti-choice protesters (Paul Nisley, Josiah Chavez, David Troyer, and Jolene Troyer) who participated in what they call "prayer walks" in conjunction with Love Life, a Charlotte-based anti-abortion group. The protesters were arrested on March 28 outside A Woman's Choice clinic in Greensboro, North Carolina, because they violated a stay-at-home order issued for Guilford County and other cities in the county, including Greensboro, according to plaintiff's complaint.
The order, issued on March 27 and amended on March 30, prohibits public and private gatherings of more than ten people, and designates certain businesses as essential, others as nonessential, and orders all nonessential businesses to close. The order permits people to leave their homes for outdoor activities like walking, hiking, cycling, running, and golfing (which are categorized as essential activities) as long as they comply with social distancing requirements.
Social distancing requirements include maintaining a six-foot distance from other people, washing hands with soap and water for 20 seconds, covering coughs or sneezes, and not shaking hands.
The protesters allege that the stay-at-home orders violate their right to free speech and the free exercise of religion. They believe they should be permitted to "walk and pray outside abortion clinics because doing so presents a visible demonstration of their deeply held religious conviction that innocent lives are being ended inside and that there exists an urgent need to intercede both for the unborn children and for the confused and hurting mothers who often feel they have no other choice but to abort."
Despite the stay-at-home order and the subsequent arrests, on Saturday, another group of protesters gathered outside A Preferred Women's Health Center in Charlotte and were arrested when they refused to disperse, according to the Charlotte Observer.
Abortion protesters in Michigan tell a similar story. The American Freedom Law Center filed a lawsuit challenging the state's stay-at-home order on behalf of three anti-choice protesters. One of the protesters, Andrew Belanger, alleges that he was engaging in "expressive religious activity on the public sidewalk outside of the Scotsdale Women's Center," a clinic located in Detroit, when 15 police officers arrived and issued him a citation for violating the stay-at-home order.
Belanger also makes an equal protection argument: that the Michigan order grants an exemption for non-religious conduct but punishes religiously motivated conduct. Apparently, because Michiganders are still allowed to use public sidewalks for walking and cycling under the stay-at-home order, anti-choice protesters must be allowed to use public sidewalks to gather ad harass patients seeking abortion care.
Plaintiffs in both lawsuits allege they have adhered to social distancing guidelines.
But they haven't. Not according to Calla Hales, executive director of A Preferred Women's Health Center. Hales says the ongoing protests are a "public health nightmare."
"They still are not observing social distancing, despite their claims. I've seen them demarcate 'six feet,' but then move around and approach patients—leaning in cars, handing out pamphlets, etc.," she told Rewire.News. "We're still getting protesters each day—based on social media, the same groups who came out and got arrested on Saturday are planning on coming back out this Saturday."
Indeed, in one instance, Kelsea McLain, a leader with the Triangle Abortion Access Coalition, which offers clinic defense and escorting services in the Raleigh/Durham area in North Carolina, witnessed a protester named Sally cough in the direction of a volunteer clinic escort:
I watched in shock as Sally pressed closer to this volunteer, a man in his late 60s or early 70s. The poster she carried was pressed against his arm, leaving her face eight to ten inches away from his face. Sally began to cough without covering her mouth in the direction of this volunteer, whose space she had already invaded. "Would be a shame if I was sick," she said, before coughing a few more times in the direction of a man who is clearly in the at-risk groups you hear about in the news.
Angela Anders, director of Charlotte for Choice Clinic Escorts, told Rewire.News in mid-March that she regularly witnessed people who had COVID-19 symptoms—sniffling, running noses, and coughs—distributing literature and sticking their hands and heads into stopped cars in an effort to harass patients into forgoing an abortion.
First Amendment rights are not absolute. The First Amendment does not exempt religious entities or individuals claiming a genuine religious objection from neutral laws of general applicability like the stay-at-home orders. But that's certainly not going to keep these people from whining about it. Nor does the First Amendment prohibit the government from imposing content-neutral restrictions on speech, which is what North Carolina and Michigan have done despite claims that stay-at-home orders prohibit protesters from engaging in speech and other expressive activities based solely upon the anti-abortion content and viewpoint of their speech.
The protesters have no basis for this claim. The stay-at-home orders apply to everyone. Surely if pro-choice protesters decided to counterprotest at a clinic, the police would arrest everyone—pro-choicers and anti-choicers alike—if they refused to disperse.
Protesters make visiting a clinic miserable as it is. They incessantly pester and harass patients, whether by getting in patients' faces, leaning into their cars to "counsel" them, shoving pamphlets into their hands, or yelling at them over a bullhorn. And now these protesters want to put pregnant people—who are immunosuppressed by virtue of being pregnant—at risk of contracting COVID-19.
You shouldn't have to risk death from religious fanatics in order to make choices about your own body. We'll see if the courts agree.