What It Means for Trans Mutual Aid Groups and Abortion Funds to Work Together
For well-resourced abortion funds in states where access is less restricted, there's significant potential for collaboration.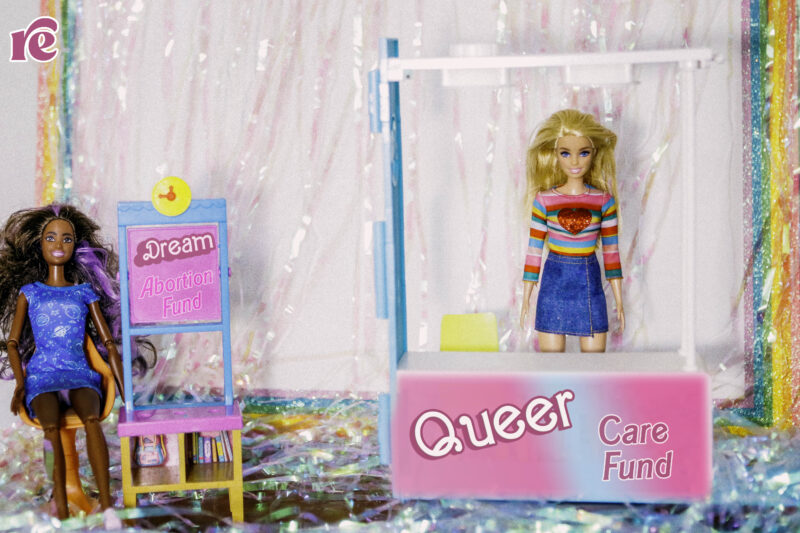 Mutual aid groups exist to redistribute wealth and meet people's immediate needs by organizing within our own communities. All photos by Austen Risolvato/Rewire News Group
For related stories, check out our special issue, "They the People."
Since the Supreme Court overturned Roe v. Wade in June 2022, 15 states have banned abortion outright (others restrict abortion after six weeks, before most people know that they're pregnant). Meanwhile, 49 states have proposed close to 600 anti-trans laws this year alone.
The growing tide of anti-trans and anti-abortion laws are inextricably linked, as abortion and trans health care have mobilized the religious right and regulated low-income communities of color.
So what's being done to fight these attacks on bodily autonomy and reproductive freedom? There's the legal fight, where organizations like the ACLU are suing to overturn and block discriminatory legislation, and the political one, where lawmakers in blue states advocate for greater protections.
But as people lose access to health care, they can't wait for lengthy court battles to determine their fates. That's why mutual aid groups exist—to redistribute wealth and meet people's immediate needs by organizing within our own communities.
We are both leaders of local abortion funds that help pay for abortions and other medical services. We want to share what the abortion funding landscape looks like, what activists are doing to promote health-care access, and reflect on how our organizations can work more effectively at the intersection of reproductive justice and trans health justice.
The abortion funding landscape
After the Dobbs v. Jackson Women's Health Organization decision overturned the constitutional right to abortion, the National Network of Abortion Funds (including almost 100 member funds) raised more than $8 million. For context, in fiscal year 2020, member groups received over 80,000 requests for assistance and supported over 40,000 callers. The number of requests (and people traveling for high cost abortions) has only increased.
Because most state Medicaid programs do not cover abortion, some funds have higher call volumes and experience more financial precarity than others. It's common for one member fund to request support from another (we call this a "solidarity request").
In this post-Dobbs landscape, where even more people travel for abortion care, redistribution of wealth within our network is even more important.
The Abortion Rights Fund of Western Massachusetts, where Derek coordinates volunteers, has responded to this new reality in several ways. The fund has increased its monthly donations to the Collective Power Fund, which supports under-resourced groups in the South and Midwest. New York is a regional hub for abortion travel, and we donate to the New York Abortion Access Fund. The fund also supports telehealth providers who have experienced increased demand post-Dobbs.
The Reproductive Freedom Fund of New Hampshire, which Josie co-founded and serves as executive director for, supports patients from 34 states. Since Roe fell, they've also expanded their funding to cover transportation, building volunteer driver- and doula-networks to support patients logistically and emotionally.
In 2017, Guttmacher found that 23 percent of abortion providers, both independent clinics and Planned Parenthood locations, fund gender-affirming care (this number has likely increased). Thus, clinics closing due to anti-abortion laws will also impact trans health care.
Mutual aid projects meet needs and demands
As anti-trans bills curb access to gender-affirming care, especially for young people, trans mutual aid projects have similarly risen to meet the needs of their communities. For example, the Iowa Trans Mutual Aid Fund, founded in 2021, offers microgrants for gender-affirming care.
Like abortion funds, these trans mutual aid organizations have seen a massive influx of donations in response to high-profile bans on trans health care. The Southern Trans Youth Emergency Project, which provides $500 microgrants for gender-affirming care, raised $100,000 earlier this summer, and the Central Florida Emergency Trans Care Fund raised nearly $50,000.
According to a Data for Progress survey, 40 percent of transgender adults have considered moving due to anti-LGBTQ+ legislation in their state, and 8 percent of trans adults have actually relocated. While it's great that mutual aid organizations have created emergency funds to support relocation, people should not have to leave their communities to access health care or be treated with dignity.
Diverging histories of trans mutual aid and abortion funds
Trans people have always taken care of each other when not supported by their families of origin or mainstream institutions. In the early 1970s, activists Sylvia Rivera and Marsha P. Johnson founded STAR House to support sex workers and unhoused LGBTQ+ youth, and drag and ballroom houses serve as chosen families for many queer and trans people of color.
Grassroots and decentralized, these early communities paved the way for new generations of mutual aid projects run by and for trans people. In Louisiana, House of Tulip provides housing and case management for community members, and the Black Trans Travel Fund provides car rides, passport assistance, and other resources for Black trans women in New York and New Jersey.
Similar to trans mutual aid groups, abortion funds did not always have the centralized structure they do today. The Jane Collective, which operated out of Chicago in the 1960s and '70s, provided confidential abortion referrals and, prior to Roe v. Wade, performed abortions themselves.
Although Roe legalized abortion under some circumstances, it remained financially inaccessible for many, leading to the formation of abortion funds. In 1993, 22 such groups in 14 states founded the National Network of Abortion Funds. As former Executive Director Marlene Gerber Fried said, "Bringing the funds into a single network would let us strengthen and amplify our collective work," which involves both funding abortions and advocating for policy change.
In 2016, NNAF released a strategic plan to even more explicitly embrace the values of reproductive, economic, and racial justice. This means investing in movement-building infrastructure.
For example, NNAF went from an 18-person staff in 2016 to 70 in 2022. According to its 2020 annual report, NNAF spent almost 70 percent of its $10 million budget on personnel and meetings or services for member organizations. These numbers might sound high, but in our experience, paid staff have much more capacity than volunteers to expand network services in alignment with our values.
Compared to trans mutual aid programs, abortion funds currently have a much more centralized structure. That's not inherently a good or bad thing, but these pre-existing structures do present different challenges and opportunities for scaling up to meet the needs of our current political situation.
Working together
Abortion funds can support trans mutual aid by mobilizing our staff, financial resources, and pre-existing relationships with providers.
Since launching in January, the Queer Care Fund, a collaboration between the Reproductive Freedom Fund of New Hampshire and 603 Equality, has provided $10,000 to two independent health clinics that offer gender-affirming care. These partnerships formed naturally given that we already work with these clinics to fund abortions in our state. We were also inspired by the excellent work of the Kentucky Health Justice Network, an abortion fund that started a trans health advocacy program to support trans residents of their state.
The Queer Care Fund has helped more than 50 trans patients access a range of care, from appointment costs (including for mental health services) to providing gift cards to help pay for transportation and medication. In the future, we hope to work with more providers and support other community needs, such as emergency housing relief and purchasing binders.
Many abortion funds, especially in areas facing the highest needs, are running out of money as donations slow. But for well-resourced funds in states where abortion access is less restricted, we think there's significant potential for collaboration.
The fates of reproductive justice and trans liberation are already tied. There is so much we can learn collectively with abortion funds and trans mutual aid projects working together.