Over-the-Counter Birth Control Access Clears Final Hurdle Before Approval
We credit the reproductive justice framework that led to an FDA committee's unanimous recommendation for OTC birth control.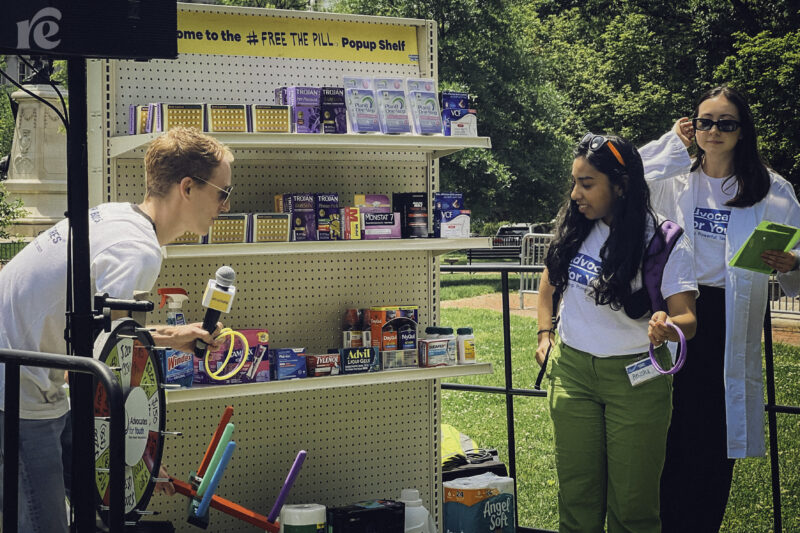 Free the Pill educates and engages the public over over-the-counter birth control pills in the United States. Cara Zelaya/Rewire News Group
We applaud a joint FDA advisory committee for its unanimous vote in support of making a birth control pill available over the counter, the first ever in the United States and a historic advancement in contraceptive access.
The work that led to this moment a week ago has been decades in the making and reflects commitment to principled partnership and centering the voices of people most impacted by barriers to contraception access. In particular, we must acknowledge the role the reproductive justice (RJ) movement has played in ensuring we're always centering the voices and needs of those who our health-care system is not serving and that this transformative change in contraception access really leads to improved access for all of us.
At Free the Pill, a coalition-driven campaign to educate and engage the public in support of OTC birth control pills in the United States, we recognized the impact an OTC birth control pill would have and how it could revolutionize access to contraception. And we knew that we wanted to do things differently—we wanted a different kind of switch that prioritized access for everyone.
In adopting an RJ framework, which was created by Black women, we embraced a human rights framework that demands an intersectional approach to race, gender, and socio-economic systemic inequities, focusing on the ability to prevent or end a pregnancy, and the right to parent children in safe environments where they can thrive. We recognize an OTC birth control pill is about agency and self-determination, and so we built a coalition of RJ organizations, advocates, researchers, and regulatory experts to support in moving a birth control pill OTC, an important advancement that could transform contraception access, especially for those facing the most barriers.
Together, we identified critical questions and conducted research to make the case for the interest in and benefits of an OTC switch, and we committed to doing our work through a reproductive justice lens.
We also recognized that a critical part of adopting an RJ lens was reckoning with the history of the development of the pill and sexual and reproductive health more broadly. We realize that we cannot talk about access to birth control without acknowledging the painful history of the birth control pill. When contraception was being tested 60 years ago, hundreds of Puerto Rican women were enrolled in clinical trials and experimented on without their consent.
These experiments are a stark reminder that when it comes to advancement in the health-care field, it's often Black and brown people whose bodies are exploited for the sake of progress. Today, communities of color still experience structural racism in the health-care system and are disproportionately impacted by barriers to birth control access. And while the birth control pill has been available for more than 60 years, access to it remains inequitable.
With both the history in mind and a reproductive justice framework put into practice, we built consensus among the coalition that our work would be focused on three key goals: Any OTC birth control pill needed to be affordable, fully covered by insurance, and available to people of all ages—core goals that continue to guide our work.
The FDA advisory committee's recommendation that a birth control pill be available over the counter stands in line with the decades of robust data on safety and effectiveness of birth control pills, and we look forward to the FDA following the committee's recommendation and approving an over-the-counter birth control pill.
The powerful testimony that members of our coalition—including reproductive justice advocates and young people—gave during the open public hearing portion of the hearing was mentioned by many on the committee as compelling and important to their vote to support OTC access. But we know that our work isn't done until every single person who needs contraceptive care can get it without facing barriers.
We are committed to ensuring that no one who needs care is left behind because of how much money they have, how old they are, or where they live. Through our years of work at Free the Pill, in coalition with our RJ community and other partners, we have shown that it's possible to envision a different kind of Rx to OTC switch—one that's driven by people's needs while elevating their leadership and amplifying their voices. We are proud to continue this work to ensure OTC access to a birth control pill transforms access for everyone.