What Reclaiming Feminism Means to Me as a Black Feminist
Feminism is not feminism without Black queer people. Feminism is not feminism without the most marginalized. Feminism is not feminism without us all.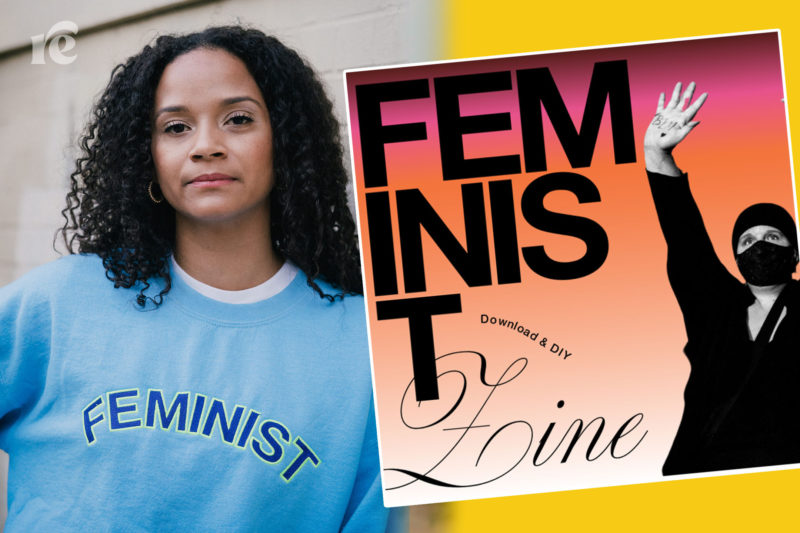 The FEMINIST digital zine includes contributions from Tarana Burke, Amanda Gorman, Loretta Ross, and more. FEMINIST co-founder Aisha Becker-Burrowes' essay is reprinted below. Photography by Paola Chapdelaine/Rewire News Group illustration
I'm a Black feminist. A womanist. A hip-hop feminist. A crunk feminist. An intersectional feminist. A Caribbean feminist. A diasporic feminist. A disabled feminist. A justice feminist. A Feminist.
These are all the terms I grappled with as I sought to better understand my own relationship to feminism. These subsequent terms all served as not only a theoretical praxis but a political intervention in the social, cultural, and political exclusion of Black women, femmes, and gender expansive people within the feminist movement. To me, feminism would never serve as a liberatory framework so long as it did not center my liberation and the liberation of the most marginalized. Feminism was for white women.
Instead, I looked to the Black radical tradition for guidance. I opted for intersectionality, womanism and Black feminist frameworks from our feminist forebearers like Kimberlé Crenshaw, Audre Lorde, Brittney Cooper, Joan Morgan, and more. I was inspired by the likes of powerful Black women throughout history, from Harriet Tubman and Nanny of the Maroons to Angela Davis. I admired the Black women making history now, including Tarana Burke, Alicia Garza, Raquel Willis, Bree Newsome, and more. All of whom, in many ways, embody feminism as an intersectional liberatory framework.
I, like so many of the women I both celebrated and admired, live in the intersections. I am a Black woman, living with an invisible illness here in the United States. Raised a Rasta and born from within the Afro-Caribbean diaspora. To me, feminism would never be sufficient. But as I began interrogating my relationship to feminism as a Black woman, I have made space in my personal evolution to reclaim what it means to be a feminist. I embrace intersectional feminism as part of a feminist praxis. One that has been defined and refined by Black women, especially queer Black women.
I have had the immense privilege of interviewing, speaking with, and communing with some of the very same women I've been inspired by as part of my work as co-founder of FEMINIST alongside my comrades in this work, Blair Imani and Ky Polanco. In almost every interview, we pose a version of the question: What does being a feminist mean to you? A central reflection you'll see throughout the pages of this Zine.
Surprisingly and yet, not surprisingly, almost every influential Black woman I have spoken to has either resisted feminist terminology, made a point to add a descriptor before claiming themselves a feminist, or expressed a similar evolution in their understanding around Feminism.
I spoke with activist, organizer and cofounder of SisterSong, Loretta Ross, who coined "Reproductive Justice"—a term we've since embraced as a feminist rallying cry. When I asked her what it means to be a feminist, she said, "I thought feminism was a white women's thing. And so I had been a practicing feminist before I would use the 'f-word' for like a decade. Because I was in the early anti-rape movement but I used to say, "I'm not a feminist, but…". That always preceded me denouncing feminism."
In speaking with the activist, organizer, author, and founder of the #MeToo movement Tarana Burke, she shared a similar sentiment, saying, "I remember there was a time of my life when I didn't identify as feminist. It's always funny when I think about that time period and how much I've learned between then and now. But feminism is just what I do, and who I am, and that's not to the exclusion of anybody, and I think people don't understand that about feminism in general."
To know that these Black women, these feminist icons whose work feminists everywhere have looked to, also struggled with their relationship to claiming themselves as Feminist speaks to the continued exclusion of Black women within feminist movements. And yet resistance, particularly Black resistance, is at the foundation of my experience with feminism. Black women and gender expansive people have charted the path for feminism. They have refused patriarchal violence, racial violence, and gender-based violence. They have stood at the frontlines of almost every movement, coined the terms and language popular culture has since adapted, and have continued to deepen our own intellectual understandings of feminism.
To be a feminist is to be entrenched in the work of Black feminists. And so, feminism is not feminism without Black women and gender expansive people. Feminism is not feminism without Black queer people. Feminism is not feminism without the most marginalized. Feminism is not feminism without us all.
We must continue to reclaim feminism no matter what precursor, descriptor, or version of it we choose to proclaim so long as it centers the most marginalized because as Burke said, "Feminism is just what I do, and who I am, and that's not to the exclusion of anybody." Our collective liberation requires it. It requires us to be transnational, to be intersectional, to collectively fight for our liberation. To listen. To share our stories. And to defend us.
Excerpted from Issue 01 of the FEMINIST Zine, originally published December 2022. Reprinted with permission from FEMINIST, @feminist on Instagram and TikTok. Copyright (c) 2022 by Aisha Becker-Burrowes.