The Need for Paid Family Leave Didn't Start With Overturning 'Roe'
Reproductive justice and paid family leave go hand in hand.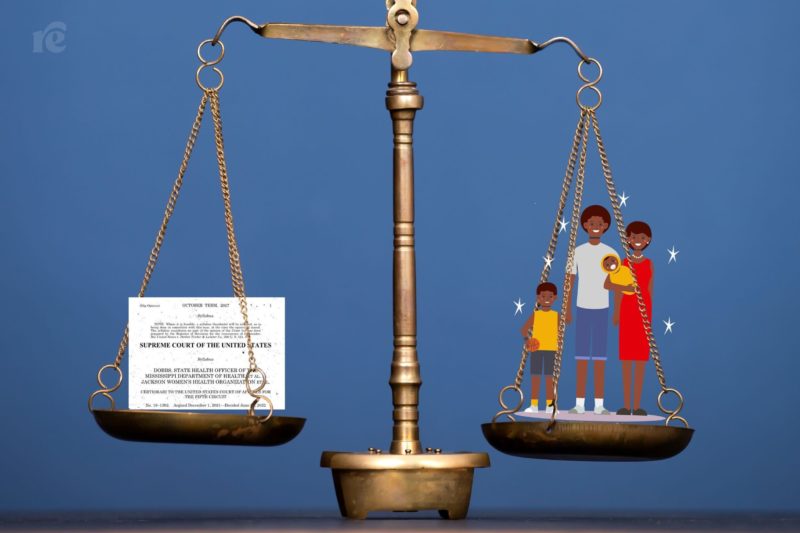 There is no pursuit of freedom and equity without the right to fully own and make decisions about our own bodies, lives, families, and futures. Austen Risolvato/Envato/Rewire News Group illustration
During an appearance last month on CNN's State of the Union to discuss the Supreme Court ruling in Dobbs v. Jackson Women's Health Organization, South Dakota Republican Gov. Kristi Noem did not answer host Dana Bash's question about how, as she frequently says, she will "walk alongside mothers and their children" on a policy level, including supporting paid parental leave and state-funded childcare.
Instead, Noem talked around the issue, saying "we need to do a better job of supporting" people with unplanned pregnancies. With the newfound clarity of a convert, Noem said "the time is right" for paid family leave in South Dakota—though she still supports the Court's decision in June that overturned the constitutional right to abortion.
It is time for paid family leave—it is overdue, in fact—but not because of the unjust Court ruling. Policies such as paid family leave and universal childcare have had long-standing bipartisan support. Everybody wins when workplace policies support families and center equity and respect because these policies strengthen communities and the workforce. Employers and the government play critical roles in supporting and addressing the real-life needs of working families as we re-envision the future of work. Cherry-picking paid family leave while ignoring the larger socio-economic and reproductive justice implications of the Court ruling is naive at best. We will not accept this false choice.
More than half of Latina workers and 36 percent of Black women in the workforce do not have paid sick days. Seven out of ten low-wage workers do not have access to a single paid sick day. National surveys show that parents frequently do not take the unpaid leave provided by the Family and Medical Leave Act because they cannot afford to be out of work without pay.
The absence of such policies disproportionately impacts women of color, especially disabled women and trans women. Nearly half of all U.S. pregnancies are unintended and according to the Centers for Disease Control and Prevention, 6 out of 10 people who seek abortion already have children.
There can be no pursuit of freedom and equity without the ability to fully own and make decisions about our health, education, families, and future—all of which are tied to economic justice. Reproductive justice demands that we have the right to determine when and whether to have children and the resources to raise our families in safety and with dignity.
I experienced this firsthand as a pregnant college student. At the time, I knew something was wrong, but I could not afford time off from work. Tuition was due. If I took time off, I would not get paid. When I could no longer ignore my symptoms, I went to the ER to find that I had an ectopic pregnancy and was septic—and that I had almost waited too long, narrowly avoiding death. I was given drugs for the infection and an abortion. I felt weak and shaken afterward, but had to go to work. I left the hospital, slept a few hours and went to my job.
To think that in the third year of a pandemic that has taken such a harsh personal and economic toll on women—especially women of color—the Supreme Court would roll back a critical right and protection for us and others who can become pregnant is abhorrent. The six justices who engineered the overturning of Roe sent a clear message to every person capable of getting pregnant: Your bodily autonomy, physical well-being, and economic stability do not matter.
Now is the time for our federal, state, and local legislators to take action to fight for the rights of working people and communities of color by expanding access to abortion and critical reproductive health services and codifying paid family leave and universal childcare. We must join together now. If an attack happens on people who can become pregnant while others do nothing, it will be a matter of time before another group is targeted.
The unjust decision to undo the constitutional right to abortion is a harmful blow to our human and civil rights—especially for working communities, who will be disproportionately affected by the ruling.
The only way to reverse and prevent the deep, lasting harm and marginalization of the Supreme Court's decision is for working families to get out and vote and ensure that elected representatives legitimately represent their needs and priorities.
There is no economic justice without reproductive justice. There is no pursuit of freedom and equity without the right to fully own and make decisions about our own bodies, lives, families, and futures. We must continue to build a society and economy in which all people have the rights and support they need to thrive.