For Decades, We've Helped Open Abortion Access. Here's Where We'll Go Post-'Roe.'
We don't need to reinvent the wheel of abortion care—we need to build on it.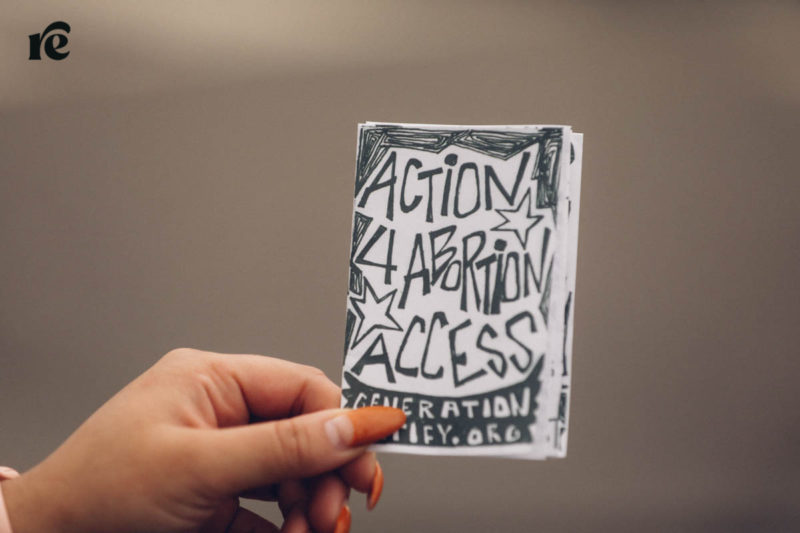 Generation Ratify is a youth-led organization that's hosted high school walkouts protesting abortion rights and led fundraising efforts for abortion funds. Austen Risolvato/Rewire News Group
Abortion funds and independent abortion clinics are grateful for the outpouring of support in the wake of the devastating Supreme Court draft decision leak in early May. In a moment when discriminatory, racist, patriarchal systems are working hard to isolate us from each other and our collective power, so many of you know that turning to the people on the forefront of abortion access in each of our communities is an important way to fight back together.
Thank you for plugging in with your communities and each other, spreading the word that abortion is still legal no matter where you live in the United States, and comforting your loved ones with the knowledge that there are still avenues of support (including you).
When an awful abortion development hits the news, there is an understandable and admirable tendency for people to jump immediately into action, and we appreciate that. This is not the moment to sit by, be silent, or be stunned into inaction.
However, rather than reinventing networks of support that have been operating for decades, the best way you can make sure that people are still able to get their abortions is to invest your time, money, and resources into the networks of care that have been operating in the very specific cultural and legal environments of their communities.
Clinics and funds are uniquely positioned to assist patients in getting through obstacles to abortion. Because independent abortion clinics provide the majority of abortions in the United States and abortion funds are formed in response to the attacks and struggles in their communities, they're particularly adept at supporting people through their abortion experiences. Often hand in hand, funds and clinics have been fighting for increased access through policy change, breaking down abortion stigma, providing accurate information and compassionate care, and troubleshooting with individuals who never should have had barriers to their access in the first place.
We need the love, care, and collectivity so many people are showing right now. You'll see media stories about protests of public servants and restrictive laws; when you do, we need your help to definitively state that those protests are not the same as violence.
When the people who are accountable to us feel uncomfortable, it is not equivalent to them being unsafe. They should feel uncomfortable about the state of injustice being inflicted on their constituents. Instead, focus attention on the threats, harassment, and violence acted upon on the public citizens seeking, providing, and supporting abortions every day. They are effects of white supremacy and misogyny—and they are cruel, very real, and escalating.
Funds, practical support organizations, and clinics know how to protect the safety and privacy of all involved—patients, providers, and those who want to volunteer, donate, offer rides, and support. People seeking abortions need your energy, compassion, and generosity, and we can do more good together. But there are some well-meaning actions that can do more unintentional harm.
We have in us the collective power to ensure a future that ruptures the horrific history of reproductive violence in the United States and re-creates a world that honors the autonomy and support we all deserve.

The same forces of white supremacy that are withholding our access to abortion are the forces that have withheld the names and work of the people in your community—often Black people, Indigenous people, people of color, queer, trans, and/or poor people—who are showing up every day, in often exhausting circumstances, hearing hate but rarely appreciation and praise. The erasure of Black and Brown people who make up the front lines of abortion access is connected to these attacks—and it's intentional. Please hear us when we say we don't need you to create an "underground railroad" to get people to their abortions; that very proposal is harmful to both the Black people and allies who operated the historic, collaborative Underground Railroad to bring Black people to liberation despite deadly racism, and to the Black people, Indigenous people, and people of color and allies who are navigating a specific, racist abortion access system today.
We don't need handmaids bringing attention to communities newly affected by a lack of abortion access when the horrors evoked in fiction have been factually experienced by communities of color who hold recent, lived, documented histories of reproductive oppression, terror, and human rights violations in the United States. Lack of infant formula, affordable childcare, parental leave, and ongoing state-sanctioned sterilization are the realities in the United States, not works of fiction. We don't need "Auntie Networks" or anyone else seeking to recreate the wheel when abortion funds, independent clinics, practical support networks, and clinic escorts have been doing the work of supporting patients and providers for decades.
We're glad you see what's happening: We urge you to draw connections between—but do not equate—the current fear and experiences of oppression with the history of racist violence enacted on Black and brown bodies. You are right to be mad. We should all be righteously angry in the face of reproductive, sexual, and bodily oppression. We need your support, and we need you to follow our lead in the often less exciting, but critical work we're already doing.
This day-to-day work is not always visible. In fact, funds and independent clinics have been operating on too little support and investment for years, to the detriment of the abortion safety net. While generous, well-meaning, and compassionate, when we work together to build on existing resources, more people can get their abortions. Before you jump in because you haven't yet heard about the work being done in your state or community, we encourage you to find your local abortion funds and support the efforts to keep our clinic open. We wholeheartedly ask you to join us by making a commitment to learn—as we are—from reproductive justice organizations.
NNAF, ACN, and the members who've joined us in community must also continually deepen our commitment to follow in good faith the leaders both inside and outside our networks who work to expand abortion as just one of the options withheld from us across the entire reproductive spectrum. Without a movement that commits to fighting all of the intersecting oppressions that keep us from exercising all of our human rights, we'll never achieve a world where abortion is readily accessible to everyone who needs it.
A lack of attention or money does not mean a lack of expertise and passion. Indeed, our organizations have often showed up day in and day out, listened to thousands of abortion seekers and nimbly adjusted our work as needed, constructed networks of collaboration, and educated our communities. And we've done it without the resources we need and deserve. As committed and knowledgeable as funds and clinics are, we cannot meet the needs of our communities without you.
Now is the time to find your local, community-based fund and clinic, join us in our calls to action, offer to volunteer your time and skills, and give your money. More than that, please amplify the work that's already being done. Tell your friends, neighbors, and loved ones how to find abortion care when they need it. Share your support for abortion on your social media and in heartfelt conversations. Join Fund-a-Thon, the largest grassroots abortion fundraiser across the world, where resources go to abortion funds, who in turn are able to pay for more abortions at abortion clinics serving our communities. You can also fund independent clinics directly at Keep Our Clinics.
We are thrilled and appreciative that you're here in the fight with us. We welcome you with open arms, and with the needs of communities whose work has often been erased. But we arrived at this point in history by too often forgoing attention to intersecting racial, gender, and economic injustice, and we will not move forward and out of this moment of oppression by (often unintentionally) replicating oppressive systems that tell us action is more important than community coordination and historical context.
Yes, we're in an emergency, but we have been for a while. Funds and clinics have been sounding the alarm for decades. That means we all still have a moment to collectively pause, listen to those most affected by abortion barriers and bans, and follow the lead of the brilliant organizers, often people of color, often located in the South and Midwest, who've been starved of resources but who've supported countless people—including people you love—with their compassion and ingenuity. (And if you're a Black, Indigenous, or people of color-led group of organizers who see a need in your community landscape for a new abortion fund, we want to hear from you!)
We ask you to trust abortion funds and clinics the way you trust people seeking abortions. Let us all rethink our actions under duress. Let us now build a new way together. It won't be quick. It won't be overnight. The threats we're facing were systematically built over decades. But we can do it together—we don't have to leave anyone behind, erase the revolutionary work happening now, or cause each other undue harm.
We have in us the collective power to ensure a future that ruptures the horrific history of reproductive violence in the United States and re-creates a world that honors the autonomy and support we all deserve.