Adoption Agencies vs. 'Roe': The Invisible Hand Stirring the Pot
What might become of pregnant people in states with little-to-no access to abortion and religious ties in many of their adoption agencies?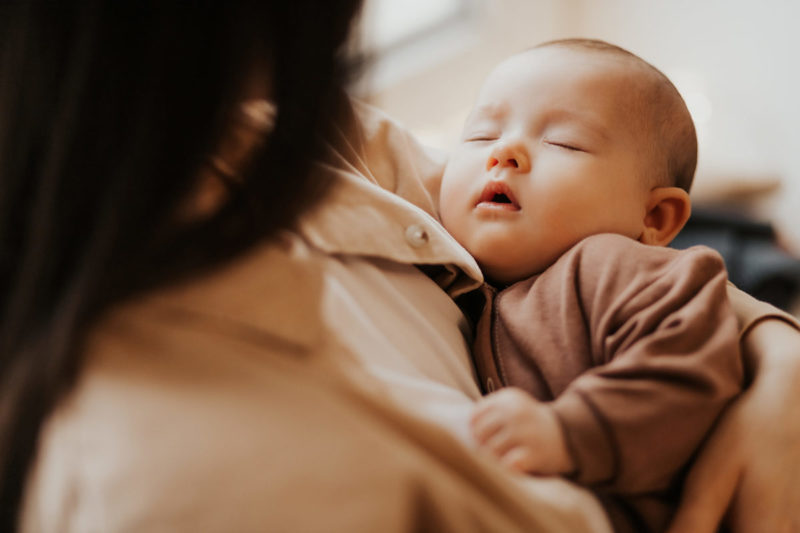 In a future without abortion access, in a country that refuses to uplift people out of poverty while determining they are not fit for parenthood, we face another era of influence and coercion. Shutterstock
"I don't think I had any real option. When you go into these homes you're not going in with any options."
My grandmother's voice is shaky on the phone. It is the first time I'm asking her about how she relinquished her parental rights to her son, Joseph, in the early 1960s at a "home for unwed mothers." She was not showing signs of her pregnancy until her last month, she tells me, which is another way of saying that she wasn't ushered into the home earlier to be kept hidden.
"It was shortly after the child was born that you were in there signing papers. Within hours," she says. "The biggest emotion was getting to hold him, and then after having to sign the paperwork, it was depression." She describes stories she remembered of people getting an abortion and dying, of unsafe and unregulated pills, conditions, or practices. When I ask her if she would've gotten an abortion if they had been available and safer back then, she says, "Absolutely."
Adoption rates have declined since the Baby Scoop Era, a period that began in the mid-1940s and concluded with the Roe v. Wade ruling issued 49 years ago this week. A time plagued by stigmas around single parenthood and premarital sex, and little-to-no access to contraception and abortion, the Baby Scoop Era ushered many birth-givers into wedlock, shame, fear, and danger. Many were sent to convents or homes for unwed mothers, where they were kept until they gave birth, an event that ultimately ended with a coerced or forced adoption.
But the Roe v. Wade decision in 1973, in combination with more widespread contraception and changing perspectives on single parenthood, caused the rates of domestic adoptions to stagnate.
As journalist Kathryn Joyce notes, adoption is an industry like any other, one that operates on supply and demand.
"After the sexual revolution of the '60s and '70s, the number of births went down significantly, and so did the adoption rate. So the international adoption industry exploded," Joyce said. Yet after the truth about the ethics and morals of international adoption—a practice particularly encouraged by evangelicals—was uncovered, largely due to Joyce's investigative work, those adoptions saw a dip in frequency as well.
These two major declines in adoption rates weren't catalyzed by a decrease in demand, however. Many adoptive parents wait two years or more for a "healthy infant." In fact, Bethany Christian Services, a religious adoption agency (one of the largest in the United States) with a history of disconcerting practices, has stopped accepting adoption applications in many of its locations.
Adoption agencies and "crisis pregnancy centers" tend to be religiously affiliated and have ties to the anti-abortion movement. In 2020, the anti-abortion PAC Susan B. Anthony List and its partner, Women Speak Out, received several large-sum donations from churches and organizations that support or oversee adoptions. The Diocese of San Bernardino, which donated multiple times to both, says it's committed to helping "the needy through a number of dynamic community services including, Immigration and Refugee Services, Family Counseling … Crisis Pregnancy … Pregnancy Counseling and Adoption and Foster Care." Another frequent donor was the Diocese of Wheeling-Charleston in West Virginia, which pointed me in the direction of Bethany Christian Services as a viable option for adoption services.
Providence Place, a crisis pregnancy center and adoption agency, is based in San Antonio, Texas, where the recent near-total abortion ban, SB 8, is still in effect. Providence Place is listed as an alternative to abortion by both Texas Right to Life and the San Antonio Coalition for Life. The agency proudly speaks of its beginnings as a home for unwed mothers:
[From 1895 to the mid-1970s], it was the mentality that young expectant mothers could be spirited away to have their babies, place them for adoption and return to their normal lives—high school, college, work—as if nothing had happened. For would-be parents who couldn't conceive, it was a godsend—they could have a family at last.
But as has been revealed of many convents and homes for unwed mothers, the conditions of these adoptions were less than pleasant or consensual. Providence Place now advertises itself as an adoption agency that honors and upholds life by helping expectant parents choose either adoption or parenting. Its website suggests pregnant people ask themselves three questions to help determine whether adoption is right for them:
Are you financially and emotionally able to provide for a child?
Is the father able and willing to provide financial and emotional support to you and the child?
Are you ready to prioritize the needs of another above your own?
Answering no to these questions suggests that "adoption may be the right choice." While abortion is not listed as a possible option, it seems neither is trying to provide the expectant parent with financial resources or literacy to be better equipped at providing for their child.
"To suggest [adoption] as a solution for poverty, or a solution for removal of reproductive rights, discounts the experience of what going through an adoption is," Joyce said. "That sort of blithe suggestion is: 'We don't need reproductive freedom because we have an out.' The fact is, very few people seem to experience adoption in that way."
With abortion being significantly less risky than childbirth (about 1 in 11,000 birthing people die in childbirth as opposed to 1 in every 167,000 of those who receive an abortion), it's inhumane to force a pregnant person to carry to term if they don't intend to parent. The psychological ramifications of giving a child up for adoption often surpass those of abortion, due to the psychological and physical bonding through pregnancy and birthing.
According to Gretchen Sisson, a researcher with Advancing New Standards in Reproductive Health at the University of California, San Francisco, many pregnant people who don't want to parent first consider abortion. If abortion is not viable or accessible, adoption becomes the foremost choice for only 14 percent of pregnant people denied abortion. However, only 9 percent of people in Sisson's study ultimately chose to relinquish their child for adoption. It is important to reiterate that for 91 percent of study participants, the choice to parent came after the removal of bodily autonomy, which undermines the definition of "choice."
With the fate of Roe v. Wade in the hands of the Supreme Court, we are potentially facing Baby Scoop Era restrictions on reproductive rights. However, Sisson's study casts doubt on the idea that more widespread abortion restrictions might increase adoptions.
"Almost none of the parents I've spoken to say that adoption was their first choice. It's what you do when you realize you don't have another choice," Sisson said. Then what might become of pregnant people in states with little-to-no access to abortion and religious ties in many of their adoption agencies? Many adoption agencies present themselves as the hopeful, safe, and correct option, while employing coercive shame tactics reminiscent of when the United States last had such restrictive policies.
The fact remains that so-called pro-life organizations, churches, and politicians seek to remove bodily autonomy from birthing people. While a reduction in abortion access might not increase adoption rates by significant numbers, it will certainly not be for a lack of trying by anti-choice adoption agencies and entities.
In a future without abortion access, in a country that refuses to uplift people out of poverty while determining they are not fit for parenthood, we face another era of influence and coercion, in which we are seen as links in a supply chain rather than people with rights. And we face a future where more people are parenting, despite deep desires to choose otherwise.