Supreme Court Fast-Tracks Arguments for Texas SB 8
In just one week, the Supreme Court will hear two cases related to Texas' near-total abortion ban.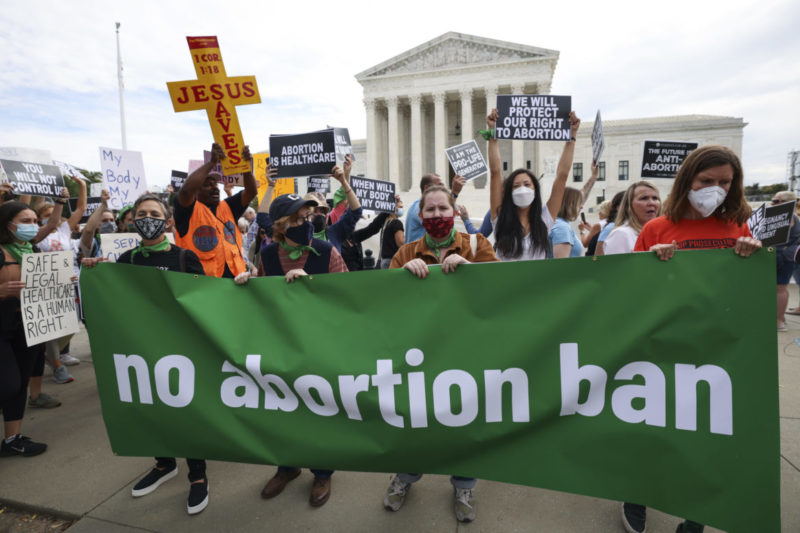 The Supreme Court will review the enforcement mechanism that allows any private citizen to sue. Kevin Dietsch/Getty Images
For more coverage on Texas SB 8, check out our special report.
"I'm being forced to inflict pain on my patients when the reason I became a doctor was to help and to heal them."
Dr. Amna Dermish, the regional medical director at Planned Parenthood of Greater Texas, was describing the times she's had to turn patients away since Texas' near-total abortion ban, SB 8, took effect in September. Dermish broke down in tears during a press call Friday, just hours after the Supreme Court announced it would hear two challenges to the law on November 1—while allowing the ban to stay in effect until then.
By refusing to block the ban, the justices are already indicating a degree of sympathy toward the law. It's particularly devastating considering the immediate, day-to-day impact SB 8 is having on Texans.
Now that the Supreme Court has fast-tracked a Texas SB 8 hearing onto the docket—it usually takes months from when the justices agree to hear a case to the actual arguments—it's setting up to be a huge term for abortion rights. The Court had already set December 1 as the date to hear Mississippi's 15-week ban, Dobbs v. Jackson Women's Health Organization.
How we got here
Back in May, Texas Gov. Greg Abbott signed SB 8 into law, banning abortions as soon as embryonic cardiac activity is detected, typically around six weeks. This is well before viability, and pre-viability abortion bans are unconstitutional under Roe v. Wade. But that didn't stop Texas lawmakers in their quest to punish anyone who provides an abortion or who "aids and abets" someone in getting an abortion, including anyone who drives a patient to a procedure or helps them pay.
And as if a six-week abortion ban with virtually no exceptions isn't ghoulish enough, the law's enforcement mechanism deputizes anyone to sue people who violate the law, essentially putting a bounty on anyone who helps someone access abortion.
Abortion providers and advocates sued in an attempt to block the law from going into effect on September 1, and SB 8 has been ping-ponging around the courts since then.
And now here we are—the fate of abortion access lies in the hands of a Supreme Court with a conservative supermajority.
What's at issue
The Court will review the enforcement mechanism that allows any private citizen to sue. You see, the anti-choice lawmakers who drafted SB 8 devised the law to circumvent the judicial precedent that the state cannot interfere with abortion before viability. Their logic is that by shifting that responsibility of enforcement onto citizens, they can basically render the constitutionality of abortion moot.
It's actually two cases that the justices will hear: Whole Woman's Health v. Jackson, the case brought by the providers, and United States v. Texas, a lawsuit brought by the Department of Justice.
Marc Hearron, senior counsel for the Center for Reproductive Rights, said Friday on the press call that if the Supreme Court were to approve of a law like SB 8, the decision would essentially dismantle the Court's authority to enforce protections of constitutional rights going forward.
"Every individual constitutional right is at stake," he said.
What's next
The justices will hear oral arguments in the two cases a week from today. Advocates say a ruling from the Court could come anytime, including as early as Friday, November 5.