Meet the Unlikely Pair Who Are Challenging Mississippi's Pro-Life Claims
Faith leaders are doing "slow culture change work" to confront abortion stigma in their communities and rally against the "pro-life" status quo.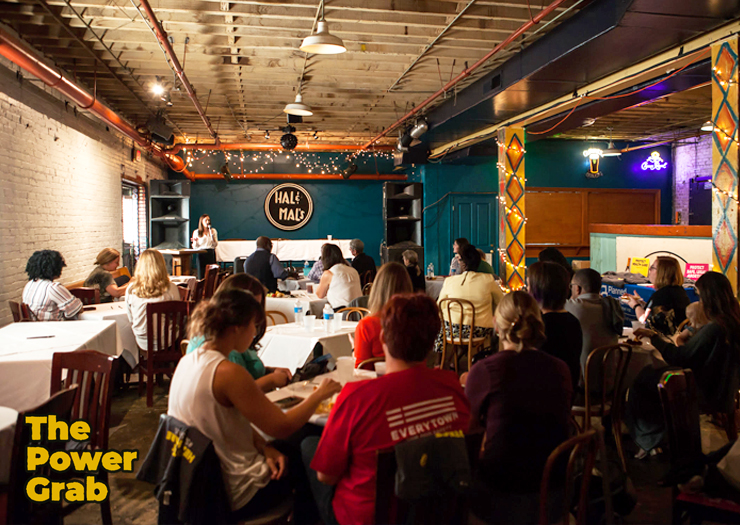 Ashley Peterson, director of the nonprofit reproductive advocacy group Faith in Women, speaks to a group of faith leaders and local activists in 2018 in Jackson, Mississippi. Courtesy photo
For more on the power grab for your rights, check out our special edition.
For nearly 30 years, the Rev. Carol Burnett has advised Mississippi's state leaders on how to improve policy to better benefit working women. They rarely listen. Instead, she's watched one abortion restriction after another become state law.
"With regard to the kind of hypocrisy of the legislature saying they're watching out for the well-being of women's health, I think that the two most immediate things that would leap out as a counter example of that are the actions the legislature took this last session, refusing to extend Medicaid postpartum to a full 12 months … and the state's failure to expand Medicaid," said Burnett, one of the first female Methodist ministers in the state and founder of the Mississippi Low-Income Child Care Initiative.
For Burnett, who works daily with single moms trying to make ends meet, access to health insurance and child care are the biggest barriers blocking women's well-being in the state. Because Mississippi hasn't expanded Medicaid, and state postpartum benefits cut off two months after birth—just as many maternal health complications start to show up—state-sponsored health insurance is out of reach for many low-income Mississippians.
Even with improvements over the last decade through the Affordable Care Act, 14 percent of Mississippians are uninsured. For nonelderly women, it's even higher—nearly 1 in 5 lack health insurance, the third highest rate in the United States.
Burnett's nonprofit advocates for policy that strengthens mothers' economic security by making child care affordable and the state's thin safety net function better for low-income working moms. The policy group dovetails with another organization Burnett runs, the Biloxi-based Moore Community House, which provides affordable child care and workforce training for construction and advanced manufacturing jobs—two of the highest paying blue-collar jobs, but which are dominated by a male workforce.
For Burnett, faith in action means supporting access to resources necessary to thrive, such as a living wage, quality child care, and health insurance—all of which are currently out of reach for many Mississippi women.
Ashley Peterson agrees. As director of the nonprofit reproductive advocacy group Faith in Women, she sees how the poverty cycle plays into decisions about reproductive health care. People living in poverty are more likely to rely on the state's only abortion clinic, whereas those with more resources tend to leave the state.
"A lot of the reasons that people choose abortion are due to economics," she said. "If you really wanted to influence those decisions, you would start with actually making sure that people have the financial and material resources that they need to thrive."
Faith in Women, following in the tradition of groups like Religious Coalition for Reproductive Choice that blend faith and reproductive rights advocacy, trains community members, often clergy, to support all reproductive choices. Both Faith in Women and Burnett's child care and job training organization received funding from United Methodist Women. Burnett serves on the Faith in Women board, advising on clergy outreach.
Together, Burnett and Peterson rally against the powerful religious and political lobby on the Mississippi Gulf Coast, challenging the status quo belief systems that claim women's wellness as a core tenet, but simultaneously block policy that would help advance it. And worse, Peterson said, they push harmful policies.
"It's very hard to believe that the intention of an abortion ban is to protect women when there's so much else that we could be doing to show that we value women as a state that we just don't do," she said.
Working toward an equitable workforce
Women form half of the workforce in Mississippi, where nearly three-quarters of mothers are primary or co-breadwinners—one of the highest rates in the country. Despite being the economic drivers for families, Mississippi women are clustered in low-paying jobs—making up 70 percent of the state's low-wage workers.
"There's a ton of gender occupational segregation, which means that if you look at jobs where most of the workers are women, the wages are super low," Burnett said. "You look at the jobs where the workers are mostly men, and the wages are higher. That is a self-perpetuating income disparity."
For example, cashiers are the single most common job in Mississippi—about 40,000 jobs, with a median hourly wage of $9.45. Women account for 80 percent of these low-wage positions. For Black women in the state, the pay disparity deepens—they're paid 56 cents for every dollar paid to white men.
These pay gaps exacerbate generational poverty, but instead of improving access to programs that help people work out of poverty—like preventive health-care access and child care—the state puts up barriers that disproportionately hurt working moms, Burnett said.
Mississippi is one of 23 states that require parents to sue each other for child-support payments before they can qualify for child care assistance, according to Burnett.
The state requires single parents to go after the non-custodial parent for money in order to qualify for the federal Child Care and Development Fund (CCDF), which provides child care vouchers to low-income parents so they can work.
"Single-parent headed families are the families that need the child care assistance more than anyone. And yet this policy zeroes in on them to make it harder for them to get the child care they need," Burnett said. Without the CCDF vouchers, many single parents cannot work, again perpetuating the poverty cycle.
"It's just a program riddled with unnecessary procedural barriers, when the program itself is incredibly beneficial," Burnett added. "When a mom is able to get this help, it makes all the difference in the world in terms of making super expensive child care all of a sudden actually affordable."
To boot, since 2020 the agency that oversees the program has been mired in the largest scandal in state history, charged with embezzling money from welfare funds meant to help families living in poverty.
About 112,000 families qualify for child care assistance, according to the Mississippi Low-Income Child Care Initiative, but last year only 24,000 used child care vouchers—likely because the other 80 percent didn't meet procedural requirements, according to Burnett, who said it's another example of state hypocrisy.
"State leaders say, 'Everybody needs to go to work,' and then when there are steps that could be taken to make that more likely an outcome, those steps aren't taken," she said.
Challenging "pro-life" status-quo
For deeply religious and conservative Mississippi, Peterson said it's important to acknowledge the state's deep ties to faith while not painting whole communities with broad strokes.
When she first started Faith in Women in 2015, Peterson envisioned a network of clergy speaking out in support of abortion and reproductive rights. But she quickly found that by supporting a safe space for conversations around abortion, the group could bring more folks into the fold. So they pivoted to focus more on training folks in the church to learn how to communicate and support choice throughout their community.
"It's not just clergy who support abortion access, it's churchgoers, it's people in community. We also found that people doing reproductive health, rights, and justice work are also people of deep faith," she said.
"So we become a place where people can bring both sides of themselves. Where in the larger narrative we've created this false binary—you're either anti-choice and religious, or you're pro-choice and an atheist—we are very loudly disrupting that narrative."
Peterson is also quick to point out the fact that many Southern lawmakers hide behind religious doctrine to support their anti-abortion policy, while their actions actually conflict with those same principles.
"It just makes no sense to me—the hypocrisy of supporting an abortion ban, and then voting against expansion of Medicaid like that. I don't see how the same value system could lead to both of those decisions," Peterson said. "When you're talking out of both sides of your mouth like that, it starts to look like you're just saying whatever is most politically expedient and not what actually aligns with your religious beliefs."
"It feels punitive. Truly this feels like punishing poor people for being poor and punishing pregnant women for being pregnant."
Faith in Women's trainings focus on the complex situations that can lead to abortion.
"There are as many reasons to have an abortion as there are people that have them, and a one-size-fits-all ban doesn't actually do anything about the reasons that women would choose abortion," Peterson said. "If the state really wanted to prevent abortion, they would be supportive of preventing pregnancies in the first place—everything from comprehensive sex education in all the schools to access to birth control." (The state only allows schools to teach abstinence-based sex ed curricula.)
Peterson said that groups who justify anti-abortion policy with faith tend to care more about controlling the narrative than addressing the reasons many people chose abortion in the first place, like poverty.
"When it comes to actually centering the needs of the people that they're talking about, that action is gone," she said. "And a lot of anti-choice folks will point to crisis pregnancy centers as the answer. But shame and fear and judgment and stigma and proselytizing and diapers are not the answer."
"We see ourselves as choice champions and protectors out in the world where we can maybe work to confront the stigma or to do the slow culture change work in our own communities around abortion," Peterson added. "Abortion clinics can't do it all."