Free Tampons Are Coming to Oregon Schools. Is California Next?
"The end goal is really for menstrual products to be completely free to people that need them, just as soap and toilet paper are."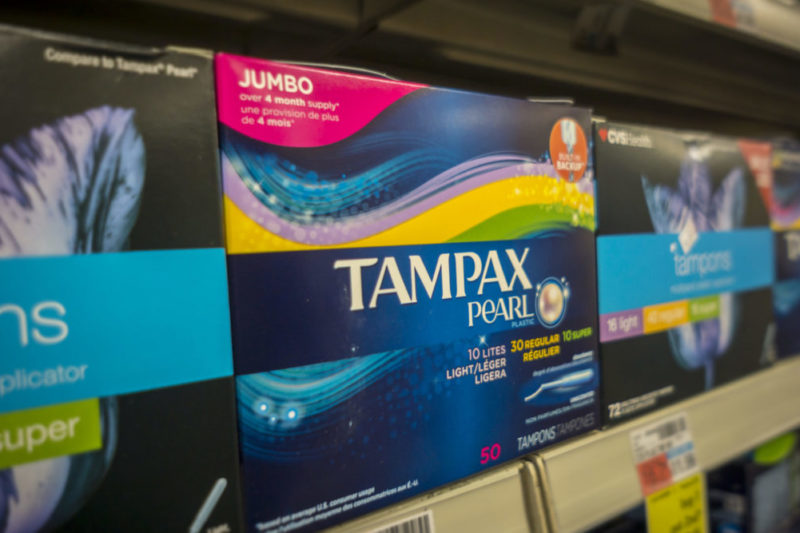 The elimination of the tampon tax is not the only pathway to menstrual equity. For many, access and affordability are major barriers. Richard Levine/Corbis via Getty Images
UPDATE, October 11: California Gov. Gavin Newsom signed a bill Friday that guarantees free menstrual products for grades 6 to 12, community colleges, and the California State University and University of California systems beginning in the 2022-2023 school year.
For Kylie, a nursing assistant in Reno, Nevada, her ability to afford menstrual products such as tampons and pads has fluctuated over the last four years. "With bills and other necessities, period products are usually the last thing" she purchases because of their cost, she said. When she is unable to afford them, she resorts to reusing a couple of pairs of men's underwear, which have a small pocket she fills with toilet paper.
"Not having the products I need makes me feel dirty," Kylie, who requested her last name be withheld for privacy, told Rewire News Group.
Nevada is one of over 20 states and Washington, D.C., that have abolished the "tampon tax," which refers to the classification of period products as "luxury items" subject to added state sales tax. A menstruating person will spend, on average, up to $225 in taxes on period products over their lifetime.
Yet the elimination of the tampon tax is not the only pathway to menstrual equity. For many, including Kylie, access and affordability still pose significant barriers.
For too long, period poverty, or inadequate access to menstrual products such as tampons and pads, has been enveloped in stigma and perceived as a phenomenon that occurs elsewhere, outside of the United States. For these reasons, period poverty has remained a public health issue hidden in plain sight.
Now, the tide is beginning to turn. In July, Oregon enacted HB 3294, or the Menstrual Dignity Act, which guarantees free period products in the state's public education institutions, including public schools, community colleges, and public universities. The products will be available for students starting this school year.
Now, California is poised to join Oregon in setting a national precedent in combating period poverty through the Menstrual Equity Act for All (AB 367). The first-of-its-kind bill, which is currently in committee in the state senate after passing the assembly in June, would vastly expand the provision of free period products to the state's student population, including those in higher education.
The legislation in California would build on a 2018 law that guarantees free period products in public schools for grades 6-12 with 40 percent of students living below the federal poverty level.
The proposed bill would require California State universities and community colleges to provide free period products in at least one accessible and central location on campus. It would also require all public schools—irrespective of their poverty threshold—to provide free period products in at least 50 percent of restrooms. The bill would encourage the University of California system and private universities to similarly provide an adequate stock of the same products for its students.
"There are a lot of barriers to education—biology should not be one of them," Assemblymember Cristina Garcia, who introduced AB 367 in the state legislature, told Rewire News Group.
Free the Period, a coalition of students that began at University of California, Davis before expanding statewide, has been mobilizing behind the bill.
"Because of the lack of access to menstrual products," said Josephine Tai, a third-year student at UC Berkeley and director of operations and development at Free the Period, "as students, it is really hard for us to focus on academics or doing well in school." It would "really make a difference to know that we can have access to menstrual products during the school day" and to "not have to worry about our bodies," Tai said.
In Congress, a recently introduced bill is similarly taking aim at period poverty.
Current programs illustrate that it is not enough for tampons and pads to be made available; they need to be accessible, free, and destigmatized.
U.S. Rep. Grace Meng of New York recognizes period poverty as "inextricably linked to a swath of issues—from economic justice to education; from housing to health care," according to a statement.
In May, she introduced the Menstrual Equity for All Act of 2021, which seeks to address period poverty and its effects on broader inequalities. The legislation aims to improve the accessibility of period products in the carceral system, schools, homeless shelters, and workplaces with 100 or more employees. It would also require Medicaid to cover the costs of these products.
"We're definitely working towards the same goal," Tai said of Meng's federal bill.
The inability to access period products such as tampons and pads has far-reaching consequences for those who menstruate: It can disrupt continuous employment and education, and can have an impact on mental health.
One in five menstruating people have missed school because of a lack of period products. And in California, over one in three college students experience food insecurity, according to a 2018-2019 study by the California Student Aid Commission. This suggests the everyday trade-off students in California must make when faced with competing basic unmet needs.
Evidence suggests that free provision of period products can improve attendance rates: A pilot program installed dispensaries with free period products in a New York City high school in 2015, and saw a 2.4 percent increase in attendance.
Period poverty also impacts the mental health of menstruating people attending college. A study published in BMC Women's Health found that over 14 percent of college students who menstruate experienced period poverty in the past year, and 10 percent experienced it monthly.
Black, Latinx, immigrant, and first-generation students were more likely than their counterparts to experience period poverty, said Dr. Jhumka Gupta, associate professor of global and community health at George Mason University and the study's co-author.
Compared to students who had not experienced period poverty, those that did "were significantly more likely to report moderate/severe depression," the study found.
Barriers to accessible, affordable period products are a significant challenge for all low-income people who menstruate.
A February 2019 study in Obstetrics & Gynecology examined the impact of unmet menstrual hygiene needs on low-income women in St. Louis. It found that 64 percent of participants were unable to afford period products at some point in the previous year, with 21 percent unable to do so on a monthly basis.
Over one-third of employed participants had missed at least a day of work each month because of their periods, the study found.
And the economic hardship brought by COVID-19 has now made period poverty an even more pertinent public health concern.
A study by Plan International USA and Always (a company selling tampons and pads) found that 1 in 4 U.S. women have worried about their ability to afford period products since the start of the pandemic. A Statista survey released in May similarly found that 23 percent of teenagers struggle to afford period products, and 16 percent of the same cohort has had to choose to buy period products instead of food or clothing during the pandemic.
Current programs illustrate that it is not enough for tampons and pads to be made available; they need to be accessible, free, and destigmatized.
For instance, in 2016, New York City passed legislation that provides free period products to people in public schools, prisons, and Department of Homeless Services shelters.
A study published in April from the Columbia University school of public health found that, while New York City's legislation "represented an important step," it did not guarantee consistent and adequate access to period products. People described "distribution systems that rely on gatekeepers to provide a few pads or tampons at a time, sometimes of inadequate quality and only upon request," as well as the feeling of shame in requesting them or disclosing their menstruating status.
Assemblymember Garcia recalled speaking with local students who recounted the lengths they went to in order to obtain period products: memorizing the fancy hotels and restaurants nearby that had them for free, or purchasing them one by one at a gas station. Now, legislation in California and in Congress is putting forth an alternate vision—one in which period products are no longer a basic unmet need.
"The end goal is really for menstrual products to be completely free to people that need them, just as soap and toilet paper are," Tai said.