What Sex Work in the Time of COVID-19 Looks Like
Sex workers are still doing in-person work despite the risks—and relying on their tight-knit community more than ever to survive.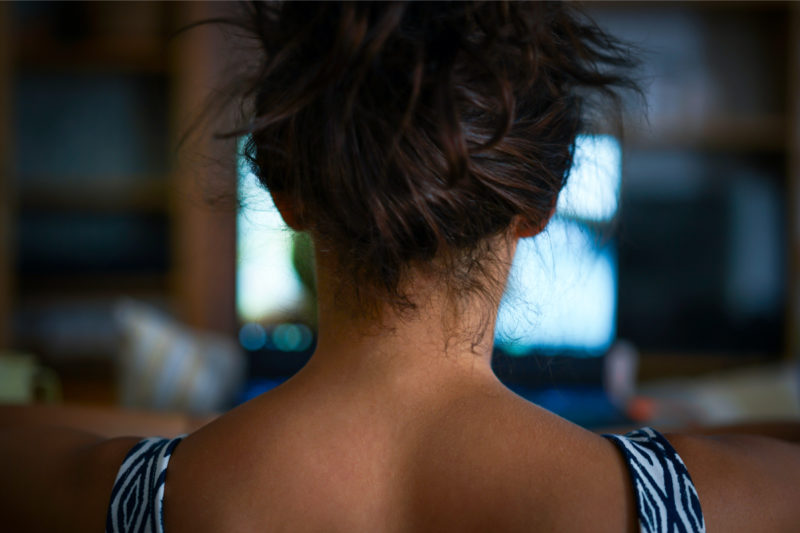 The criminalization and stigma of sex work add to the challenges sex workers—both in person and online—face during the pandemic. Shutterstock
Jessie Sage works as a phone sex operator from her Pittsburgh home when her three kids are not around. She used to do in-person sex work, but that was before the COVID-19 pandemic.
She doesn't feel safe with in-person work anymore, so she's been taking calls from people who pay her by the minute—and not just for sexual services but also to discuss their problems, or just to have someone to talk to. Some think of it as picking up the phone and calling a therapist.
"I think at a time when people are stressed about the economy, about everything that's going on in our country, having a place that you can take your feelings out can be a lifeline for people," Sage said. "It's not just sexual. Sex workers are often an emotional support system."
Like Sage, sex workers—many of whom have families—have lost major sources of income because of the pandemic. Clients have stopped requesting in-person sessions, and many sex workers have stopped seeing customers due to fears of getting sick. So they're finding other ways to earn money virtually—by selling video clips and images, and shooting their own content from home. But virtual work often doesn't pay as much, and finding time to work is a challenge for sex workers with children.
"It's been really difficult," said Sage, who earns money doing sex work on four online platforms from her 350-square-foot work studio. "The biggest thing for me is that I have kids. I have no childcare, and they don't go to school. So it's really difficult for me to carve out any time at all."
Working virtually offers no guarantees, which is why some sex workers are still doing in-person sessions in order to earn money. But during a pandemic, that brings other risks, especially for workers who have underlying medical conditions that make them more vulnerable to the coronavirus. Many had gotten into sex work because of the flexibility and autonomy it can offer, which is an asset for caregivers and those with their own health conditions.
Shutting down production
The Free Speech Coalition (FSC), the adult entertainment industry's nonprofit trade association, imposed an industry-wide shutdown of porn productions at the onset of the pandemic.
And a pair of laws passed in 2019, the Fight Online Sex Trafficking Act (or FOSTA) and the Stop Enabling Sex Traffickers Act (or SESTA), continue to make it harder and more dangerous for sex workers to work online and in person.
Under FOSTA-SESTA, websites can be found responsible if third parties post ads for prostitution on their platforms, and this includes consensual sex work. Opponents of FOSTA-SESTA have pointed out that the laws, while doing little to curb sex trafficking, make it harder for sex workers to communicate with each other and to screen clients. Evidence suggests that being able to advertise online makes sex work much safer, both before and during the pandemic.
Many have long called for decriminalization to protect sex workers' health and rights.
Decriminalization decreases the risks of being a sex worker, because you're no longer worried about being thrown in jail or being targeted by the police. This is a constant worry for sex workers, said Manisha Shah, a UCLA professor who has studied the economics of sex work.
"Once you decriminalize, you're basically saying, 'We're no longer going to arrest these women.' In that way, it's helpful," she continued. However, "What decriminalization still doesn't give you is access to any benefits. That will only happen through legalization. If we actually legalize the market and say these women deserve Social Security or they deserve unemployment benefits, that's taking this a step further."
While some advocate for legalizing sex work, others want to see decriminalization. Both of these include dismantling FOSTA-SESTA.
Working online
The criminalization and stigma of sex work add to the challenges sex workers—both in person and online—face during the pandemic. For Black sex workers and workers from LGBTQ communities, the economic and social pressures of the pandemic have had a disproportionate effect.
Young LGBTQ women are twice as likely and LGBTQ young men are ten times as likely as their peers to be incarcerated in juvenile detention for prostitution charges, studies suggest. For Black trans sex workers, the situation is even worse.
"The police are harassing street-based sex workers, and it's still really difficult right now to be street-based and to be visible as a sex worker," said Phoenix Calida, a former sex worker and communications director of the Sex Workers Outreach Project. "Black sex workers not only have to deal with the stigma around sex work but also racism."
The online sex work industry has become increasingly competitive, and platforms are overcrowded with sex workers who moved online or entered the industry because of the pandemic. OnlyFans, a subscription-based platform where sex workers can post selfies, tutorials, and behind-the-scenes footage to their followers for a fee, saw a 75 percent increase in sign-ups in the pandemic's first weeks, with more than 170,000 new users each day, according to HuffPost.
The shift online only exacerbates the racism.
"We have to work twice as hard to be seen because the internet is notoriously racist and colorist," said Akynos, a founder of the Black Sex Worker Collective who has being doing both online and in-person sex work for over 20 years. "There has always been a big wage gap between black and white sex workers or dark-skinned sex workers versus light-skinned sex workers."
Racism and bias also exists among sex workers, in part related to the different types of work people do. For instance, street-based sex work—which is disproportionately done by Black workers—is considered to be lower in status than webcam work. There are also other kinds of stigma related to race, gender, and how much money someone makes, Calida said.
"Sex workers who previously thought that they were safer in the industry just because they weren't Black, or they weren't doing street-based work, are also feeling the effects of COVID," Calida said.
Finding community
For both online and in-person sex workers, the pandemic will have longer-term impacts, especially for those with families and kids.
"It can be a really negative income shock," Shah said. "There can be an irreparable damage to these young kids if their mom is out of work."
Given the ongoing economic impacts of the pandemic, it's even more important, many say, that sex workers can help each other and do their jobs without fear of criminalization and public stigma.
"Nobody seems to think that sex workers are deserving. They don't think we are deserving of financial security and support during this time,"Akynos said. "The pandemic has affected our bottom line, it's affected our money and even affected our health. … We don't have a choice but to risk our health in order to support our livelihood."
Sex workers are relying on their tight-knit community more than ever to survive. Many of them depend on other, more experienced sex workers to help them raise money, and depend on community organizations, activists, or even their clients for support.
Experienced sex workers have been hosting DIY online workshops where content producers are invited to talk about shooting videos at home. They've hosted sessions like "How to take selfies," "Budgeting as a sex worker," and "How to build a brand online." Sage hosts a podcast called Peepshow, where she features sex workers sharing their experiences and giving each other tips on making it through tough times.
"The sex workers community has always been huge for other sex workers, just because there's not a lot of outside places you can go for support. The community exists because it's a necessity," Calida said.