These States Are Poised to Expand Reproductive Rights
After the election, advocates are looking to strengthen abortion rights wherever they can—particularly in states with Democratic legislative majorities.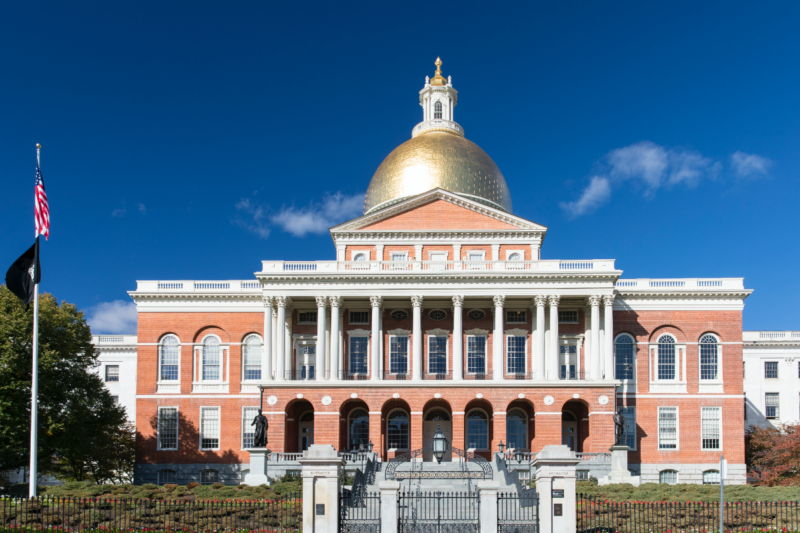 On Thursday evening, the Massachusetts House of Representatives approved an abortion amendment as part of its budget package. Tim Graham/Getty Images
With the threat of Roe v. Wade being overturned and the appointment of Amy Coney Barrett to the Supreme Court, advocates are looking to strengthen abortion rights wherever they can—particularly in states with Democratic legislative majorities.
While many states with Democratic majorities have laws protecting the right to abortion if Roe is overturned, Massachusetts, New Jersey, Virginia, and New Mexico do not. In fact, New Mexico retains its archaic pre-Roe abortion ban; efforts to repeal the 1969 law failed last year in the state senate.
But in the November election, Democrats in New Mexico not only expanded their majority in the state senate but also replaced anti-choice Democrats with more progressive legislators—putting pro-choice senators in the majority. And New Mexico is not the only state where pro-choice Democrats have the power to improve abortion access.
"For the progressive states, this year it's very important to make some progress on abortion rights and availability," said Elizabeth Nash, interim associate director of state issues at the Guttmacher Institute. "Because what we saw coming into 2021 is really that state legislatures haven't changed that much. And we see that threat of the U.S. Supreme Court undermining abortion rights. So where we can make progress, it's important that we do so."
Here's a closer look at how reproductive rights could be expanded at the state and federal levels.
Massachusetts approves pro-choice amendment
After sitting in committee for over a year, the ROE Act, which would embed the right to abortion in state law and remove harmful obstacles to abortion access, is now on the top of Massachusetts lawmakers' agendas. The bill would allow abortion after 24 weeks of pregnancy in cases of fatal fetal anomalies, improve coverage for low-income abortion patients, and allow minors to access abortion care without getting parental consent or a judge's permission. It also eliminates a currently unenforcable 24-hour waiting period and antiquated language criminalizing abortion providers.
While the legislature's leaders vowed to take up the ROE Act before the end of the year, Massachusetts legislators didn't wait that long: On Thursday evening, the Massachusetts House approved a pro-choice amendment to a budget package that allows abortions after 24 weeks in the case of lethal fetal anomalies and lowers the age from 18 to 16 that a minor can choose to have an abortion without parental or judicial permission. Lawmakers had cited the national climate and Barrett's confirmation as a reason to act quickly.
Massachusetts House on Thursday night voted 108-49 to adopt a budget amendment that allows abortions after 24 weeks in the case of lethal fetal anomalies and lowers the age from 18 to 16 that a minor can choose to have an abortion without parental or judicial consent. #mapoli https://t.co/jH8uapgMnG

— State House News (@statehousenews) November 13, 2020
"Massachusetts has been a leader in health-care access and equity and civil rights, and passing the ROE Act would be a common sense next step in carrying on that tradition," Tara Kumaraswami, an obstetrics and gynecology professor at the University of Massachusetts Medical School, told the Valley Advocate earlier this year.
New Jersey's bill to codify Roe
State legislators introduced the Reproductive Freedom Act last month to codify the right to abortion and remove medically unnecessary restrictions.
The bill will reduce financial barriers, by requiring private insurers cover abortion and contraceptives with no out-of-pocket costs (although religious employers may opt out). And it establishes a program to cover pregnancy, abortion, and contraceptive care for immigrants excluded from federal assistance programs.
The Reproductive Freedom Act also eliminates old laws that were already struck down by the state supreme court, like forced parental notification, an unconstitutionally vague abortion ban, and restrictions on state Medicaid coverage.
The bill targets a number of medically unnecessary restrictions governing which health-care professionals can provide abortion care and where certain abortion procedures must take place.
Colorado's lessons from election
Colorado voters on election day rejected Proposition 115, which would have banned abortions after 22 weeks. Like the three anti-abortion ballot measures before it, the proposition failed but still required a long process of educating voters on abortion rights.
Organizers who campaigned against Proposition 115 have now transferred their energy to Beyond the Bans, a project to educate people on later abortions, including journalists whose coverage might be framing the debate.
"If we do see any sort of ballot measure again or anything like that, we're not trying to start from scratch in educating voters around this issue and why banning any sort of abortion care is a violation of our values that we hold in our state," said Fawn Bolak, reproductive rights content director at ProgressNow Colorado.
"We explained various reasons why someone would want to access an abortion later in pregnancy, including barriers, lethal fetal diagnosis, if the health of the pregnant person is at risk," Bolak said. "But additionally we supplemented that with values-based messaging—it is not up to your neighbor to decide what health care you can access and when."
Following Maine's lead on telemedicine abortion
Telemedicine has the potential to help expand access to abortion, although it's still impacted by anti-choice state restrictions and the FDA's in-person requirement on mifepristone. Many states have banned telemedicine abortion, but even in states where it's legal, availability is limited.
"Given the number of state abortion bans and restrictions we've seen in the past two years, we must reduce the barriers that make it harder for people to get care," Krishna Upadhya, vice president of quality care and health equity at Planned Parenthood Federation of America, said in a statement. "While medication abortion via telehealth is not the solution to these abortion bans, it can extend the reach of providers and increase the availability of services in some states so that more people can get the timely care they need."
One of the largest expansions in the past decade happened in Maine, when Maine Family Planning used telemedicine to begin offering abortion in all its health-care centers.
"Using telehealth technology to provide abortion care meant that we could offer medication abortion at an additional 17 MFP sites, many located in underserved areas," Deirdre Fulton-McDonough, director of communications at Maine Family Planning, told Rewire News Group last year.
Maine saw the number of women of reproductive age living in a county without a clinic drop from 55 percent to 24 percent.
Eliminating post-viability bans
California, Connecticut, Delaware, Hawaii, Illinois, New York, and Rhode Island all have Democratic majorities and Democratic governors—and yet they ban abortion after fetal viability, which occurs between 24 to 28 weeks into a pregnancy. Nash said that many of these post-viability bans originated in the immediate aftermath of Roe v. Wade or in the early 1990s, when pro-choice activists and policymakers feared Roe would be overturned. Additionally, Virginia has a third-trimester ban, and Nevada has a 24-week ban. Bans based on gestational age are harmful regardless of when the line is drawn, Nash said.
Eliminating these bans would be one step to improve access in these states.
Expanding access on a federal level
The Biden administration could reverse funding restrictions like Trump's global and Title X "gag rules," and the official transition website indicates these policy changes are planned.
The FDA could also play a role in expanding abortion access. OB-GYNs and abortion researchers have long criticized the FDA's uneccessary regulations on mifepristone, one of the pills involved in medication abortion.
"Now we've had 20 years of experience using the treatment, and it's very effective and very safe," said Daniel Grossman, director at Advancing New Standards in Reproductive Health, a research group at the University of California, San Francisco.
The in-person dispensing requirement of the FDA's mifepristone rule is currently blocked by a court order, but other provisions remain in effect. And the court order will only last as long as there's an official COVID-19 public health crisis.
There are signs the next administration may be amenable to updating the regulations around mifepristone to match the latest evidence. Besides the president- and vice president-elect's public commitments to abortion access, at least one of the possible candidates to lead the FDA has a pro-choice record. The Washington Post reported that Joshua Sharfstein, principal deputy commissioner of the FDA under Obama, might be up for consideration. Sharfstein has been a longtime advocate for reproductive rights, including writing a paper documenting how attempts to restrict abortion interfered with the response to the Zika virus and testifying against abortion restrictions enacted on the pretense of responding to the COVID-19 pandemic.