Led by Black Midwives, This Abortion Clinic and Birth Center Is Reimagining Health Care in the South
CHOICES Memphis Center for Reproductive Health is the first nonprofit organization of its kind.
The three birthing suites have garden views. Courtesy photo
A reproductive health-care center in Memphis is revolutionizing what it means to offer a full spectrum of care.
With the unveiling of a new location in September, CHOICES Memphis Center for Reproductive Health is now the country's first nonprofit organization to offer both birthing and abortion care, as well as the first birth center in Memphis with midwives as the primary caregivers. Midwives providing birthing care is especially critical in a city like Memphis—while the infant mortality rate decreased between 2005 and 2015, the city's rate is still higher than the overall infant mortality rate in the United States.
CHOICES traces its roots back to 1974, when the Memphis Center for Reproductive Health opened on the heels of Roe v. Wade's watershed Supreme Court decision that made abortion legal. In the ensuing two decades, the center operated as a first-term abortion clinic, and also offered free pregnancy tests and counseling.
Two key personnel hires charted the path to setting the standard for reproductive health services: Rebecca Terrell joined as executive director in 2009 (which also led to rebranding to CHOICES), and Nikia Grayson came on board as a nurse midwife in 2016; Grayson is now the director of perinatal care.
In 2013, talks about expanding the clinic's location began, and now, around seven years later, the vision has become a reality—and during a pandemic no less.
What sets CHOICES apart is that it views abortion care and birthing in the same framework of a reproductive health journey that includes a pre- and postnatal care, fertility treatment management, teen health services, trans-inclusive health care, and more.
CHOICES operates in a reproductive justice model, "where we center Black and brown families and personalize the care around their needs, regardless of their ability to pay," Grayson said.
That model is especially critical because CHOICES is the only center for miles that offers some of these health services to a majority of people of color and low-income patients. At least 70 percent of its patients receive Medicaid, Katy Leopard, external affairs director for CHOICES, said.
The new location is now central to major bus routes, which makes it ideal for people who travel from out of state; Leopard noted that patients from Arkansas, Kentucky, Missouri, Mississippi, and Texas have all received care at CHOICES .
The center has more than doubled in size to house three abortion procedure rooms, three birthing suites, examination rooms, and a laboratory. A wellness courtyard brims with foliage; green is the center's signature building color. An outdoor seating area is located in the middle of the second floor, and the building has entrances in the back with additional parking spaces for patients to enter discreetly; it's nearly impossible to escape the shadow of anti-choice protesters at any place that provides abortion care—and CHOICES is no different.
CHOICES has a resident physician who administers abortions. And because of the rising interest in midwives, particularly during the COVID-19 pandemic, the team of midwives has been expanded.
The new CHOICES opened its doors in September with significant COVID-19 precautions in place. Despite distancing measures such as substituting an in-person grand opening with a virtual tour, the sense of duty to the community persists.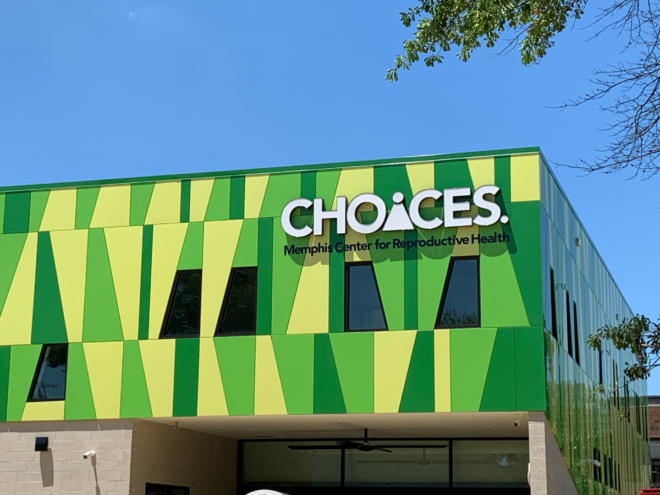 "No one was performing first-term abortions here after '73, and there needed to be a lot of educating to be done about both abortion and birth control then," Leopard said. "Now, wherever there's a gap, we try and fill it, and it carries on to today."
"We've found that if we give people factual, evidence-based information, people will make the best choices for themselves," Leopard added.