Medication Abortion Access Is About to Radically Change
Monday's ruling could be the first step in making medication abortion easier—and safe—to access.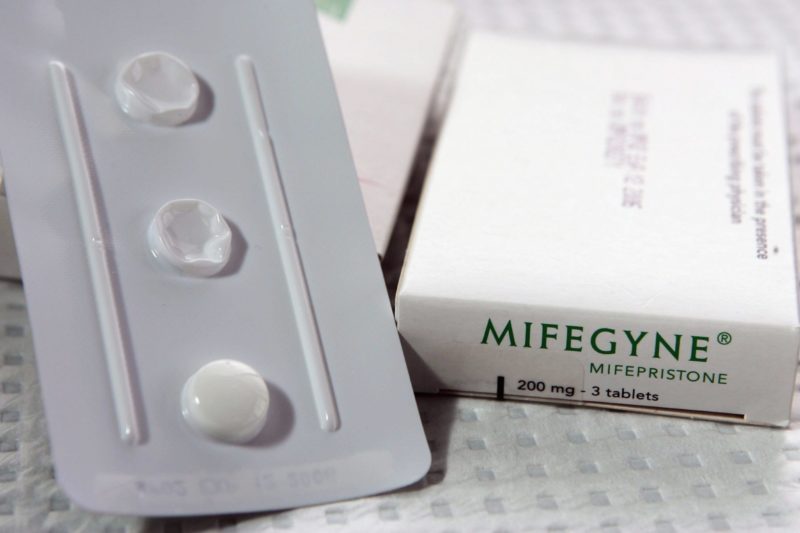 Efforts to block medication abortion have nothing to do with patient safety and everything to do with discouraging robust public health policy regarding pregnancy and abortion. Phil Walter/Getty Images
For continuing coverage of how COVID-19 is affecting reproductive health, check out our Special Report.  
Medication abortion access just got a little easier and safer for patients during the COVID-19 crisis. It's about damn time, and it should stay this way forever.
A federal judge in Maryland issued an order on Monday blocking the Trump administration from enforcing a restriction that prevents patients from accessing medication abortion without a doctor's visit, on the grounds that it likely unduly burdens abortion rights in the middle of a pandemic.
The ruling has the potential to radically shift the medication abortion landscape. Here's how.
When the COVID-19 pandemic was first taking hold in this country, anti-choice lawmakers did not see the virus, which has now killed over 135,000 people and counting, as a crisis. They saw an opportunity to use one public health crisis to create another by attempting to restrict abortion access. So did members of the Trump administration who, early in the pandemic, refused to suspend restrictions the U.S. Food and Drug Administration (FDA) imposes on mifepristone, one of two drugs used together as medication abortion to end pregnancies and as miscarriage management.
FDA guidelines require patients who are prescribed mifepristone to travel to a hospital, clinic, or medical office to pick up the medication rather than fill the prescription by mail. Of the more than 20,000 drug products the FDA regulates, mifepristone is the only one that must be picked up in person but can then be self-administered at home without clinical supervision.
When used for purposes other than terminating a pregnancy, the FDA permits mifepristone to be mailed directly to a patient's home.
Doctors from the American College of Obstetricians and Gynecologists (ACOG) urged the FDA to lift the in-person restrictions on mifepristone. Despite the fact that the FDA had suspended similar restrictions on other medications (ones not related to abortion), the agency refused. So advocates sued. On Monday, a federal judge told the Trump administration it must make the medication available by mail for patients using it for an abortion, and blocked the FDA from enforcing its in-person requirement. 
U.S. District Judge Theodore Chuang concluded that the "in-person requirements" for patients seeking medication abortion care impose a "substantial obstacle" to abortion patients and are likely unconstitutional during a pandemic.
"Particularly in light of the limited timeframe during which a medication abortion or any abortion must occur, such infringement on the right to an abortion would constitute irreparable harm," Judge Chuang wrote in the 80-page decision that accompanied the preliminary injunction.
The decision does not apply to mifepristone for miscarriage management.
"The FDA's medically unjustified requirement has long stood in the way of communities of color getting the reproductive health care we need—and now, during the pandemic, it is putting us at unnecessary risk for COVID-19," Monica Simpson, executive director of SisterSong Women of Color Reproductive Justice Collective, said in a statement following the decision.
"Today's ruling recognized the simple truth that people should not be forced to choose between getting the care they need and protecting their health. This Administration should stop spending its time trying to make it harder for people of color to get the medical care we need, and instead trust us to make our own reproductive decisions and remove barriers that violate or prohibit our human right to self-determination."
The decision is a critical first step in removing those barriers, perhaps for good. Monday's injunction will stay in place for 30 days after the COVID-19 public health emergency declaration from the Trump administration expires.
More importantly, if that emergency declaration expires while the lawsuit remains pending in federal court—a distinct possibility given the slog of litigation—then ACOG and the other parties can petition the court to extend its preliminary injunction. That would mean that the FDA could continue to be barred from enforcing its in-person restrictions governing mifepristone. And the longer patients have access via mail to mifepristone for abortion care, the harder it will be for the Trump administration to persuasively argue that patients must be forced to pick up their mifepristone prescriptions in person.
The fight over medication abortion during the pandemic is far from over, though. Conservative states like Indiana and Louisiana have already tried to intervene in this lawsuit to defend the administration and the FDA restrictions; Judge Chuang issued a separate order effectively telling attorneys general from those states to pound sand. And I expect the Trump administration to appeal this decision immediately, which opens the door to the possibility a panel of Trump judges could reverse it.
For now, however, the decision stands. And it's a good one—except for the fact that it doesn't extend to patients experiencing a miscarriage. Those patients still have to face exposure risk from traveling to a doctor's office or clinic to pick up medication in person during a pandemic.
What Monday's decision really drives home, though, is that the fight over medication abortion is entirely a political battle. Medication abortion is safe. It's effective. Efforts to block it have nothing to do with patient safety, and everything to do with discouraging robust public health policy regarding pregnancy and abortion. There's no reason why patients shouldn't be able to access mifepristone for abortion or miscarriage care via mail, both during this pandemic and once it's over. Judge Chuang's decision is the first step in recognizing that truth.