Hey, Kanye: As Abortion Storytellers, We're Setting the Record Straight
We refuse to remain silent as the anti-abortion movement capitalizes off Kanye West's decision to traffic in white supremacy and misogynoir.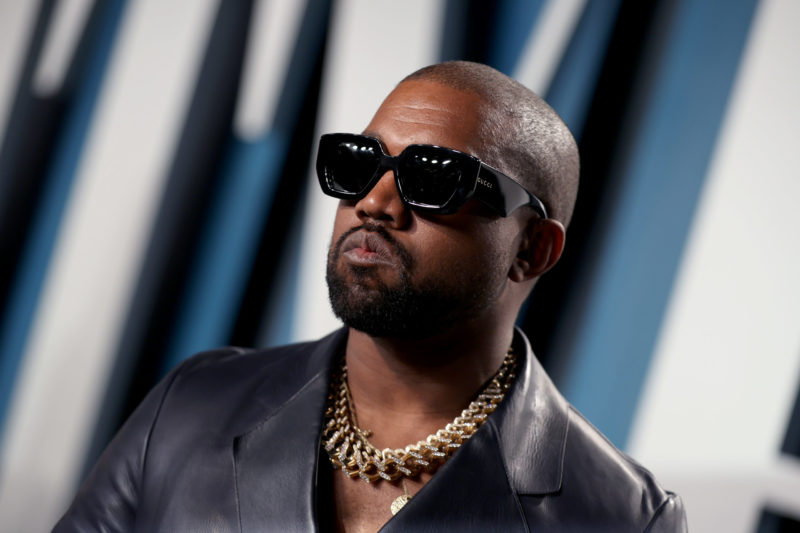 The reality is that the majority of people who have abortions are people of color, and we are just as deserving of access to care as anyone else. Rich Fury/VF20/Getty Images for Vanity Fair
Last week, Kanye West gave a wide-ranging interview in Forbes in which he made a series of declarations. He announced he's taking off his red MAGA hat, claimed he's running for president as a member of "the Birthday Party" (even though he has not filed any paperwork), and spread white supremacist lies about abortion. If he weren't using his platform to spread misinformation, much of his interview could be dismissed as ridiculous.
"I am pro-life because I'm following the word of the Bible," Kanye announced before claiming that Planned Parenthood health centers "have been placed inside cities by white supremacists to do the Devil's work."
But this widespread anti-abortion myth—that abortion clinics are more prevalent in communities of color—is false. The Guttmacher Institute, a nonpartisan research organization, found that only 13 percent of abortion clinics are in majority Latinx communities and fewer than 1 in 10 clinics are in majority Black communities. Ironically, the fact that over 60 percent of abortion clinics are located in majority-white neighborhoods creates logistical and financial barriers for people of color who need access to abortions.
The rapper also tweeted and subsequently deleted a screenshot of a Google search: "What does a 6 month fetus look like." The tweet contained images of fetuses accompanied by Kanye's commentary: "These souls deserve to live." This is a common tactic that anti-abortion activists use to demonize people who get later abortions and to distract from the barriers anti-abortion politicians put in place to make it more difficult for us to get abortions when we want them.
The reality is that the majority of people who have abortions are people of color, and we are just as deserving of access to care as anyone else. We refuse to remain silent as the anti-abortion movement capitalizes off Kanye West's recent decision to traffic in white supremacy and misogynoir. Below, several We Testify abortion storytellers respond to Kanye's outright lies about abortion.
Kenya Martin, We Testify storyteller: I see Kanye is on the interwebs again speaking on matters that don't concern him. He claims he's "pro-life" because he's "following the word of the Bible." I was a Catholic for 25 years and studied the Bible in school through and through. There's no mention of abortion—perhaps it's from the Book of Kanye? Believers have abortions. Period. They are shamed into keeping it a secret. That's not the God's love I know.
The only "pro" he should be into is pro-"minding his damn business." Not one mention of saving the lives of the many children being held captive away from their parents in ICE detention. Not one mention of arresting the officers who killed Breonna Taylor in cold blood. Kanye, stay in your musical fashion lane because politics clearly ain't your strong suit. Our right to choose if and when we want to parent or not ain't up for debate nor is it a game.
Tohan O., We Testify storyteller: Where to begin? Bless his heart. Kanye's words are definitely misogynistic. His comments are extremely prejudiced and will hurt Black women like me who have abortions every day. If I can't tell you what to do with your balls, then please have several seats, Kanye! You know nothing, especially about abortion. But again bless his heart. #PlannedParenthoodHasBeenABlessingToMany
CoWanda Rusk, We Testify storyteller: I've been crying laughing at this man's lack of understanding and outright disrespect for Black people, especially folks who have abortions. I'd like to know how many Black folks who've had abortions he's talked to because it's clear he isn't an expert on the issue and would not be able to provide us with the leadership we need if he were to run for any office—which we know he won't.
Access to abortion is both reproductive justice and economic justice. I know Kanye recently transformed his platform to become more rooted in faith, but as a Christian, as a person who believes in God, and as someone who has a personal relationship with Christ and provides to the spiritual needs of my community, I would like to ask Kanye: Is this God's love? Is it God's love to outright stigmatize us and our health care? Is this God's love to judge us for seeking abortions? Is it God's love to deny access to resources needed by so many people? When you make statements about folks "doing the devil's work," Kanye, are you showing up as someone who's doing "God's work?" 1 John 4:8 says "anyone who does not love does not know God because God is love." So please keep your weak attacks to yourself because we don't need your hate here.
Aziza Jones, We Testify storyteller: Kanye—in typical Kanye fashion—is loud and wrong. His comments over the past week are disturbingly dangerous not only because he's incorrect in his statement about Planned Parenthood, but also because he has the ear of impressionable young people who look at him as a way to model themselves, their lives, and their view of the world.
Ordinarily, I wouldn't suggest anyone watch Keeping Up With the Kardashians. However, maybe he needs to rewatch the episode in which Kim and her sisters visit a Planned Parenthood and she learns about the menu of services that they offer in addition to abortion care. With so many schools opting out of sex education, Planned Parenthood stands as a low- to no-cost option for people to learn more about relationships, safe sex, bullying, and bodily autonomy—all in their neighborhood.
Ultimately, I feel terrible for his daughters, North and Chicago. They will have it hardest growing up in a house with him, learning the worst of the world. But this is why I share my abortion story; I am doing the most, trying to change the world, so that they're able to advocate and make decisions for themselves in a world that wants to keep them down and docile.
Renee Bracey Sherman, founder and executive director of We Testify: This was major abortionsplaining, but it showed us yet again that Kanye West doesn't care about Black people.