The GOP's Abortion Obsession Sabotaged Pennsylvania's COVID-19 Response (Updated)
Pennsylvania Republicans felt it was appropriate to use this crisis as an opportunity to deprive people of their constitutional right to abortion care, pandemic be damned.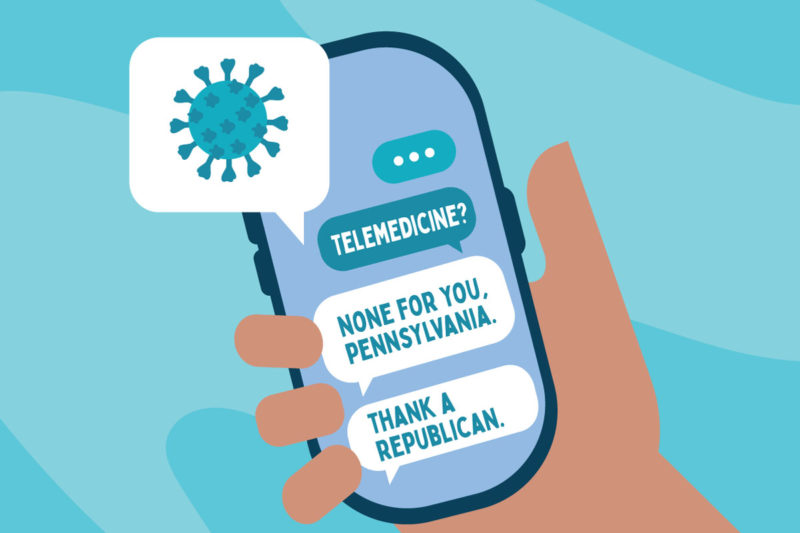 As Pennsylvania was on the verge of passing legislation that keeps health-care and frontline workers safe while giving medical practitioners better access to potential COVID-19 patients, Republicans added an amendment ensuring abortion care would not be included in the state's telemedicine system. Shutterstock
For continuing coverage of how COVID-19 is affecting reproductive health, check out our Special Report.

UPDATE, May 5, 2020, 10:42 a.m.: Pennsylvania Gov. Tom Wolf (D) on Wednesday vetoed the telemedicine legislation, saying it "arbitrarily restricts the use of telemedicine for certain doctor-patient interactions," Penn Live reported. 
Pennsylvanians could have had access to critical telemedicine services, allowing them to receive health care in the safety of their homes during the COVID-19 outbreak.
But Republicans' never-ending mission to cut off access to abortion care sabotaged an otherwise promising telemedicine bill that passed the Pennsylvania legislature last week. A poison pill had been inserted, barring medication abortion through telemedicine. Now Gov. Tom Wolf (D), an abortion rights supporter, is going to veto the bill—and with it, a more accessible health-care system across the state.
Never let a crisis go to waste. That's the mantra of Pennsylvania's Republican Party, a group of legislators and operatives ruthlessly harming the people of our commonwealth. Their ethos is distilled as creating profits for the powerful, by any means necessary. The fuel that keeps this cohort going is moments like what we saw last week in response to our public health crisis during the COVID-19 pandemic, pushing their dangerous anti-abortion ideology at the expense of better health care in Pennsylvania.
In national media, Pennsylvania has been championed as one of the few states handling the pandemic well. But rather than being a cause for celebration, this shows how low the bar is set when it comes to addressing the pandemic in the United States. Pennsylvanians have limited access to COVID-19 testing (under 2 percent of the population have been tested), and the state has adopted somewhat of a laissez faire approach to the pandemic's housing crisis, merely delaying rent and mortgage due dates.
Meanwhile, the virus continues to spread through prisons, and cases have been confirmed in each of the state's 67 counties. As Wolf prematurely "opens up" segments of Pennsylvania's economy in the coming weeks, the health and economic impacts continue to ravage our communities.
Pennsylvania failed to enact critical public health legislation because of the most depraved elements of Republicans' extreme agenda. The telemedicine bill, in the version that first passed through the state senate last October, would have helped keep health-care workers safe and allowed people to receive medical help without risking infection. But Republicans in the Pennsylvania House had added an amendment to bar telemedicine abortion, and that was the version approved by Senate Republicans this month, guaranteeing the legislation would never become law.
Pennsylvania Republican lawmakers felt it was appropriate to use this crisis as an opportunity to deprive people of their constitutional right to abortion care, pandemic be damned.
That doesn't make Republican legislators in Pennsylvania any different than Republicans in state legislatures across the United States, a number of which have barred medication abortion via telemedicine, as part of the ongoing effort to make abortion as inaccessible as possible. Just last month, Republicans in the Ohio Senate approved a bill prohibiting abortion care through telemedicine. And last fall, Republicans in the U.S. House of Representatives pushed a bill that would bar telemedicine abortion across the country.
Creating barriers to medication abortion often means people have abortions later in pregnancy, which costs more and comes with an increased risk.
We know the reality of abortion rights in the United States. The wealthy have safe access to abortion care. Low-income people, people of color, trans and queer people, people in abusive relationships, survivors, and immigrants are deprived of these rights, or are forced to jump through endless bureaucratic hoops to access care. The anti-abortion amendment in the telemedicine bill was a battle cry to the most callous among us, and the result was legislation that had to be vetoed by Wolf. This is a political ploy by Pennsylvania Republicans, who can now tell their base that the governor deprived rural communities of health care during the pandemic, something they demonstrably did with their anti-abortion amendment.
State Senate Majority Leader Jake Corman (R) admitted to Penn Live/Patriot News that Republicans' poison pill in the telemedicine legislation is a tried and true GOP strategy. Corman said house Republicans "made the same change to telemedicine bill the Senate passed during the 2017-18 legislative session," the outlet reported. That bill eventually died because of state senate inaction.
The Republican playbook is no secret: divide and conquer, strip people of basic rights, signal virtue to abortion rights opponents, and do nothing, over and over again.
Far too often, people are pitted against one another in an effort to serve the whims of the most powerful and craven few. During the COVID-19 pandemic, we have the opportunity to break that habit. Solidarity must be the core tenet of our collective power moving forward. The COVID-19 infection rate forces us to recognize we are in this life together. Our health care must be protected and expanded. Our safety must come first, even when profits or inhumane ideology stand in the way. Our suffering must stop, and those who perpetuate it must be held accountable.
This accountability starts at the ballot box as Pennsylvanians vote safely at home, but it doesn't end there. We must engage with our elected officials when they hurt us, rather than fighting with our neighbors. We must ask tough questions of ourselves so we can stand together against those who refuse to help us access basic needs, like health care.
For this and so many fights, our mindset must change, or the cycle will continue.