How to Fulfill Your Need for Sex, Touch, and Intimacy When You're Self-Isolating
Positive human connection has a big influence on our mental health, but what does that look like when we can't get together with the people we care about?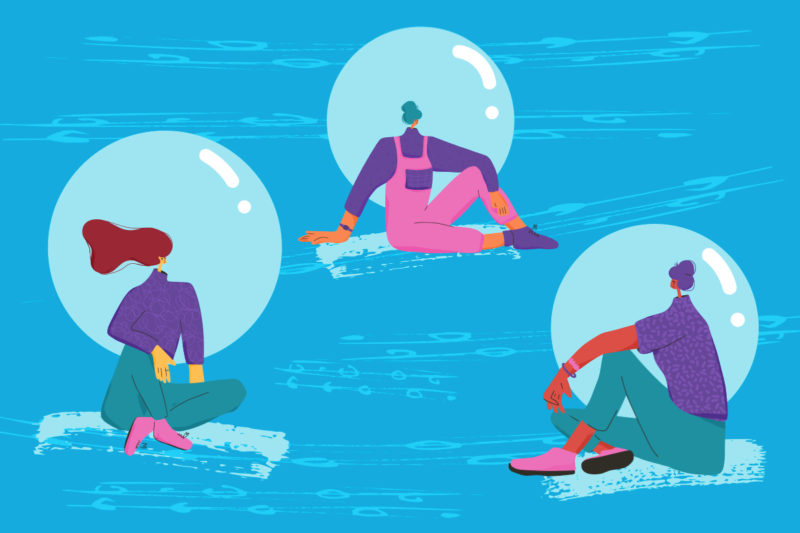 With a little intention and creativity, you can emerge from self-isolation more connected than when you went in. Shutterstock
For more sex education resources during the COVID-19 outbreak, check out our Better Sex Ed guide.  
If you're self-isolating during the COVID-19 pandemic, it might feel impossible to fulfill your need for connection and companionship—especially if you're single or live alone.
Staying away from others benefits the overall health of our community right now, but that doesn't mean it's easy. Positive human connection has a big influence on our mental health, but what does that look like when we can't get together with the people we care about?
Luckily, the three areas of the human connection that people might be struggling with right now—sex, touch, and intimacy—can be nurtured in many ways and from a distance. All it takes is a bit of creativity and some changes to your routine.
• If you miss sex
Partnered sex and solo sex fulfill different needs, and they serve different purposes in our day-to-day lives. But the COVID-19 pandemic isn't representative of our normal lives, so it's unfair to hold the same expectations. Whether you're hornier than usual in self-isolation or you and your partners have decided that sex isn't a safe option right now, there are a few things you can do to get your rocks off.
Read erotica
If your imagination is feeling a little drained right now, and you've been missing the feeling of physical arousal, reading erotica can help liven things up by getting your blood pumping and your body aching. But when people think of erotica they often think about romance novels often found at used book stores. And while yes, those books are common within the genre, erotica has seen some innovations in recent years.
Historically underrepresented romance writers are breaking into the genre, creating storylines with substance—and seeing success. For example, Helen Hoang's 2018 debut novel, The Kiss Quotient, is a sweet, funny, and steamy multicultural tale about dating through the eyes of a woman who is autistic.
Beyond the romance novel, if you want to read about the imagined sexual exploits of your favorite TV or movie characters, try some fan fiction (there are hundreds of thousands of fanfic centered on the Marvel universe alone; or just start writing your own!). For historical fiction with steamy scenes, check out anything by Sarah Waters, a Welsh author whose novels mostly take place in Victorian society featuring lesbian protagonists. There's also audio erotica, and DipSea is a great resource for that.
Masturbate
Switch up your solo sex routine by introducing something new. If you typically use your hands to get off, try using a toy. Or, if you miss the feeling of someone touching your body, give your vibrator a break and use your hands instead.
If you are someone who doesn't typically masturbate or feel ashamed about flying solo, now may be a good time to try it out. Masturbating is a normal and healthy activity for people of all genders to learn about their bodies. Plus, in the long run, masturbating can help with your sexual self-confidence, which can make for better partnered sexual experiences.
Sext
If you're in a relationship (or even just casually hooking up with someone) and want to engage in partnered play, try sexting. You don't need to (and shouldn't) jump right into sending pictures or videos or even getting really dirty with your words. Just as an in-person sexual experience builds in intensity, your sexting should as well. No one wants an unsolicited nude, though, so make sure your recipient is down for whatever types of messages you're planning to send (text, photo, video, or audio).
If you're concerned about your digital safety, a messaging encryption app like Confide or Signal can help protect you a bit more.
Watch porn
It might come as no surprise that watching porn has spiked while people are sheltering at home. Before you start searching for that perfect clip, however, remember paying for content is one way to make sure you are being an ethical porn consumer. Whether it's a subscription or buying per video, paying for your porn is essential.
Porn is also more diverse than it used to be. The Crash Pad Series and Pink and White Productions prioritize queer and trans representation, while Fat Girl Fantasies is a collection of fat-positive porn.
• If you miss touch
If it's touch you're craving, your own hands (and even some objects around your house) can satisfy your need for physical contact.
Self-Massage
You're likely more stressed than usual, and might not even realize the tension your body may be carrying. While you may not be able to reach that one spot on your back, you could give yourself a foot massage, work out a knot in your shoulder or neck, or even give yourself a face massage. Grab your favorite lotion or massage oil, and put on some soothing music to create a relaxing environment.
Focus on taking deep breaths and the feeling of your hands on your own skin and body. Where does your body crave more or deeper touch? Where do you not want to be touched? What actually feels good to you? Paying attention to your body's response to touch can help you pursue the types of massage that help you feel grounded and in your body.
Wear sentimental clothing
Do you have a sweater that a loved one gave you that makes you think of them when you wear it? Or a T-shirt from your favorite concert? Many of us have items of clothing that have memories attached to them, and if those memories are connected to people, simply wearing it can help you feel more connected to that time. Wear your "ugly" Christmas sweater, and cozy up with a cup of hot chocolate. While you're at it, take a photo and let the gift giver know you're thinking of and miss them.
Wrap yourself in a blanket
It may seem too simple, but putting comfortable pressure on your body can lower your heart rate and stress levels. It isn't the same as skin-to-skin contact, but if you've been feeling particularly untouched, wrapping a blanket tightly around your body can be a comforting reminder that you are here and can embrace yourself.
Get to know your body
When was the last time you really looked at your body? You probably don't actually know the back of your hand like, well, the back of your hand. Use this time to get familiar with your curves, lumps, points, and fuzzy bits. Position yourself in front of a large mirror and start fully dressed. Then, slowly strip off pieces of clothing. Look at and touch your arms, collarbone, and torso, paying close attention to the look and feel of each body part before moving on to the next one. What surprises you? What did you forget about?
As you work on this exercise, pay attention to the moments when you start to be cruel to your body. If you find yourself thinking things like, "This is ugly" or "I need to get rid of this," make the correction and tell yourself, "You're a part of my body and right now you give me anxiety, but I'm choosing to love and accept you anyway." The point of this activity isn't to cause you pain, but rather to increase your familiarity with your body so that it feels like your own—unexpected bits and all. If you opt to explore your body, don't overlook your genitals. They're an important part of your body, too.
• If you miss intimacy
Intimacy doesn't just happen in-person, and it isn't just for romantic partners. You can deepen your level of intimacy with anyone of importance in your life.
Send a letter
Snail mail may seem like a thing of the past, but handwritten letters can make you feel close to a person in a way that other mediums don't allow. If you don't have your friend's physical address, are afraid to send something in the mail right now, or don't want to add stress to an already strained system, that's OK: Sending a longer email with updates, thoughts, and photos can help foster that connection, too.
Video dates
Dates aren't only for romantic partners—they're for anyone you want to spend some time with. If you're tired of Zoom calls, go ahead and skip to the next option. But if you haven't been spending nine hours each day on video calls, try setting one up with a loved one. Group video calls can be fun, but they can also be awkward and don't foster intimacy as effectively as one-on-one conversations. Building in a group activity might make it less awkward, like having brunch together, playing online games, or watching a movie. If you're looking to feel emotionally connected to someone, plan for a video date for two.
Judgment-free group chat
We're all experiencing our own personal manifestation of this hectic and unprecedented moment. That may mean you're doing some out-of-character things, like ignoring the dishes for over a week, having bizarre dreams, coping with unpleasant thoughts, and even texting someone you'd rather not talk to.
If you need a place to talk about how weird life is, reach out to your friends and see who's interested in a judgment-free group chat. Invite the folks who are down to offer nonjudgmental support and solidarity. Whenever you find yourself in desperate need to talk to someone, turn to the group chat. It's pretty likely that one of your friends will be able to relate or at least offer a sympathetic ear.
Say "thank you"
Offering your appreciation for someone can help you feel more connected to them. Plus, hearing "thank you" allows the recipient to felt seen. If you have a friend who is working with mutual aid projects, send them a text appreciating them. If your mom has been sending you dog pictures every day, take a moment to let her know that they've brightened up your mornings. If you have a friend who is always there for you, reach out and let them know how important they are in your life.
Expressing your gratitude can have short- and medium-term effects on your mental health, and your actions may just inspire others to thank the people who are important to them.
As we all work to maintain our connections in a world distanced by COVID-19, remember that physical distancing doesn't mean that your relationships will inevitably fizzle out. With a little intention and creativity, you can emerge from self-isolation more connected than when you went in.