Reproductive Health Telemedicine Is Here During COVID-19 Outbreak—but Not for Abortion
Telemedicine has long been a tool for increasing access to reproductive health care, even as lawmakers in some states ban its use for abortion care. It will likely be the best option during the COVID-19 outbreak.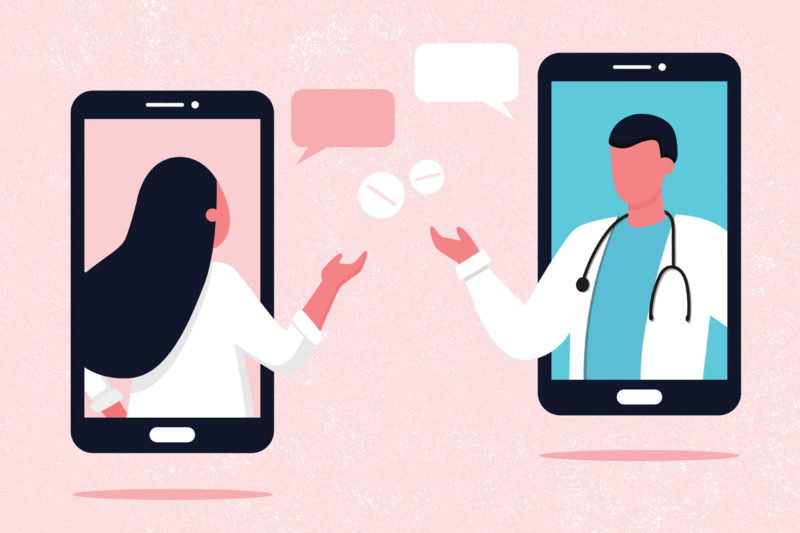 Telemedicine has gained popularity during the COVID-19 pandemic. It helps keep sick people from congregating and protects patients and practitioners. Shutterstock
For continuing coverage of how COVID-19 is affecting reproductive health, check out our Special Report.  
As COVID-19 spreads throughout the United States, online birth control and emergency contraception prescribers are seeing an increase in patients, and reproductive health care via telemedicine has become critical.
A visit to a primary care doctor or OB-GYN to get something relatively routine, like a birth control prescription, will likely take a backseat during the COVID-19 outbreak, as cities go into various states of lockdown and hospitals brace for an overload of patients. For patients seeking abortion care, a few days of delay can mean a far more invasive and expensive procedure—or no procedure at all.
"Many hospitals that provide comprehensive reproductive health care are closing all non-urgent visits like annual exams, which could impact people seeking care in these centers," said Dr. Kristyn Brandi, an OB-GYN in New Jersey and board chair of Physicians for Reproductive Health.
Telemedicine, or remote medical care, has become an alternate way to receive care during the COVID-19 pandemic. It not only helps keep sick people from congregating but it also protects patients and practitioners. But telemedicine has long been a tool for increasing access to reproductive health care, even as lawmakers in some states ban the use of it for abortion care—so what will accessing reproductive health telemedicine look like during the outbreak?
For patients seeking abortion, telemedicine is promising as an alternative, but for now, it's largely stuck in regulatory limbo.
Telemedicine is already seeing spikes 
Dan Snyder, chief marketing officer for PRJKT RUBY, said the company has seen a 10 percent increase in patients in recent days, and he "expect[s] that increase to continue" while people across the country hunker down for lockdowns or self-quarantine. Birth control delivery service Pill Club reported a 30 percent increase in the past week in prescriptions transferred to them from other pharmacies.
Dr. Sophia Yen, an associate professor of pediatrics at Stanford Medical School and co-founder of Pandia Health, an online service that prescribes and delivers birth control, said Pandia saw more people using the service starting last week, as cities like Seattle and New York City unveiled heightened measures to stop COVID-19 from spreading.
Telemedicine is not an option for everybody, though—like with most reproductive health care, a person's location, insurance, and financial situation have a dramatic impact on their ability to access care. And patients who need Ella for emergency contraception—Plan B loses effectiveness at higher body mass indexes—still need to see a doctor for a prescription; Pandia Health and others allow you to visit the doctor virtually for the prescription.
Options vary by state
"Reimbursement and parity laws remain the largest barrier to implementing telehealth services," Dr. Alexa B. Kimball, president and CEO of Harvard Medical Faculty Physicians at Beth Israel Deaconess Medical Center in Boston, wrote in an overview of telehealth systems.
For birth control, in the simplest of cases, patients can just fill out a questionnaire on a website or app, and then get a prescription after a doctor reviews their information. But some states make it more difficult than others.
At times, it's a matter of working with pharmacy licensing, or whether a service has a partner doctor in that state. Planned Parenthood Direct, Planned Parenthood's app-based service, and Nurx are both available in 28 states. Pill Club ships birth control to all 50 states, but can only prescribe in 37. Pandia can prescribe in only three states but is partnering with other organizations and hopes to expand to all 50. PRJKT RUBY prescribes and ships to 49 states, with North Carolina being the only holdout (they're working on a pharmacy licensing issue).
In the middle of a pandemic, it's especially critical that people know these options, Dr. Yen said. "We want people in this time to avoid the infectious risk of going to a pharmacy or going to a doctor's office," she said. "Right now, we all need to quarantine down."
Telemedicine can increase abortion access—with hard limits
"The effectiveness of medication abortions done by telemedicine is pretty much the same compared to having an in-person visit," said Dr. Daniel Grossman, an abortion provider and professor of obstetrics and gynecology at the University of California, San Francisco, who has co-authored several papers on telemedicine for medical abortion. He said access to telemedicine could be a lifeline during the pandemic.
If a clinic's on-site providers are overbooked or quarantined—a major likelihood as health systems become more strained and travel restrictions increase—it can mean a faster appointment, which can make a big difference in care outcomes.
Clinics that provide abortion are especially vulnerable to not having doctors on-site during the pandemic, said Dr. Brandi, because they "rely on doctors to travel from out of state, which could be hampered by travel restrictions."
Mifepristone, one of the pills used in medical abortion, is regulated by the U.S. Food and Drug Administration (FDA) under a Risk Evaluation Mitigation Strategy (REMS), which prohibits mailing the drugs to patients. In certain states, however, patients can participate in an experimental study for in-home medical abortion consultations. Reproductive health nonprofit group Gynuity has been running the TelAbortion Study since 2016 with special FDA approval, and has provided remote abortion care to more than 600 people.
The process can be complicated—patients may have to get an ultrasound beforehand—and it's only available in the 11 states where the study has prescribing partners.
If telemedicine helps patients access abortion care sooner, it can stave off surgical abortions that require more medical resources. Dr. Grossman, who co-authored a 2017 paper on telemedicine abortions obtained within a clinic, said they found "a small but significant reduction in second-trimester abortions after telemedicine was introduced."
"I really hope that the FDA would consider at least temporarily lifting the Risk Evaluation Mitigation Strategy for mifepristone, and that states that have imposed bans on the use of telemedicine for medication abortion will also lift those," Dr. Grossman said. "I think that's really needed right now."
Maintaining access through financial hardship
The economic impacts of the coronavirus have already been devastating, prompting mass layoffs in hotels, food service, nightlife, travel, sports—or any industry that requires groups of people to congregate together.
As mandated by the Affordable Care Act, online birth control prescribers don't charge for regular birth control pills if the patient has insurance. But people may be losing their health insurance, and the uninsured are losing income.
"People won't be working necessarily over the next few months," Snyder said. He acknowledged that the $20 a month PRJKT RUBY charges out-of-pocket for birth control could be a hardship, adding that the staff has working to reduce that cost for all patients.
Pandia Health charges $29 for the initial online consultation, and generic birth control is typically about $15 a month without insurance, Dr. Yen said. But the company also operates a nonprofit arm, the Pandia Health Birth Control Fund, which provides financial assistance to patients who need it, whether it's for the visit, the medication, or both.
Planned Parenthood's app still advises patients to contact their local care center if they need financial assistance.
Using existing resources for COVID-19
Nurx carved out a strong niche by not just selling birth control but also STI tests. Because of the company's existing relationship with a home testing lab, they're able to roll out coronavirus testing and consultations, too.
"We knew we would be able to extend our care model more easily than others to offer a home testing service," Allison Hoffman, Nurx's head of brand, said. The coronavirus testing service should be launched "within the week," Hoffman said.
The service isn't quite as on-demand as Nurx's birth control and STI testing services, though—priority will be given to patients who have been exposed and have symptoms, and they'll be recommending in-person care for people at high risk.
Still, as with their other services, it's another way to stay out of a doctor's office and slow the spread of COVID-19.
CORRECTION: An earlier version of this story misstated Dr. Daniel Grossman's area of specialty; he is a professor of obstetrics and gynecology.