Will Illinois Finally Vote Out Anti-Choice Democrat Dan Lipinski? (Updated)
Illinois' 3rd District race functions not only as a test of an incumbent against an upstart candidate but also of whether voters believe abortion to be a fundamental Democratic value; we know Dan Lipinski certainly doesn't.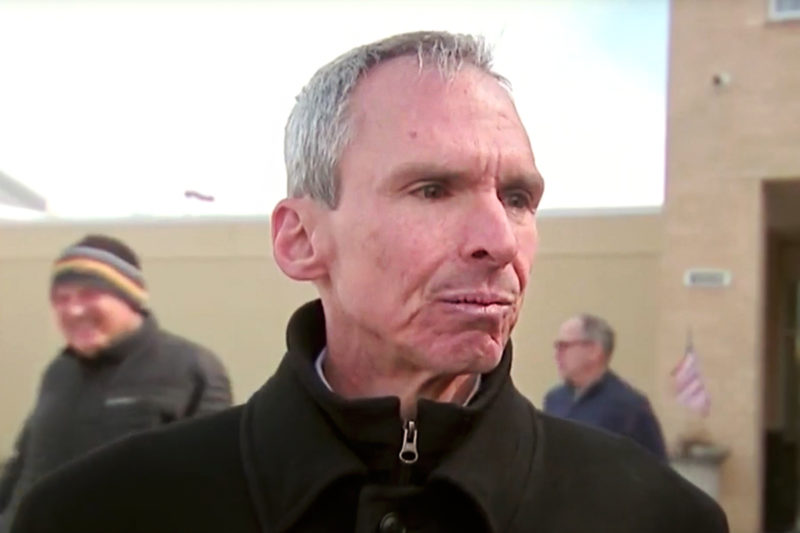 Dan Lipinski's candidacy poses a real threat to reproductive health care throughout the United States, and dually functions as an embodiment of the struggle within the Democratic party. CBS Chicago
UPDATE, March 18, 2020, 9:03 a.m.: Marie Newman edged out U.S. Rep. Dan Lipiniski (D-IL) on Tuesday, the New York Times reported.
Illinois voters will cast their ballots Tuesday in the state's primary election, which includes local and statewide races—giving them another opportunity to finally vote U.S. Rep. Dan Lipinski, one of the last congressional anti-choice Democrats, out of office.
Lipinski, who represents Illinois' 3rd District, has long been against abortion rights. He faces a progressive challenger in Marie Newman, who he narrowly beat in 2018. Illinois Democrats will have to decide whether the party is a "big tent" that includes anti-choice lawmakers or one that supports fundamental human rights.
Lipinski was first elected to the U.S. House of Representatives in 2004, taking the seat his father vacated, and has made a name for himself as a member of the ideological center: someone who believes in national park preservation and public school funding, but who also believes abortion should not be legal. Lipinski has supported banning abortion at 20 weeks based on junk scientific claims about fetal pain; affirmed the Hyde Amendment, which blocks federal funding for abortion through programs like Medicaid; spoken at the March for Life multiple times; co-chaired the Congressional Pro-Life Caucus; supported the Religious Freedom Restoration Act; and called the Affordable Care Act "un-American."
While many following this race fixate on the incongruence of his voting record and paid membership to the Democratic Congressional Campaign Committee, this sticking point is a distraction from what's really going on, which is that political institutions were built by and for white men. Sure, it may confuse voters that Lipinski is an anti-choice Democrat—and that's significant—but it's critically important that all Democratic voters and party operatives use this race as a means to examine why abortion access is or isn't a fundamental tenet of the Democratic Party. And why maintaining an inclusive party has to come at the expense of reproductive access and justice, especially for Black women, women of color, and poor women.
Lipinski poses a real threat to reproductive health care throughout the United States, and dually functions as an embodiment of the struggle within the party. Every single congressional session has allowed men to legislate women's bodies. Because we've been conditioned to believe that it is normal for white men to make crucial health-care decisions for us, we too have become desensitized to unjust legislation masquerading as political complexity—like an anti-abortion Democrat. Lipinski is not an aberration.
In his career, Lipinski has insisted he is a "pro-life Democrat," engaging in a kind of legislative solecism once believed to be necessary in order to bring more voters into the party. In her paper, "The Color of Choice: White Supremacy and Reproductive Justice," Loretta Ross noted that during the 1980s, Democrats adopted a "Southern Strategy" to broaden the base of voters that involved making concessions on ideological stances. "Pro-choice leaders were temporarily successful at broadening their base using these methods, but at the price of narrowing their agenda," Ross writes.
It was a dangerous strategy, and ultimately one that proved to be the most harmful toward women of color and poor people, not just in the South but throughout the country. When Democratic lawmakers don't support safe and legal access to abortion, they undermine the party's base, which is largely pro-choice, and quietly insist that abortion is a peripheral issue. But abortion is not a peripheral issue—it's a fundamental freedom.
"Abortion is freedom" is one of my favorite slogans to see on signs at rallies and protests because it embodies a dualism about abortion: that it is both material and representative. Abortion is the real-life actualization of a person making a decision for themselves as a self-determined individual. For marginalized people, abortion represents choice and free will. If abortion is freedom, abortion is also self-determination.
As often as legislators grandstand about the need for targeted regulation on abortion providers, or TRAP laws, like the admitting privileges being argued in June Medical Services v. Russo, we rarely hear what limiting abortion is also really about: power and control. Any politician, Republican or Democrat, who seeks to restrict abortion access and affordability is attempting to regulate the life outcomes of their constituents.
That should make you nervous. That should make you mad. Abortion access decreases teenage pregnancies and increases high school graduation rates. Abortion access increases both college completion and advanced degree attainment. Abortion access increases labor force participation, reduces poverty, and has positive economic effects on the next generation.
In Trump's America, there are few issue areas with an identifiable middle ground, and we're learning that abortion is certainly not one of them. On Tuesday, it'll be up to voters to decide if they think that's true. Illinois' 3rd District race functions not only as a test of incumbent versus upstart candidate but also of whether or not Democrats believe abortion to be a fundamental party value; we know that Lipinski certainly doesn't.