'You Don't Even Treat Animals the Way I Was Treated': Pregnant and Incarcerated
As the gender makeup of people who are incarcerated changes, there has yet to be sufficient research or policy change to address incarcerated women's health needs.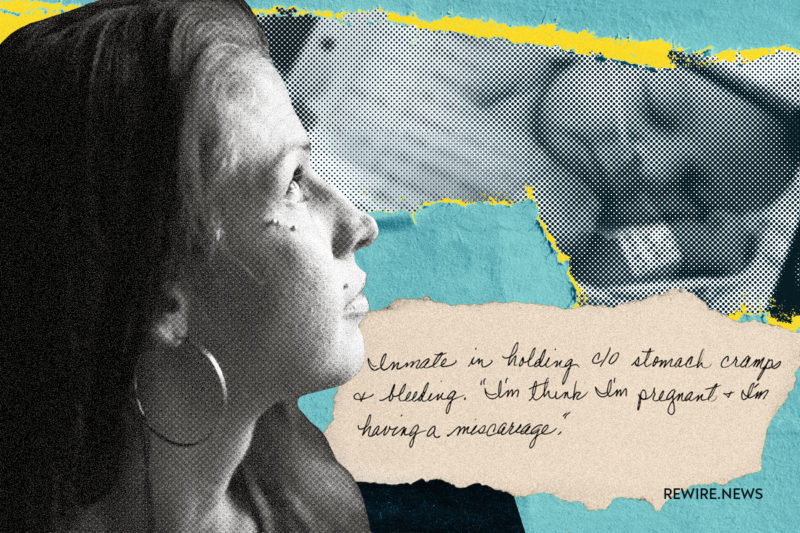 Tuesday Olson alerted officers at the La Plata County Jail as soon as she started experiencing cramps and vaginal bleeding, jail records confirm. She was afraid she was having a miscarriage, but officers refused to take her to the hospital. ACLU of Colorado at YouTube / Rewire.News Illustration
Tuesday Olson had just learned she was pregnant when she was arrested and jailed for failing to appear in court for a traffic violation in Durango, Colorado. She was immediately worried about not being able to get the health care she needed for a healthy pregnancy.
Her fears were soon realized, and now, she's just happy to be alive.
Olson alerted officers at the La Plata County Jail as soon as she started experiencing cramps and vaginal bleeding. She was afraid she was having a miscarriage, Olson told Rewire.News and jail records confirm, but officers refused to take her to the hospital.
For three days in 2013, officers ignored her pleas as bleeding continued and abdominal pain worsened. Instead of being taken to the hospital, Olson was brought to a medical observation cell where jail officials used a "pad count"—a method of monitoring the number of pads a patient saturates with blood—to estimate how much she was bleeding.
"They gave me two pads and sent me into a single cell by myself, and I kept on bleeding, and it hurt so bad," Olson told Rewire.News. "I was like, oh my God, this is it. This is how I'm gonna die. I started praying to God, screaming at the top of my lungs."
The guards told her she needed to get ahold of herself and that she was overreacting, Olson said. She eventually lost consciousness and woke up in an ambulance, handcuffed to a gurney.
Olson was rushed to the hospital, where she underwent emergency surgery for a ruptured ectopic pregnancy, a potentially deadly condition in which an embryo implants outside of the uterus. Due to complications from the ectopic pregnancy, doctors removed one of her fallopian tubes and an ovary. She was sent back to the jail, but had to return to the hospital days later for a second surgery. Olson had been bleeding internally for days, resulting in a dangerously low red blood cell count that could have killed her.
Dr. Carolyn Sufrin, a medical anthropologist and OB-GYN who specializes in reproductive care for incarcerated people, told Rewire.News that pad counts are an inappropriate response to bleeding during pregnancy, but that it's not the first time she's seen this practice used behind bars.
"Any health-care professional that thinks that pad counts are an appropriate triaging tool for a pregnant person is not qualified to take care of pregnant people," Sufrin said, explaining that any amount of bleeding during pregnancy is a cause for concern. "While this was happening, a pregnancy that was in her tubes was growing and burst open. Having a ruptured ectopic is a life-threatening condition."
In the past few decades, the number of incarcerated women in the United States has soared. According to the American Civil Liberties Union (ACLU), women are the fastest growing segment of the incarcerated population, with eight times as many women detained in prisons and jails today as there were in 1980. Within that population, women of color are significantly overrepresented.
As the gender makeup of the incarcerated population changes, research and policy addressing incarcerated women's health needs have not kept up, according to a report assessing the needs of women in prisons, released last week by the U.S. Commission on Civil Rights (USCCR), a bipartisan, independent federal agency.
"This growth has outpaced that of men in prison, yet there have been few national-level studies of the civil rights issues incarcerated women experience," the report states. "Prison officials should implement policies to address women's specific healthcare needs, including gynecological and prenatal care, as is constitutionally required."
The report found that pregnant inmates suffer from practices like shackling during birth, a lack of pre- and post-natal care, and separation from their newborns. It stressed that failing to meet incarcerated women's health needs "may violate the constitutional requirement to provide adequate medical care for all prisoners." In addition, the report found that women enter prison with higher rates of past trauma than men, and stressed the need for improvements to mental health care.
The USCCR made several policy recommendations, including prohibiting the shackling of pregnant women or placing them in solitary confinement. "According to medical experts, shackling women in prison at any point in pregnancy can increase the risk of falls, which can lead to placental separation, hemorrhage, and still birth," the report states. "Moreover, shackling women in prison may impede routine and emergency medical interventions."
Federal prisons are barred from shackling pregnant inmates in most circumstances, thanks to a 2018 law. But that doesn't apply to pregnant people held in state prisons and local jails, where incarcerated women are disproportionately located, according to the Prison Policy Institute. The USCCR report only covers the federal and state prison systems, not facilities like the La Plata County Jail where Olson was held.
Olson was shackled around her wrists and ankles when she awoke in an ambulance on her way to undergo emergency surgery for her ectopic pregnancy.
"I remember seeing [the guard] sitting there with her hand on her gun like I was gonna run or something," Olson said. "I couldn't even walk."
When she arrived at the hospital, Olson remembers the doctors asking the guard to remove the shackles, but the guard refused to do so until she was put under.
"What the hell did I do to deserve this?" Olson said. "All because of a traffic violation."
Once Olson returned to jail, she was placed in a solitary cell. The psychological pain of a pregnancy gone awry was unbearable. She asked to be moved out of solitary confinement after telling guards she was becoming depressed, but they refused.
"I was completely traumatized," Olson said. "You don't even treat animals the way I was treated."
The USCCR report found that state prisons in particular lack health-care policies and procedures, causing "significant variance in the quality of care."
And jails have even less standardization and oversight than prisons do, Sufrin told Rewire.News.
"There's no mandatory standards. There's no mandatory system of oversight. So they can provide high quality care, and some of them do, or they can provide abysmal, neglectful, unqualified care," Sufrin said.
Olson initially shared her story with the ACLU of Colorado, which released a video detailing her harrowing experience as a pregnant inmate and asking others who have had similar experiences to reach out.
Lizzy Hinkley, reproductive rights policy counsel for the ACLU of Colorado, told Rewire.News the organization is doing a statewide review of reproductive health policy in county jails, and they're on the lookout for stories like Olson's.
"We're hoping to bring about some change in policy and practice in the county jails in this state," Hinkley said. She hopes other formerly or currently incarcerated pregnant people will share their stories, so that the ACLU of Colorado can document their experiences and potentially represent those with legal claims.
The survey is still in its early stages, Hinkley said, but so far, they're seeing a lack of specific policies around reproductive health in smaller jails, like the one in which Olson was detained. Even jails that do have clear protocols regarding pregnant inmates don't always carry out those policies.
"We know that that doesn't necessarily translate into practice, and that's where we really need to connect with those who are being impacted," Hinkley said.
One example is Diana Sanchez, who gave birth alone in a Denver County Jail cell in 2018. After notifying officers that she was going into labor, Sanchez was placed in a medical observation cell like the one where Olson was detained. Surveillance video footage shows Sanchez screaming in pain as she goes into labor and eventually delivers her baby before anyone comes to assist her.
"Diana Sanchez was in Denver County Jail [which] has the most robust policies in the state, and still, she had that horrific experience," Hinkley said. "So if that's happening in Denver, we know it's happening elsewhere."
Years later, Olson says she's still traumatized by what happened to her, and that it's painful to reopen those wounds. Still, she wants people to know what happened to her.
"It's gonna continue to happen," Olson said. "This isn't just me."