The Many, Many Reasons a Federal Judge Blocked Trump's 'Conscience' Rule
The Trump administration sought to enshrine discrimination in medical care, but the courts are refusing to let them.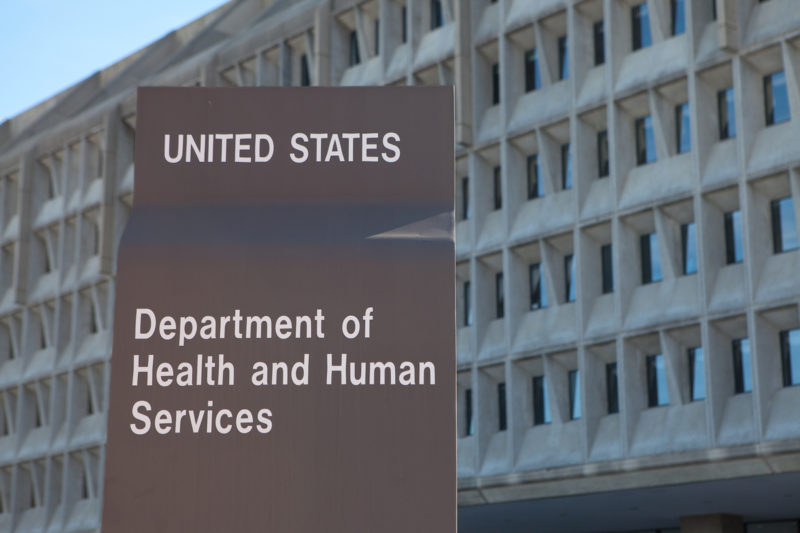 Judge Paul Engelmayer wrote in his opinion that HHS had acted "arbitrarily and capriciously" in imposing its conscience rule by failing to offer sufficient justification for issuing it. Mark Van Scyoc / Shutterstock.com
A federal judge in the Southern District of New York threw out the U.S. Department of Health and Human Services' (HHS) "conscience" rule last week in a victory for reproductive and LGBTQ rights.
The rule, finalized in May, would have allowed both individual workers and health-care entities to refuse to provide care based on their moral or religious objections. It was sweeping, allowing providers the right to refuse not only health care but any health-related services, such as medical studies and research activities. The rule, which was scheduled to go into effect November 22, would have allowed discrimination based on gender and gender expression and drastically reduced access to reproductive health care, particularly in rural areas where small clinics could be unable to afford duplicate staff to cover employee refusals.
Judge Paul Engelmayer wrote in his opinion that HHS had acted "arbitrarily and capriciously" in imposing its conscience rule by failing to offer sufficient justification for issuing it. The judge characterized the rule as violating federal law in "numerous, fundamental, and far-reaching" ways.
Engelmayer held that HHS had exceeded its authority in promulgating the rule. The administration tried to get around this problem by arguing that the conscience rule was not actually a major policy shift, but merely a "housekeeping matter" that "clarifies … preexisting conscience protections enacted by Congress."
That matters because, when it comes to issuing rules, federal agencies only have the power that Congress gives them. For an agency to create and impose a rule, Congress has to grant them authority via a statute to do so. But the court found HHS wasn't given any power by Congress to make a broad rule allowing health-care workers to refuse to provide treatment.
The court dismissed HHS' argument since the rule "would shape the primary conduct of participants throughout the health care industry" and "upend the legal status quo" if it were implemented.
Next, the judge held that the rule's definition of a "health-care entity" was too broad. Previous conscience-related laws—such as a provision prohibiting discrimination against entities that refuse to provide assisted suicide—covered physicians, other health-care professionals, hospitals, and "any other kind of health care facility, organization, or plan." But here, without any new authority from Congress, HHS expanded that definition to cover pharmacists, medical laboratories, and organizations that do medical research.
At oral argument, HHS' lawyer agreed that it had expanded the scope of health-care employees covered by the rule. Under existing law, people providing direct care, like nurses, have the ability in certain situations to refuse treatment when they had religious objections; employees removed from actual medical care had no such rights.
The new rule, the court wrote, would have applied to "a hospital or clinic receptionist responsible for scheduling appointments, and to an elevator operator or ambulance driver responsible for taking a patient to an appointment or procedure." In other words, it would have comprehensively decreased access to health care for LGBTQ individuals and people seeking reproductive care if anyone at the health-care provider objected—no matter how far removed the employee was from the actual provision of medical care. Worse, an objecting employee could disrupt health care by refusing to perform activities that help support the procedure to which they object—even when those activities take place on a different day entirely.
Engelmayer also took issue with the rule's lack of an "undue hardship" clause, which requires employers to offer accommodations only when doing so poses no more than a trivial cost.
By eliminating the hardship clause, HHS eradicated the concept of a "reasonable accommodation"—for example, transferring an employee who objected to performing certain procedures to a unit that wasn't involved in those procedures. Under the rule, employees would have been free to demand an "effective accommodation"—one that the employee accepts, rather than one that is reasonable. In other words,  an employee could have simply insisted they don't want to be moved to any other department. The only accommodation that is truly appropriate under the rule is one the refusing employee likes, not one that the employer reasonably believes removes the employee from the situation that makes them uncomfortable.
The rule's refusal to acknowledge undue hardship put it on a collision course with Title VII, a law that protects employees from discrimination based on religion and already provided a limited framework for conscience objections. Under Title VII, an employee can request a reasonable accommodation, not an effective accommodation, and the organization can avoid liability for a refusal to reassign an employee if the cost was too high. The conscience rule wiped that out.
Relatedly, the court held that the rule presented a potential hardship peculiar to rural reproductive health clinics. If an employee at a small clinic objected to the clinic performing abortions and refused to take on a different assignment, the clinic could only solve that issue by hiring duplicate staff. It's unlikely that smaller or more rural clinics have the financial means to hire duplicate staff to simply wait around for work in the event an employee refused an assignment.
Increased staff costs weren't the only financial issue with the conscience rule. The government estimated that implementation would cost employers and the government a total of around $1 billion over the first five years, including costs for retraining employees, revising procedures, updating subcontractor agreements, and investigating complaints.
Moreover, the rule gave HHS the right to terminate funding to health-care facilities over a single rule violation. The judge gave an example of a state hospital transferring a receptionist who refused to schedule an abortion into a different department, despite the employee not consenting to the transfer. That would constitute a rule violation and, according to the judge, the state could lose all its federal health-care funding—including Medicaid funding. For New York, the judge wrote, that loss would be $46.9 billion.
The court found that the conscience rule also ran afoul of the Emergency Medical Treatment and Labor Act, which requires emergency departments receiving federal funds to provide emergency care to anyone who needs it—with no exceptions for refusal of care based on religion. The conscience rule would have added that exception, even though a federal agency can't create an exception to a statute through the regulatory process.
The creation of this exception could result in horrifying consequences—like the situation discussed in oral arguments, in which an ambulance driver, upon learning a patient was being transported to a hospital for an ectopic pregnancy, might simply stop driving the patient if they objected to the necessary life-saving procedure. Given that untreated ectopic pregnancies can cause serious, or even fatal, consequences, such a refusal is deeply immoral.
HHS told the court that emergency providers could simply double staff to ensure adequate coverage if employees raised objections, but the court called that a "non-starter," since emergency providers may lack the funds and in an emergency patients "may not have time to wait to be referred to another physician or healthcare professional."
Finally, the court dismissed the justification that HHS had offered for the rule's existence. HHS said, when it created the rule, that there had been a "significant increase" in complaints alleging violations of conscience provisions since Trump had been elected: 34 complaints between November 2016 and January 2018, and then 343 complaints during fiscal year 2018.
During the litigation, HHS was forced to admit that "only a tiny fraction of the complaints that its Rule invoked as support were even relevant" to the conscience provisions. Nearly 80 percent were objections to vaccinations, which are outside the scope of the conscience objections. Twenty-two of the remaining complaints were duplicates, and 49 were irrelevant to the conscience provisions for various other reasons. A mere 6 percent of the non-duplicate complaints were potentially related to conscience objections—and even HHS admitted that very few of the complaints it had cited were relevant. "This conceded fact is fatal to the stated justification for the Rule," the judge wrote.
Engelmayer's ruling isn't the only blow to the conscience rule. Judge Stanley Bastian of the Eastern District of Washington announced from the bench on Thursday that he was vacating the rule. Washington Attorney General Bob Ferguson (D), who had challenged the rule, said it would have "disproportionately harmed rural and working poor Washington families, who have no alternatives to their local health care providers, as well as LGBTQ individuals, who already face discrimination when they seek medical care."
Another case against the rule is still pending in the U.S. District Court for the Northern District of California. There, Lambda Legal made arguments similar to the ones made in the Southern District of New York. It said that HHS acted in an arbitrary and capricious action when it didn't consider the rule's effect on patients and the health-care system, and that the rule violates patient privacy rights and the First Amendment.
The Trump administration sought to enshrine discrimination in medical care, but the courts are refusing to let them. Still, HHS will likely appeal both the New York and the Washington decisions. This could be a long battle.