Jessica Cisneros Is Taking on One of Congress' Last Anti-Choice Democrats (Updated)
Jessica Cisneros supports codifying Roe v. Wade into federal law and repealing the Hyde Amendment.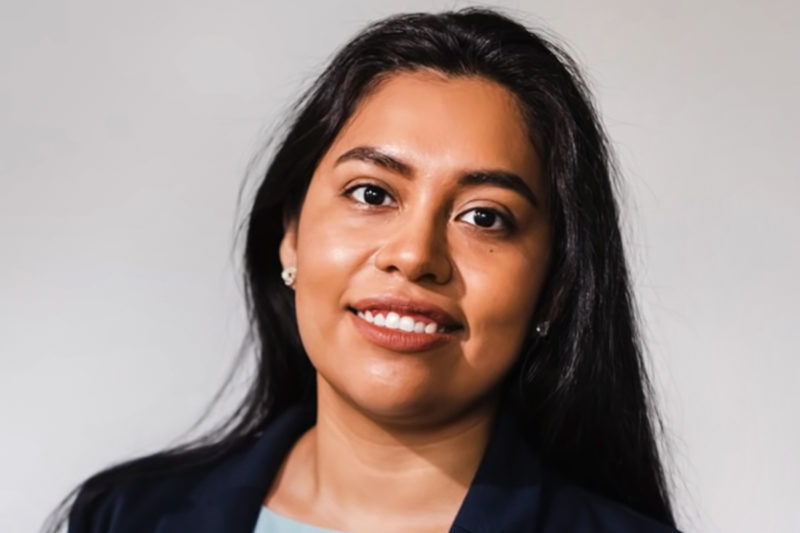 If elected, Cisneros would supersede Ocasio-Cortez as the youngest woman to ever serve in Congress and become the first woman to represent Texas' 28th Congressional District. The Rational National / YouTube
UPDATE, March 4, 2020, 12:34 p.m.: Rep. Henry Cuellar (D-TX) defeated Jessica Cisneros in Tuesday's Democratic primary election, 52 percent to 48 percent. "This is just the beginning," Cisneros said in a statement, Politico reported. 
An insurgent campaign to unseat one of the few anti-choice Democrats in the U.S. Congress got a huge boost last month in the form of an endorsement from progressive Rep. Alexandria Ocasio-Cortez (D-NY).
Jessica Cisneros announced her campaign against Rep. Henry Cuellar (D-TX) in June, calling Cuellar "Trump's favorite Democrat" in her announcement video. If elected, the 26-year-old would supersede Ocasio-Cortez as the youngest woman to ever serve in Congress and become the first woman to represent Texas' 28th Congressional District.
Cisneros' campaign has so far largely focused on her experience as an immigration and human rights lawyer in juxtaposition to Cuellar's acceptance of campaign donations from one of the country's largest operators of private immigration detention facilities, the GEO Group. But abortion will also play a role in the 28th District's Democratic primary. Cisneros has slammed Cuellar's record on reproductive rights. Her announcement video noted that the lawmaker voted for a permanent ban on the use of federal funds for abortion in 2017.  
Abortion advocacy group NARAL Pro-Choice America scored Cuellar's voting record on choice at 15 percent in 2018 after he voted for a bill that contained "personhood" language. He voted against another bill with similar "personhood" language in it that year, but NARAL's website notes that multiple "anti-choice lawmakers cast what appear to be pro-choice votes," though "most observers recognize that those votes were cast for reasons unrelated to reproductive rights."
Cuellar's anti-choice voting record includes a 2017 vote for a 20-week abortion ban. Earlier this year, Cuellar co-sponsored the "Born-Alive Abortion Survivors Protection" bill that failed in 2018. When Republicans and a handful of anti-choice Democrats started a discharge petition seeking to force a House vote on the legislation, Cuellar told Roll Call that he wouldn't sign the petition because he didn't "want to change the procedures" for bringing up bills. Cuellar did not return Rewire.News' request for comment.
"As opposed to Henry Cuellar … as a woman, abortion access and reproductive health access is super important to me," Cisneros told Rewire.News. "I'd be on the side of people that know that that choice is important."
Cisneros' campaign website includes reproductive rights in her platform, stating that she will "ensure all women and families have access to comprehensive family planning resources and contraception." She supports codifying Roe v. Wade into federal law and repealing the Hyde Amendment, which bans federal funding for abortion except in cases of rape, incest, and life endangerment.
And because her district's shared border with Mexico makes issues like access to abortion "very intersectional," as Cisneros put it, she wants to address the additional barriers that people who are undocumented face when seeking abortion services.
"We don't have a clinic here, and that means that folks need to travel to be able to get this critical service," Cisneros said. "Unfortunately for some people that are undocumented, that could mean deportation because there are border patrol checkpoints they would need to go through."
Cuellar didn't face a primary challenger in 2018 and won the general election against a Libertarian candidate with 84.4 percent of the vote. Cuellar told reporters in January that his district "is more moderate," implying that a progressive candidate such as Cisneros wouldn't be successful in wooing voters. But Cisneros told Rewire.News that Cuellar is leaning into stereotypes that South Texans are conservative. "That's not the case," she said. A Republican challenger is also running in 2020, but the district is considered a "solid Democratic" seat by Inside Elections with Nathan L. Gonzales/Roll Call race rating.
Trying to unseat an eight-term incumbent is an uphill battle, and Cisneros' refusal to accept corporate PAC money means Cuellar has more cash in his arsenal. Cisneros' campaign has raised over $465,000, while Cuellar's has raised over $1 million.
Along with the backing of Justice Democrats, the progressive group that helped Ocasio-Cortez oust a Democratic incumbent in the 2018 election, Cisneros has racked up major endorsements from 2020 presidential hopeful Sen. Elizabeth Warren (D-MA), Rep. Ayanna Pressley (D-MA), and EMILY's List, an organization aimed at electing pro-choice Democratic women.
"Jessica is running in a primary against Democratic Rep. Henry Cuellar, who has cast anti-choice votes and whose conservative views are out of touch with his constituents," EMILY's List President Stephanie Schriock said in a statement. "EMILY's List looks forward to helping elect this champion for change whose fresh perspective and new voice will bring families in this district the representation they deserve."
The primary election in Texas' 28th District will be held on March 3, two weeks before another pro-choice candidate, Marie Newman, challenges Rep. Dan Lipinski (D-IL) for the second time. Both women are vying to unseat the last of the anti-choice congressional Democrats, and their primaries may signal whether Democrats who oppose abortion still have a place within the party.
Although House Speaker Nancy Pelosi (D-CA) has said that Democrats shouldn't have an abortion litmus test for candidates, only a handful of anti-choice Democrats remain in Congress. And more of them are facing female primary challengers as reproductive rights advocates worry about sustained attacks on abortion access and the future of Roe v. Wade.