In Puerto Rico, LGBTQ Political Victories Pile Up. But Challenges Remain.
"We've done a lot with very few resources, and that tells you a lot about the strength of the Puerto Rico LGBT community," said Pedro Julio Serrano, an activist in Puerto Rico.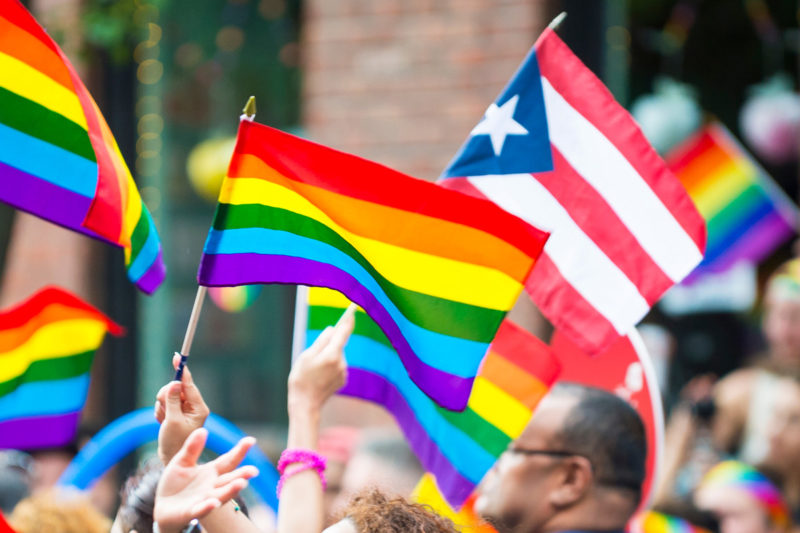 Activists said they would encourage fellow queer and transgender people on the mainland who want to help to stay informed and not to assume the island has made little progress. "There's a vibrant queer community here in Puerto Rico that's growing in terms of visibility and cultural expression." lazyllama / Shutterstock.com
The Puerto Rican House of Representatives passed legislation in June that would legalize discrimination against LGBTQ people as long as it was justified on religious grounds. But just two days later, Puerto Rico Gov. Ricardo A. Rosselló of the New Progressive Party asked lawmakers to withdraw the bill that he had proposed, effectively killing the legislation.
Headlines emphasized the statements by Puerto Rican pop singer Ricky Martin and presidential candidates Bernie Sanders, Elizabeth Warren, and Julian Castro. But local activists have been working against the legislation for months by testifying to legislators, spreading the word on social media, contacting press, and taking out a newspaper ad, said Pedro Julio Serrano, a Puerto Rican LGBTQ rights activist. Still, the rebukes by celebrities and politicians were decisive.
"Their voices were important at a critical moment," he said. "We know how public pressure can work to the advantage of a campaign that's battling uphill."
Rosselló also asked lawmakers to withdraw a piece of legislation that had been introduced along with the so-called religious freedom bill: legislation to ban "conversion therapy." While LGBTQ activists usually welcome bans on so-called conversion therapy, given the harms of the pseudoscientific practice, activists opposed the bill because it carved out a religious exception, neutering the prohibition. The practice is already illegal due to an executive order signed by Rosselló in March, a few weeks before the bill was introduced in the legislature. In effect, the legislation more closely resembles an unsuccessful Texas GOP bill to protect conversion therapy than a ban.
Like other such bans, it applied only to minors and focused on licensed counselors, which left room for unlicensed religious counselors to continue the harmful practice. That's what has happened in Colorado, where the Archdiocese of Denver has launched a "conversion therapy" program in local churches that falls outside the bounds of the recently passed law.
Even though Puerto Rico's bill banning "conversion therapy" was criticized by LGBTQ activists, it faced an uphill political battle in a socially conservative territory. A majority of Puerto Ricans consider homosexuality morally wrong, according to a 2014 poll by the Pew Research Center. Much of this attitude is rooted in Puerto Rico's Catholic tradition. Fifty-six percent of residents of the territory are Catholic, according to the Pew study, which is about the same proportion as all U.S. Latinos. (A third of Puerto Ricans are Protestant, and the same study found that Puerto Rican Protestants were less likely than Catholics to support marriage equality.)
'We've Done a Lot With Very Few Resources'
Despite significant opposition, Puerto Rico's LGBTQ community has notched a series of political wins. When the Movement Advancement Project tallied LGBTQ-friendly policies in U.S. states and territories, Puerto Rico was given the 19th highest score overall and the highest of the U.S. territories.
"We've done a lot with very few resources, and that tells you a lot about the strength of the Puerto Rico LGBT community," Serrano said.
Among the recent successes was Arroyo v. Rosselló. In April 2018, Judge Carmen Consuelo Cerezo of the U.S. District Court for Puerto Rico ordered the territory to allow transgender Puerto Ricans to change the gender listed on their birth certificate.
Daniela Arroyo-González, one of the plaintiffs in the case, said changing the certificate was not merely symbolic. "It protects us from institutional and public violence," she said in an email to Rewire.News translated from Spanish, since having an accurate birth certificate means people won't have to reveal their trans identity in hospitals, universities, or government agencies. "We [won't] find ourselves in the position of having to explain the inconsistency."
Despite the win, the process is not accessible to all transgender people. Arroyo-González said lack of money, family support, and knowledge of the process can keep transgender people from changing their birth certificate and other documentation. And the territory does not have a nonbinary gender option for birth certificates, as California and six other states do.
As with the issue of birth certificates, the economic and social problems faced by transgender people—and other LGBTQ community members—intertwine and potentially exacerbate each other. Due to stigma, many transgender women in Puerto Rico are shut out of the formal economy and either choose or resort to sex work, which is itself stigmatized.
Being involved in stigmatized and criminalized work puts transgender women at an increased risk of violence. A study of 59 Puerto Rican transgender women found that 51 percent of those engaged in sex work had faced violence from a client. Around one-third, 34 percent, experienced violence from the police. And an even larger percentage knew a transgender person who was killed (74 percent), beaten (69 percent), or mutilated (35 percent).
While the study is a broad look at the varieties of violence faced by transgender women in Puerto Rico, it has methodological limits. The survey used a technique called respondent-driven sampling, a method designed for hard-to-reach populations that involves asking initial participants to refer additional respondents and then weighting the results. Since participants were not randomly selected, they might not be a representative sample, although the statistical weighting is designed to compensate for that.
Another gap for transgender Puerto Ricans is the lack of doctors trained in trans-competent health care, Arroyo-González told Rewire.News. A forthcoming study in the Journal of Health Care for the Poor and Underserved found most Puerto Rican physicians have stigmatizing attitudes toward transgender people and lack knowledge of their trans patients' needs. For example, some physicians state they treat all their patients the same, "apparently unaware of the multiplicity of needs that transgender people have." More positively, the same study found that the few doctors who had received specific training on health issues faced by transgender people reported less stigma, suggesting a solution to the problem.
"A bill could be passed in order to promote the implementation of strategies that would allow health providers to be knowledgeable in regards to the transgender population's needs and requirements to be healthy," Sheilla L. Rodriguez-Madera, one of the study's authors and a professor at Florida International University, told Rewire.News.
For gay and trans Puerto Ricans, HIV is a particularly urgent health issue. Among U.S. states and territories, Puerto Rico has the seventh highest rate of people living with HIV and the fifteenth highest rate of new HIV infections, according to 2016 and 2017 data from the Centers for Disease Control and Prevention. Serrano said that as the means to manage HIV and AIDS have become more widespread, some people are less careful about taking steps to mitigate the infection's spread. At the same time, PrEP, or pre-exposure prophylaxis, is not as widely available as in the continental United States.
While public health research on the trans community in Puerto Rico has focused on HIV and AIDS among transgender women, transmasculine Puerto Ricans face relative invisibility within public health conversations, according to ethnographic research by Rodriguez-Madera and her colleagues. Their particular health needs have been obscured, in part because of the cultural context: As the study explains, many Puerto Ricans who were assigned female at birth and identify as masculine do not use the term trans, instead identifying within the local category of "bucha," similar to the label butch. Published in 2016 in Global Public Health, the study noted it was apparently the first to focus on trans men and buchas in Puerto Rico.
The Impact of Hurricane Maria 
Hurricane Maria hit the island in the fall of 2017. As federal officials dragged their feet on providing the aid needed to restore power, the death toll mounted. The final tally was 2,975, making Maria one of the deadliest hurricanes in U.S. history. The LGBTQ community was affected like any other, Serrano said.
"Many people, especially elders, were impacted," he said.
The disruption to some services was minimal. For example, the antiviral medications used to treat HIV continued to be shipped to the island, and some clinics that served the community were open within days, according to Serrano.
Other LGTBQ people faced hurdles in acquiring assistance. Some trans people were denied FEMA assistance because of mismatches between the name they gave and the name on official records, Serrano said.
Older LGBTQ Puerto Ricans, who face greater isolation, were hit especially hard, according to Wilfred Labiosa, executive director of Waves Ahead, an organization founded months before the hurricane that has programs for LGBTQ seniors, homeless people, and other groups. Labiosa said LGBTQ people outside major metropolitan areas face greater isolation. To address these problems, the organization has founded a community center for LGBTQ elders in San Juan and is planning other centers across the island. They provide free home-based services for those in communities without centers.
Even though the hurricane has faded from news coverage, Puerto Ricans are still grappling with the effects of the storm.
"These hurricanes created a culture of trauma," Labiosa told Rewire.News.
That impact is particularly visible in the context of mental health. After three years in decline, the rate of suicide in Puerto Rico ticked up in 2017 and stayed elevated in 2018.
Puerto Rico's department of health does not break down suicide statistics by sexuality or gender identity, so the effect on LGBTQ people is not known. But the community's greater vulnerability to suicide means they're likely also affected, Labiosa said.
Activists told Rewire.News that they encourage queer and transgender people on the mainland who want to help to stay informed and not to assume the island has made little progress.
"There's a vibrant queer community here in Puerto Rico that's growing in terms of visibility and cultural expression," Serrano said.
Labiosa suggested donating or volunteering time to ongoing rebuilding efforts.
"We want to build 21 homes. We are on number 17. Funds are not coming in for those last four homes," he said.
Many Americans are unaware that native Puerto Ricans are U.S. citizens. In a 2017 Morning Consult poll, only 54 percent of Americans answered yes when asked whether Puerto Ricans are citizens.
"Don't forget us," Labiosa said. "We are part of the United States."