Can Activists Trust Nancy Pelosi's Instincts on Impeachment?
A growing number of activists seem unwilling to defer to Democratic Party leaders on the question of impeachment.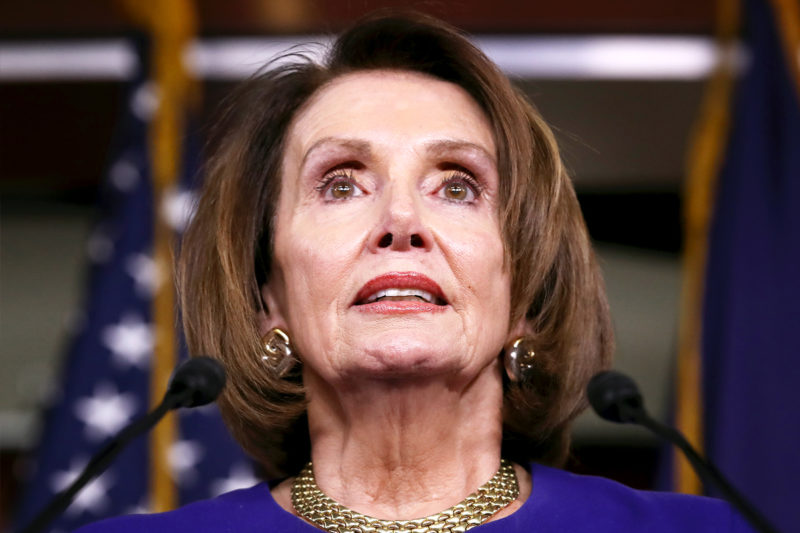 While Pelosi herself cannot make the request for Trump's returns, she could put pressure on Chairman Richard Neal to put an end to his needless delays and act with the urgency the task requires. Instead, Pelosi seems to be doing precisely the opposite for fear that the confrontation over tax returns Trump will never turn over, regardless of a court order, will force the caucus to begin impeachment hearings. Win McNamee / Getty Images
During the run-up to the 2018 midterms, Nancy Pelosi assured voters that getting President Trump's tax returns would be the "easiest thing in the world"—that it was "one of the first things" Democrats would do
It's now been 161 since U.S. House Ways and Means Committee Chair Richard Neal gained the power to request Trump's tax returns. He has the power but has not used it. That "day one" priority has become a slow-moving crisis.
While Pelosi herself can't make the request for Trump's returns, she could put pressure on Neal to put an end to his needless delays and act with the urgency the task requires. Instead, Pelosi is doing precisely the opposite out of fear that the confrontation over the tax returns Trump will never turn over, regardless of a court order, will force the caucus to begin impeachment hearings.
And preventing impeachment hearings appears to be Pelosi's main priority.
When it comes to the impeachment debate, a large number of Democrats seem content to give Pelosi the benefit of the doubt.
After all, Pelosi is an accomplished member of Congress who became the first woman to serve as Speaker of the House. She led Democrats to victory in the 2018 midterm elections, returning her to that powerful perch. She is the leader who stood up to Rahm Emanuel in 2010 and ensured passage of the Affordable Care Act. She is the leader who defeated Trump during this winter's government shutdown.
Pelosi has banked a lot of goodwill.
But now, in the face of the most corrupt president in U.S. history, Pelosi fervently opposes impeachment. Pelosi argues that forcing Trump's lackeys in the Senate to make a choice between loyalty to the president and their constitutional duties will somehow hurt Democrats. Worse still, her undying belief that impeachment represents a third rail is acting as an obstacle to the most obvious oversight. Take the very thing she declared would be a piece of cake and which is well within congressional authority: getting Trump's tax returns.
Meanwhile, Pelosi and her key allies—leaders of the committees that are conducting investigations—have been touting recent Democratic wins, such as court rulings upholding congressional subpoenas requiring Trump's accounting firm, Mazars, and his bank, Deutsche Bank, to turn over his financial records. Their message is that current levels of oversight are sufficient.
But many political leaders (and a growing number of activists) seem unwilling to defer to Pelosi or to Senate Minority Leader Chuck Schumer, including many of the newest members of Congress. In fact, with some commendable exceptions (House Financial Services Chair Maxine Waters comes to mind), it's generally newer leaders who argue both that Trump is guilty of impeachment-worthy crimes and that now is the moment to act. They also argue that the politics of focusing on Trump's rampant abuses of power will take care of themselves.
Who is right? Is current oversight sufficient? And is there a simple way to determine whether the instinct held by so many to grant Pelosi the benefit of the doubt generally applies to impeachment?
The tax return issue was the canary in the coal mine, the earliest indicator that Pelosi may not be the leader we need in this moment of crisis. Amid the government shutdown, her abandonment of the tax returns may have been understandable, even if misguided, as there is no reason for legislation to be pitted against oversight. With that mess cleared, however, her team's continued refusal to deliver on a key campaign promise is a clear signal that her instincts are not to be trusted.
Today represents 161 days since Neal gained the power to request Trump's tax returns.
It is 71 days since Neal got around to asking nicely for the returns in a short letter which should have been drafted before Neal and the Democrats took control of the committee.
It is 64 days since U.S. Treasury Secretary Steven Mnuchin "missed the deadline" to hand over Trump's returns.
It is 61 days since Neal asked nicely again, and 51 days since Mnuchin "missed" Neal's extended deadline and told Neal he was setting his own.
It is 38 days since Mnuchin finally rejected Neal's request, 34 days since Neal issued a subpoena for the tax returns, and 27 days since Mnuchin rejected the subpoena.
Neal has neither gone to court to enforce his subpoena nor sought a court order to enforce the underlying statutory authority of his committee—and there is no reason he has not yet done both, or couldn't have done each before the end of January.
At every turn Pelosi has allowed Neal to delay, and we're no further along in getting Trump's tax returns than we would have been had Neal made the request on January 3 with, say, a deadline of January 10, followed up by a subpoena with a deadline of January 17.
But wait, didn't Democratic committee chairs only just get authority to file suit to enforce their subpoenas? Yes, but Democrats' vote on this week's contempt resolution, while touted as a major escalation, is nothing more than a procedural change that clarifies and accelerates the subpoena enforcement process. Enforcement was undeniably possible prior to that by vote of the full House. To whatever extent this change was desirable, there's no reason it could not have been made in January.
Which raises the question: Do Pelosi and Neal share the sense of urgency members of vulnerable communities feel under Trump? Do they not understand that the Trump administration hiding Trump's tax returns in the face of a legal request from Congress undermines the "separation of powers" taught in every high school civics class? Do they not realize that requesting Trump's taxes is wildly popular?
Pelosi and her team's fear that confronting Trump could force them into impeachment is leading them to inaction on even obviously popular issues. Even as they argue that normal Trump oversight is going well enough, they are actually avoiding doing urgently needed oversight in order to dodge potentially epic fights between Congress and the president. Indeed, the early promising court wins by Congress have been when Trump has sought to block corporations from complying with congressional requests—Pelosi's team has heretofore been loathe to initiate litigation on any fronts on which Trump is denying Democrats materials from the executive branch.
Stephanie Murphy, the Democratic co-chair of the conservative Blue Dog Coalition, gave away the game when she posted her thoughts on impeachment on her website in late May: "Should President Trump or anyone in his Administration ignore a final federal court order to turn over information that Congress has requested, I would consider it a threat to our careful system of checks and balances and would therefore support an impeachment inquiry on that individual—the first step in the impeachment process and one that better empowers congressional investigators to attain documents and testimony. No one is above the law, including the President."
Viewed through this lens, Neal's otherwise bewildering slothfulness in seeking Trump's tax returns appears quite logical. Because Trump will not comply with a court order on his tax returns, and because Pelosi (and Pelosi loyalists like Neal) believe it is imperative to not impeach, Pelosi avoids generating a court order by slow-rolling litigation.
That is the most straightforward explanation for why Neal has been allowed to move so slowly on litigation that is so promising—ducking a fight that they are sure to win is only logical if you do not want to win, or at least not expeditiously, as is possible. The winning hand Democrats hold against Mnuchin and IRS Commissioner Charles Rettig is too strong for Pelosi to play it.
If you think this theory is too harsh, we challenge you to construct an alternative theory that fits the available facts as simply. And if this theory is right, you need to begin wondering if Pelosi—a hero of so many battles of the past—is the leader we need in this moment when resistance is so urgently required.